Emporia Level 2 Home charger is found commonly online between $400 and $500, and can supply up to 48 amps of power to an EV when hardwired, or up to 40 amps using a NEMA 14-50 receptacle. Although the Emporia charger is on the lower end of the spectrum, smart hardware and design choices make this product easy to recommend, especially if you already have other Emporia Energy hardware in your home.
Packaging and Installation
Emporia Smart Level 2 Charger arrives in a regular retail box with branding on the outside. The charger, cord, and accessories are well packaged and protected for transit. Inside you will be greeted by the charger wrapped in protective plastic and the instruction manual.
For installation and mounting, the Emporia charger comes with a high quality metal mounting bracket. This bracket is secured to the wall with four screws, and the EVSE charger unit is attached to the bracket with four shorter screws.
The metal J1772 plug holder (more on this below) can be optionally mounted together with the main bracket, or installed separately in another spot along your wall. We really liked this flexible design choice.
The Emporia Level 2 charger comes with a NEMA 14-50 wall plug as standard. If you already have access to a 14-50 plug near your parking location, then self installation will take under 30 minutes. However, if you do not already have a NEMA 14-50 plug, we recommend that you hire an electrician to install one for you, or alternatively to hardwire the EV charger to your home circuit breaker directly.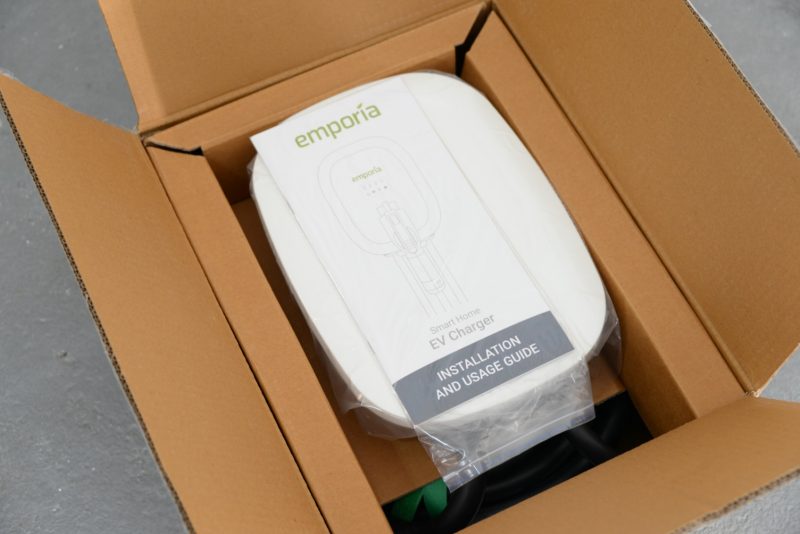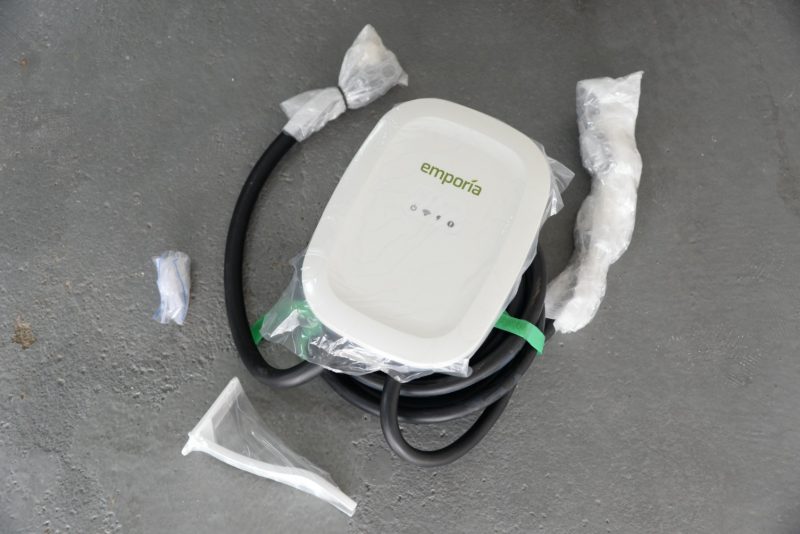 Hardware and Design
Most of the hardware surfaces you can touch are made of plastic on the Emporia charger. Having that said, it is still NEMA Type 4 rated for water tightness, and Emporia suggests that this charger can be used both indoors and outdoors. However, for outdoor installations in more extreme climates, we would suggest a more durable charger such as the Grizzl-E.
Out of the box the Emporia charger is configured for 40 amps of charging, as it assumes most people will install it with a NEMA 14-50 receptacle. A hardwired installation will allow the user to pull the full 48 amps, assuming your circuit can supply at least 60 amps. Using the Emporia mobile app, the user can configure the unit to operate anywhere between 15 and 48 amps. This is particularly useful for users with older and less sophisticated home wiring.
The Emporia Level 2 charger may be found online in two variants; a UL Listed version and Non-UL. A UL listing is an industry recognized certification of safety. The Emporia company states that all chargers manufactured after May 11, 2022 are UL listed, but are identical in hardware to prior non-UL units. You may find non-UL units for sale at a small discount online, but we recommend purchasing a UL listed model because most EV incentive and rebate programs require UL listed hardware to qualify.
Specification Summary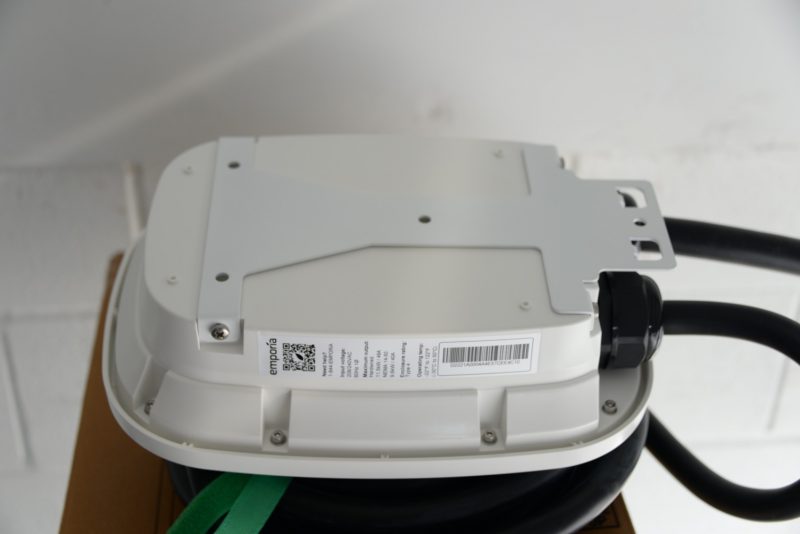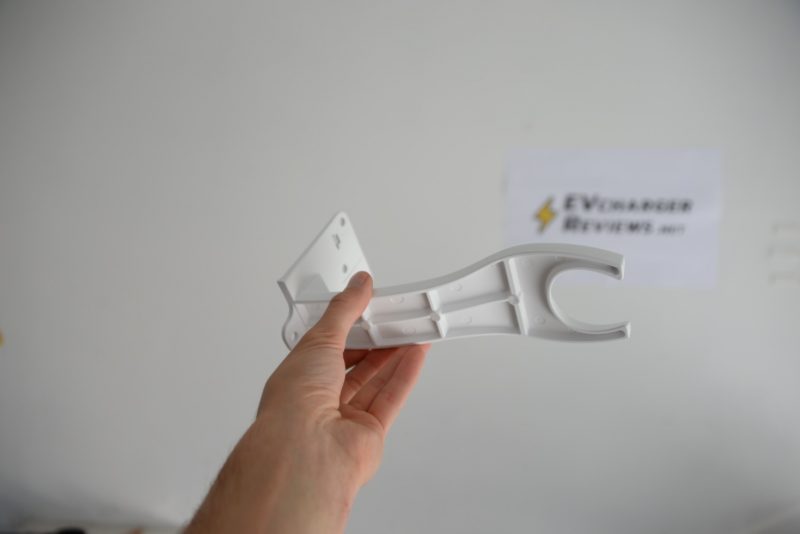 | | | |
| --- | --- | --- |
| Spec | Emporia Smart Level 2 EV Charger | Vs. Competitors |
| Charging Level | Level 2 (240v) | Level 2 (240v) |
| Max Amps | 48 hardwired, 40 on NEMA 14-50 | 24-40 A is typical |
| Lowest Amp Setting | 12 A | 16-32 A |
| Cord Length | 24 feet | 20-25 feet |
| Charging Connector | J1772 | J1772 is standard |
| Wall Connector | NEMA 14-50 | NEMA 14-50 is most common |
| Connectivity | Wi-fi + App | Wi-fi |
| Warranty | 1 year | 1 year |
Charging Cord and J1772 Connector
The charging cord is 24 feet long. While not the longest available length, it should be long enough to reach the charging port of most EVs in your garage regardless of parking orientation. The cord itself is average thickness, and appears to be easy to handle as it remains pliable in indoor charging temperature ranges. Some users have complained that the cord can become hard and more difficult to handle in colder temperatures, but that is expected.
The Emporia charger has perhaps the best bundled J1772 connector holder we have seen yet. Most manufacturers throw in a molded plastic holder into the box as an afterthought. The Emporia holder is a solid single piece of metal that can be mounted to the main charger bracket or screwed to the wall separately. We were impressed with this design.
The J1772 connector feels durable in the hand, and the release button makes a satisfying clicking sound when activated. The J1772 connector had no issues connecting to the Tesla charging adapter for our Model Y, or the native J1772 port of the VW ID.4 we borrowed.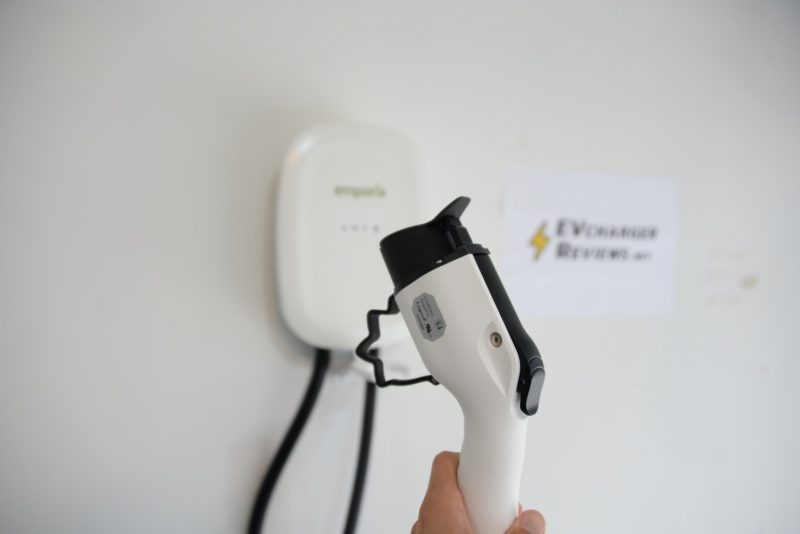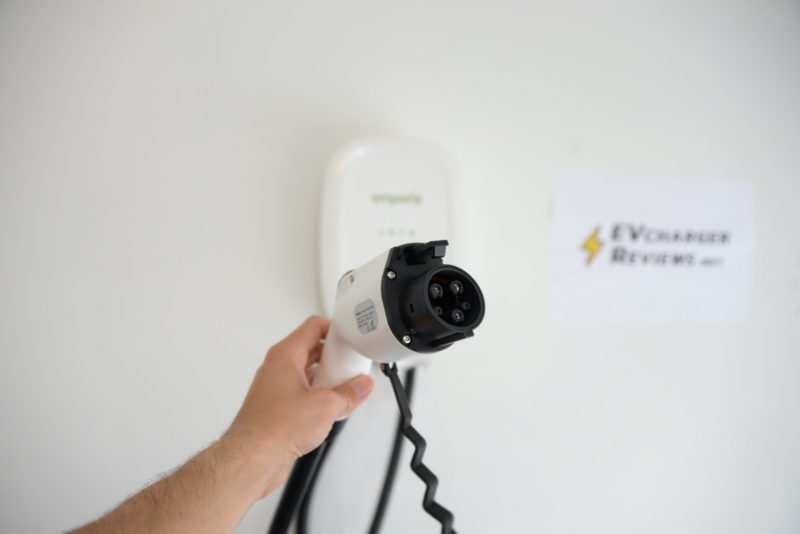 Connectivity and Software
All versions of the Emporia Level 2 charger come with built-in Wifi connection, but it is not required for day to day use. However, you will need the internet connection and app to change charger amperage. It is set to 40 amps by default from the factory.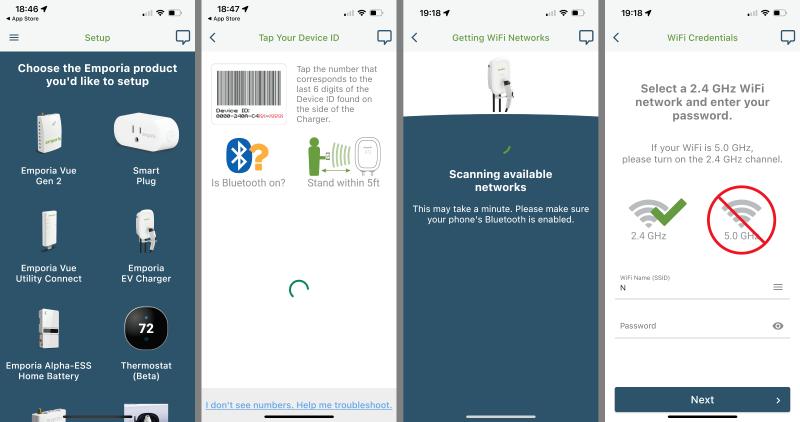 Another thing to note is that only older 2.4 GHz Wifi frequencies are supported by this charger. Many newer devices run on the 5 GHz frequency of the spectrum. Most modern Wi-fi routers support both, but individual home networks may vary. Check the specifications of your home Wifi network router.
The Emporia app is fairly well done and easy to understand. Emporia sells a variety of home energy hardware products, and the EV charger integrates nicely into the Emporia ecosystem.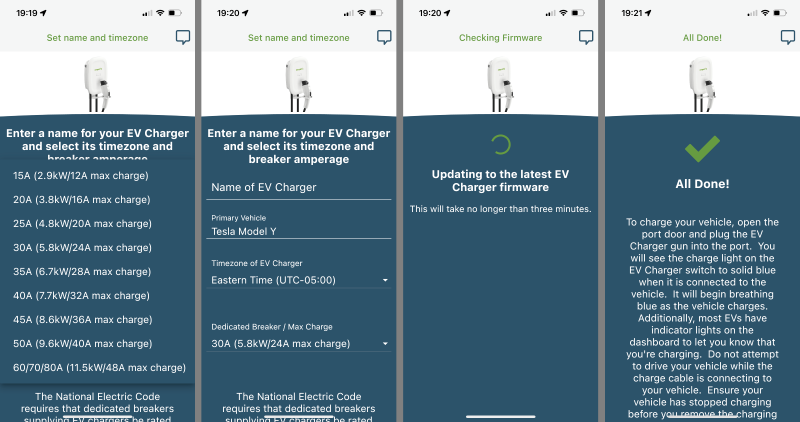 Scheduling
Emporia app makes it easy to schedule charging by individual days of the week. This is an advantage over other home chargers that only differentiate between weekdays and weekends. The user can even enter their time of use energy costs to get more accurate charging cost estimates.
We had no complaints with configuring charging schedules for the Emporia charger. The user experience is comparable to more expensive brands on the market.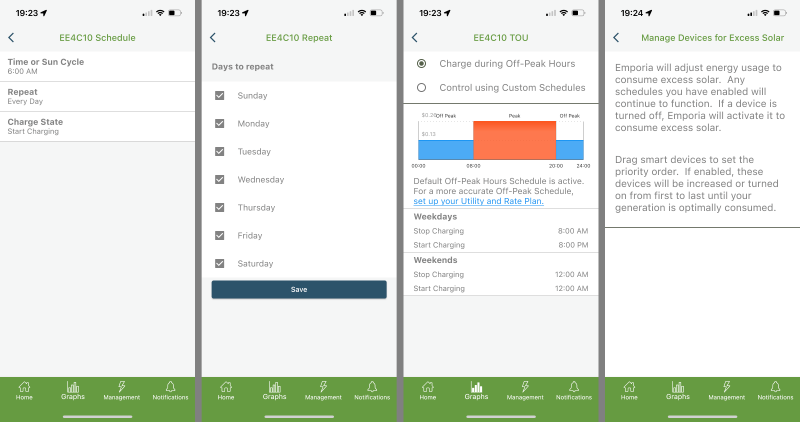 Conclusion
Emporia Level 2 EV charger is a well received product that is priced very competitively. Usually lower cost home chargers sacrifice on amperage or connectivity options, but that is not the case here. We would have liked to see better enclosure materials for outdoor installations and 5.0 GHz Wifi, it is difficult to complain at this price point.
Shopping Options
Full Review Gallery
Disclosure: Independent review by Michael Kim from EVchargerReviews.net. Our review unit was purchased from Amazon and not provided by the manufacturer. We participate in affiliate programs, and we may earn income when you use our links. We hope you think that is fair, based on the amount of work that goes into our reviews.