If you are considering installing a Level 2 EV charger on the outside of your home, there is probably no tougher charging station on the market than the FLO Home X5. FLO has a large public charging network in Canada and a growing one in the United States, and it appears they have brought their commercial hardware expertise to a robust home EV charging station product. The company is very confident in its hardware because the FLO charger is backed by a five-year warranty, the longest we have seen from any manufacturer. The FLO Home X5 is a premium home charging station that will meet the needs of many drivers. We have very few hesitations in recommending this product to drivers looking for premium and durable home charging stations.
What we loved
Premium Materials
Weather and corrosion resistance
Powerline networking
Advanced scheduling
What could be better
30A is lower than competition
App does not track home charging costs
Installation
The FLO Home X5 arrives in a box that makes it clear what is inside. Keep that in mind if you are having it delivered to your porch.
The packaging is attractive and made of eco-friendly, recyclable cardboard. The unit itself is protected by multiple layers of cardboard and is unlikely to be damaged in transit.
FLO's documentation states that this product is intended to be installed by a licensed electrical contractor only, so this is not a DIY installation for most people. This is evident because the product is designed to be hardwired to household circuits, and there are no plug-in versions of the X5 for sale.
The product allows for wiring conduit to enter from the bottom, or from the port in the back for a more clean wireless look.
In our case, we benchmark, test, and swap different charging stations month to month. So instead of hardwiring, we used a spare NEMA 14-50 cable to connect the X5 to an outlet. A 3/4-inch PVC cord gripper was used to secure the installation, but this doesn't do justice to the X5's construction and weather resistance. For a permanent setup, please work with an electrician to hardwire the unit. Especially for outdoor installation.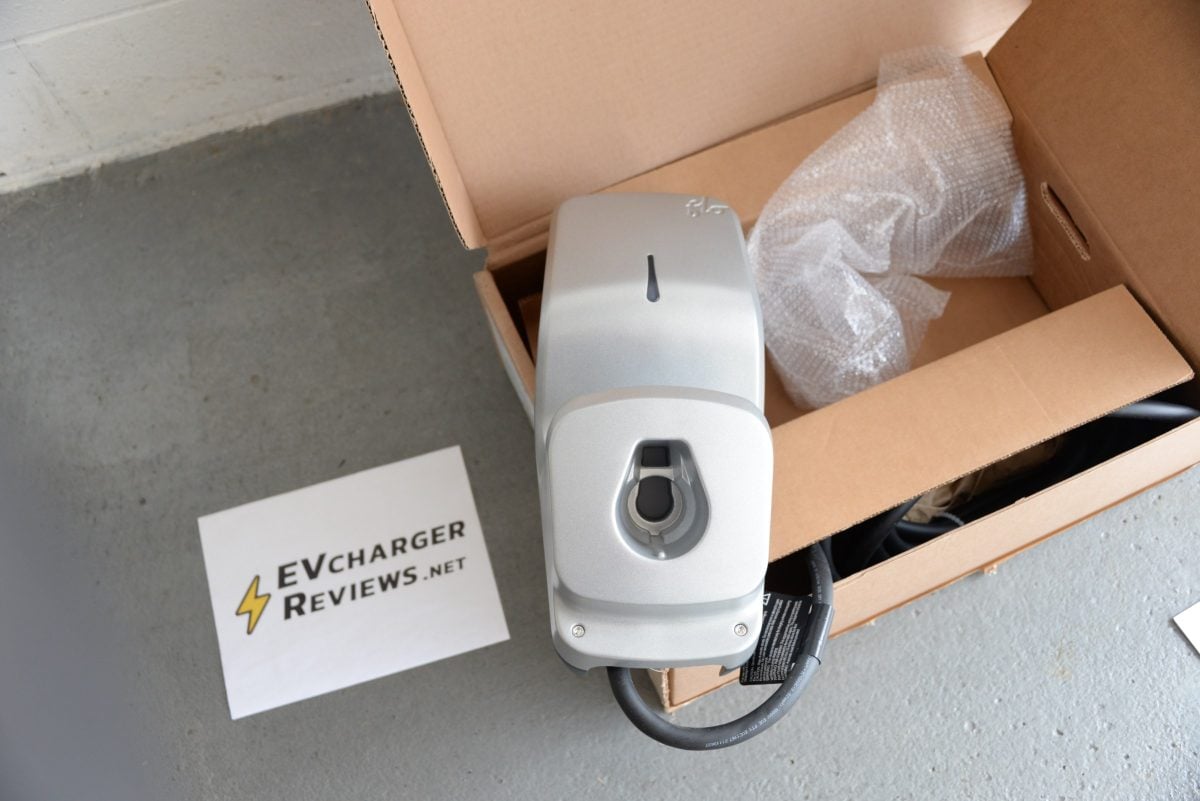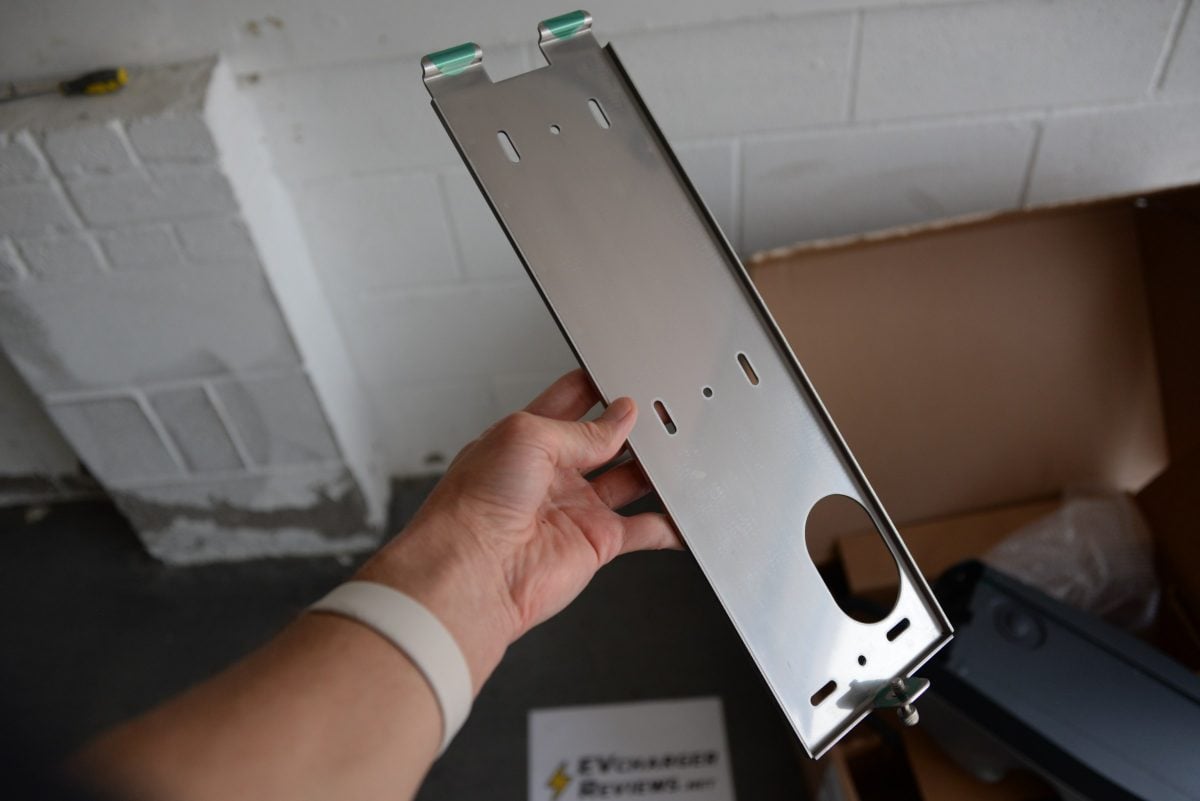 Hardware and Design
The first thing we noticed was how heavy and substantial the FLO Home X5 feels. That is because this home charging station is enclosed in aluminum both front and back. The wall mounting bracket is made of metal too.
The front casing of the product is molded to contain the electronics at the top, and a cord holder and J1772 holster in the bottom half. It is an elegant design that does not require any external cord holsters. The top of the unit also contains the LED status indicator light. A sound speaker is also available for audio cues, but this can also be disabled with software if preferred.
The sheer amount of metal used in this enclosure also helps serve as a heatsink to dissipate heat. After hours of charging an EV at 30 amps, the unit barely gets warm.
The design of the Home X5 does not have any obvious weak points. It earned a NEMA Type 4X rating for water-tightness, meaning that not only it can withstand wet weather, but corrosion too. This is ideal for outdoor installation in coastal areas or where salt could be in the environment.
This level of overengineering allows for the FLO X5 to operate in temperatures as low as -40°C (-40°F) while many competing products can only handle -30°C (-22°F).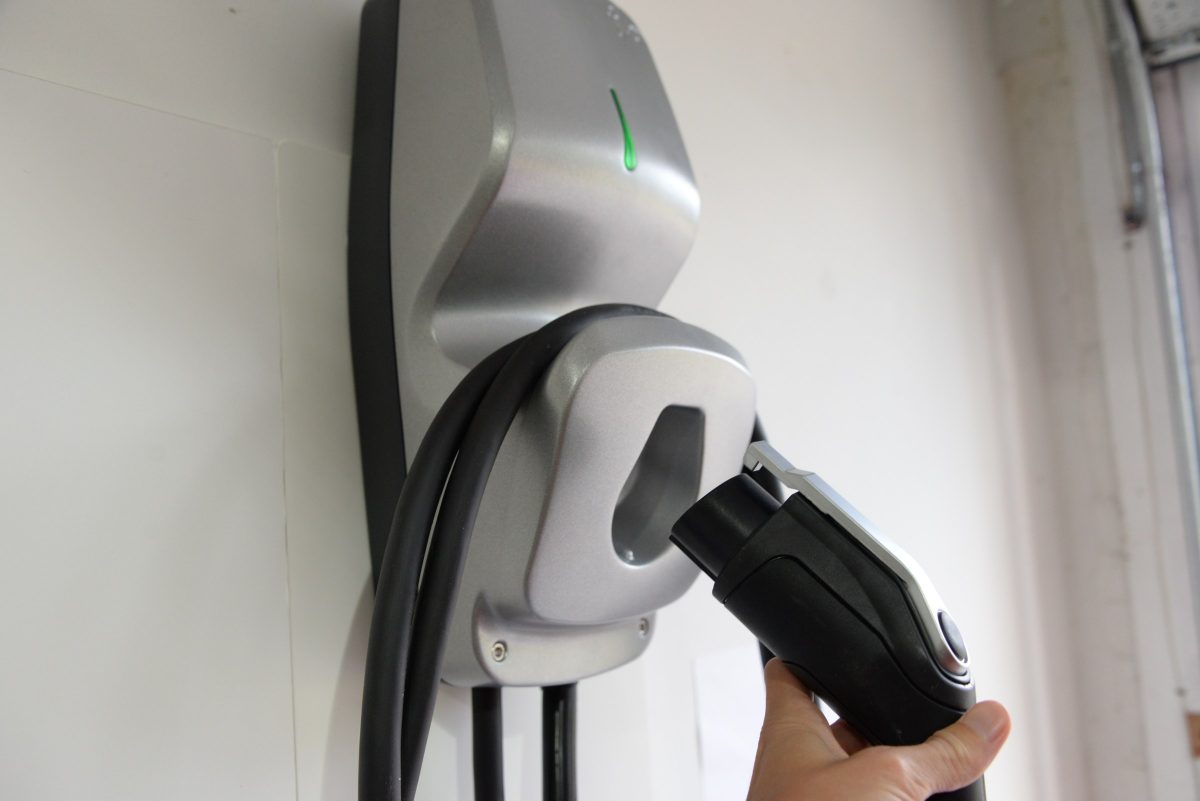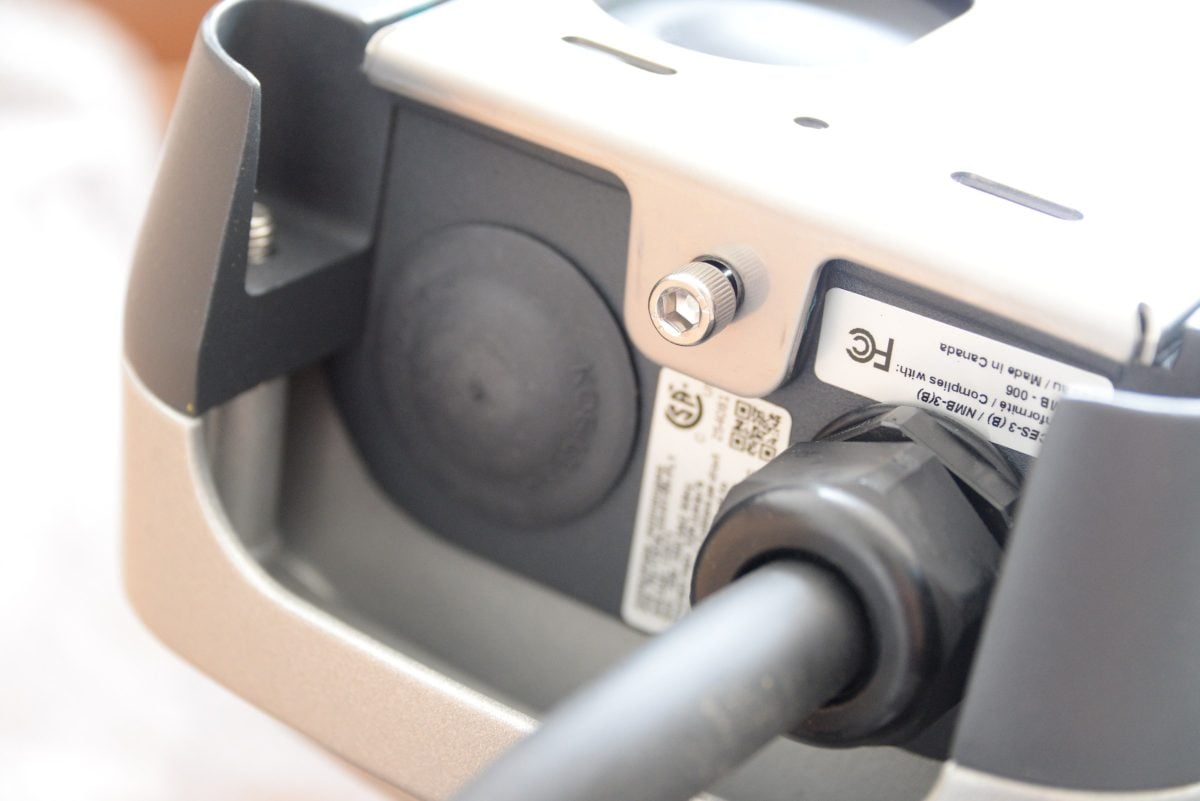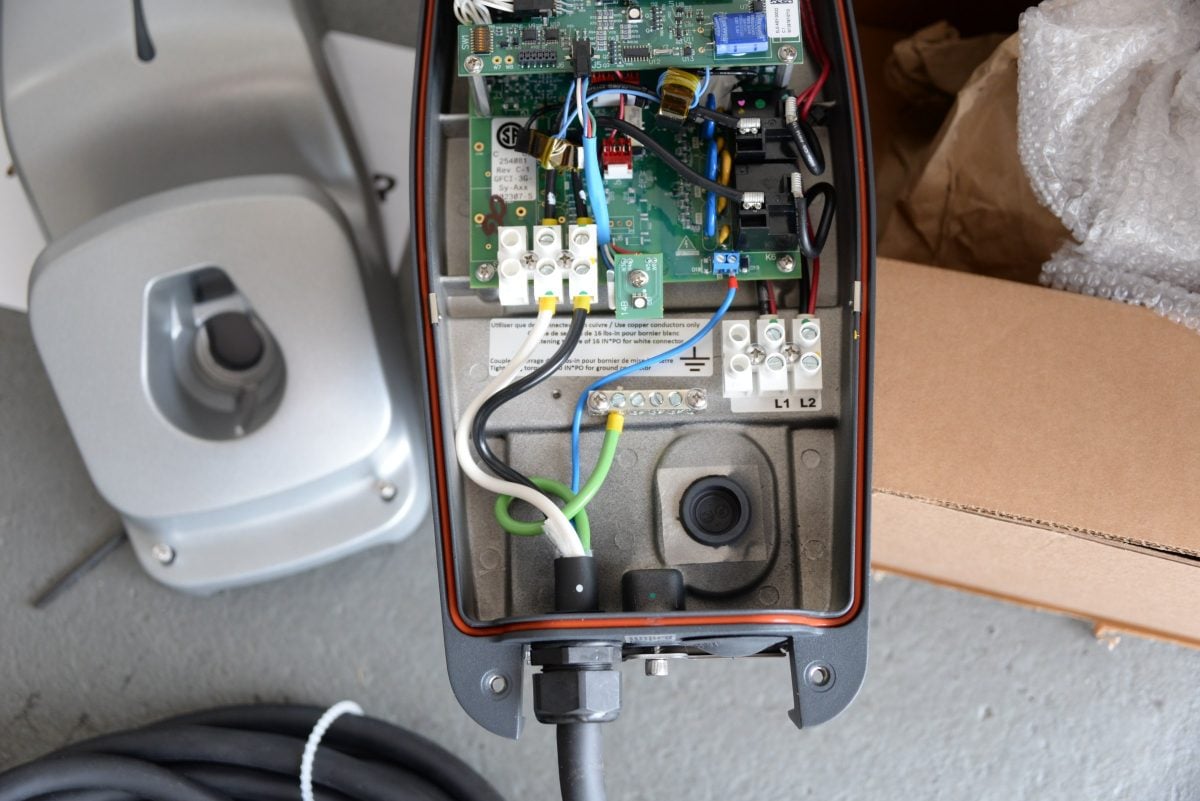 Specification Summary
| | |
| --- | --- |
| Spec | FLO Home X5 |
| Charging Level | Level 2 (240v) |
| Max Amps | 30 amps |
| Lowest Amp Mode | 6 amps |
| Cord Length | 25 feet |
| Charging Connector | J1772 |
| Wall Plug | None, hardwired only |
| Connectivity | Powerline Networking |
| Warranty | 5 years |
| Enclosure Rating | NEMA 4X, weather and corrosion resistance |
| Country of origin | Canada |
Charging Cord and J1772 Connector
The FLO Home X5 is a premium product and the cord quality really shows it. Not only do you get a generous 25-foot length, but the cord material is soft to the touch and very pliable.
You can see from our photos how neatly and tightly the cord is able to loop around the X5, with virtually no resistance. We had a Tesla Wall Connector and ShockFlo S1 charging station on hand, the the FLO Home X5 has by far the best cord.
Although we tested during mild autumn weather, we are going to revisit this review in the winter months when temperatures drop below freezing. We expect the X5 cord to perform very well in the cold when many other products suffer from stiffness and resistance.
The J1772 connector, likewise was a notch better than a lot of the less expensive products we have reviewed in recent months. The connector feels sturdy in the hand with grippy surfaces. According to FLO, this connector is designed to withstand 10,000+ usage cycles, and it sure feels like it could.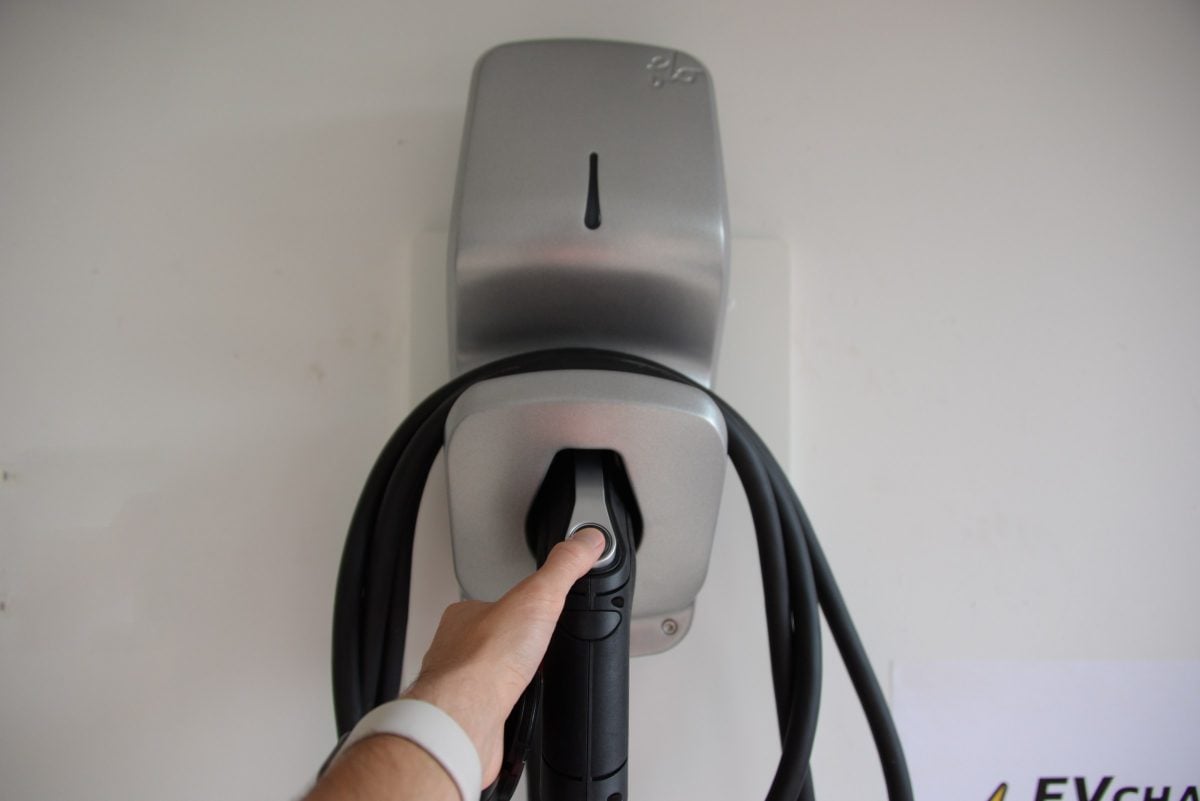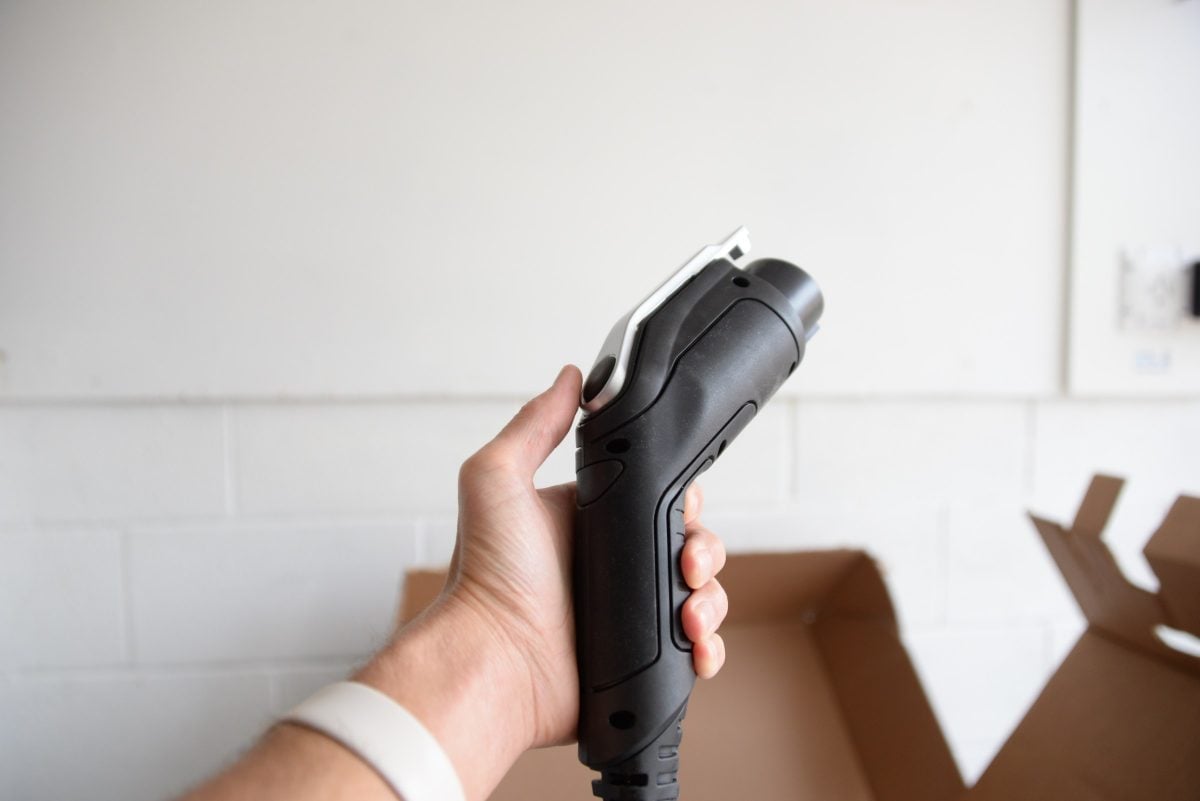 Connectivity and Software
As mentioned above, the FLO Home X5 does not have Bluetooth or Wi-Fi networking built in. Instead, the unit connects to your home network using powerline networking protocols. Powerline networking has matured in recent years to become a real alternative to Wi-Fi, or at least complimentary to Wi-Fi networks for areas where wireless signal is impeded. The technology uses the copper electrical wires in your walls to transmit data between adapters plugged into 120-volt outlets in your home.
The FLO Home X5 has a built-in powerline network adapter that can communicate over the same electrical lines that supply it with power. There is also a white powerline networking adapter included in the box that goes inside your home, near a wired networking point. In our experience, it was as simple as connecting an ethernet cable to the powerline adapter, and the FLO app discovered the X5 unit on our network only a few minutes later.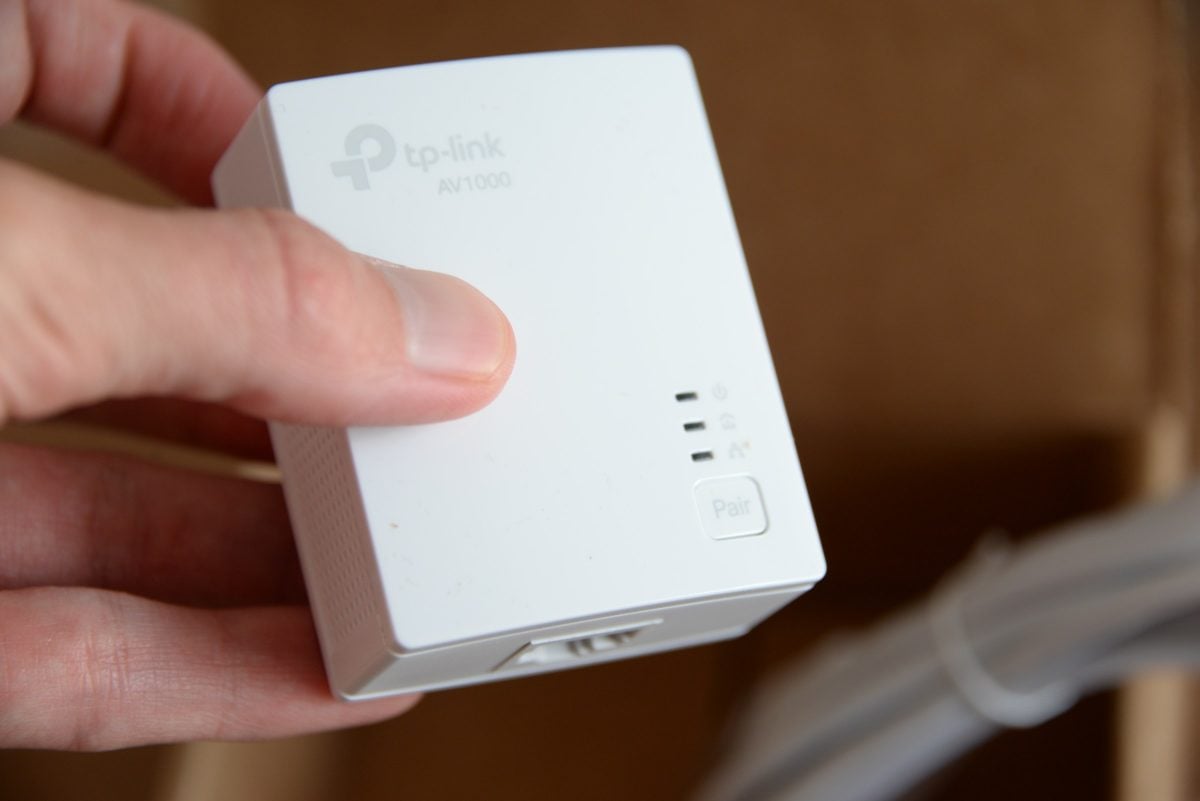 Powerline networking is a unique and interesting choice made by FLO, and it has obvious benefits. EV charging stations are often installed in garages or on exterior walls of homes where Wi-Fi reception may not be the strongest, so utilizing a wired connection makes communications more dependable. At the time of writing this review, we have used the X5 for more than three weeks and there was not a single time when the unit lost connection. The same can not be said about many competing products that rely on Wi-Fi networking.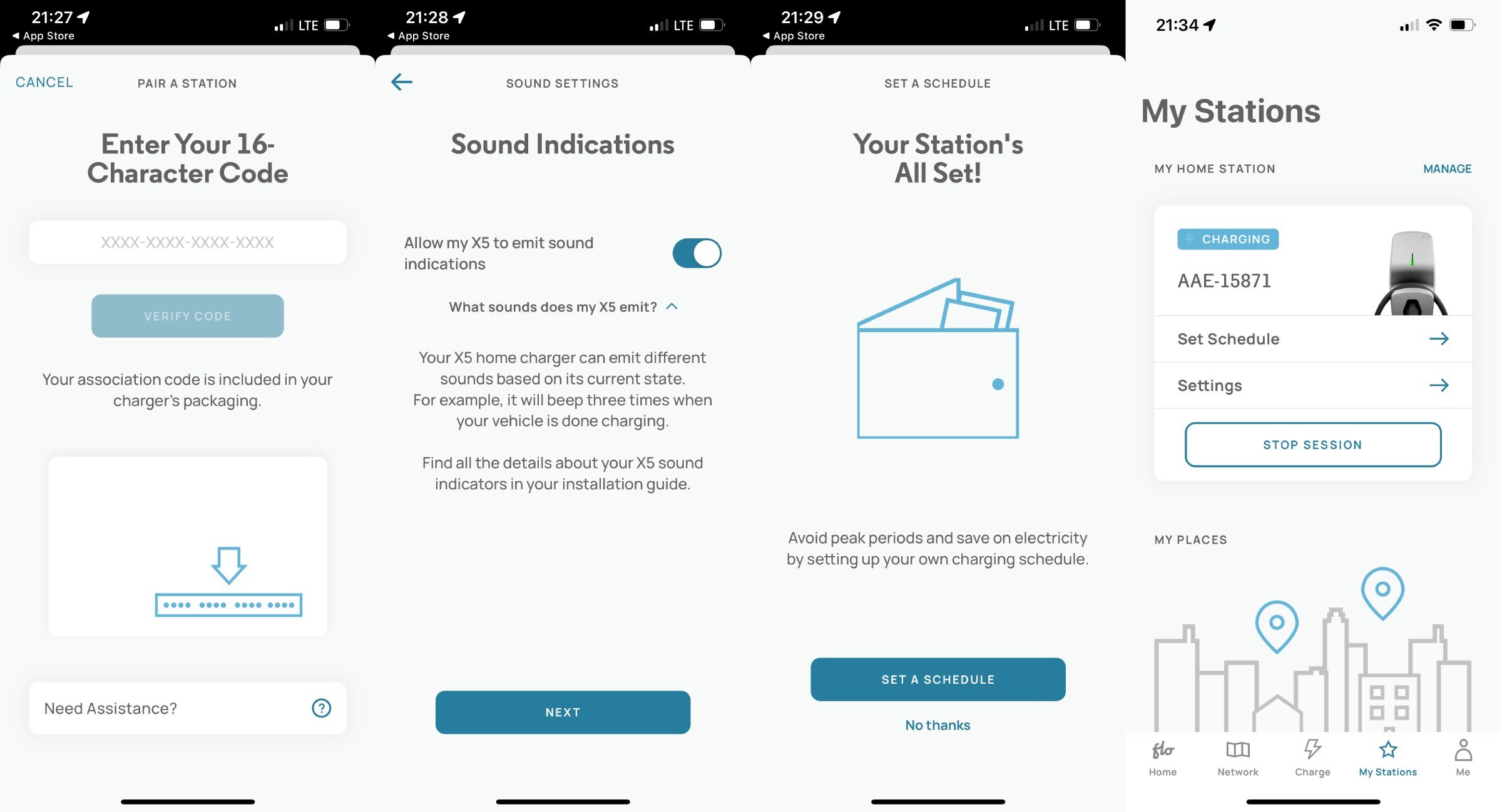 The app/software setup process was relatively easy and only took a few minutes. After connecting the powerline networking adapter to our home network, the iOS FLO app found the X5 unit on the network. And after entering the 16-character verification code from the manual, the charger was paired to our FLO account.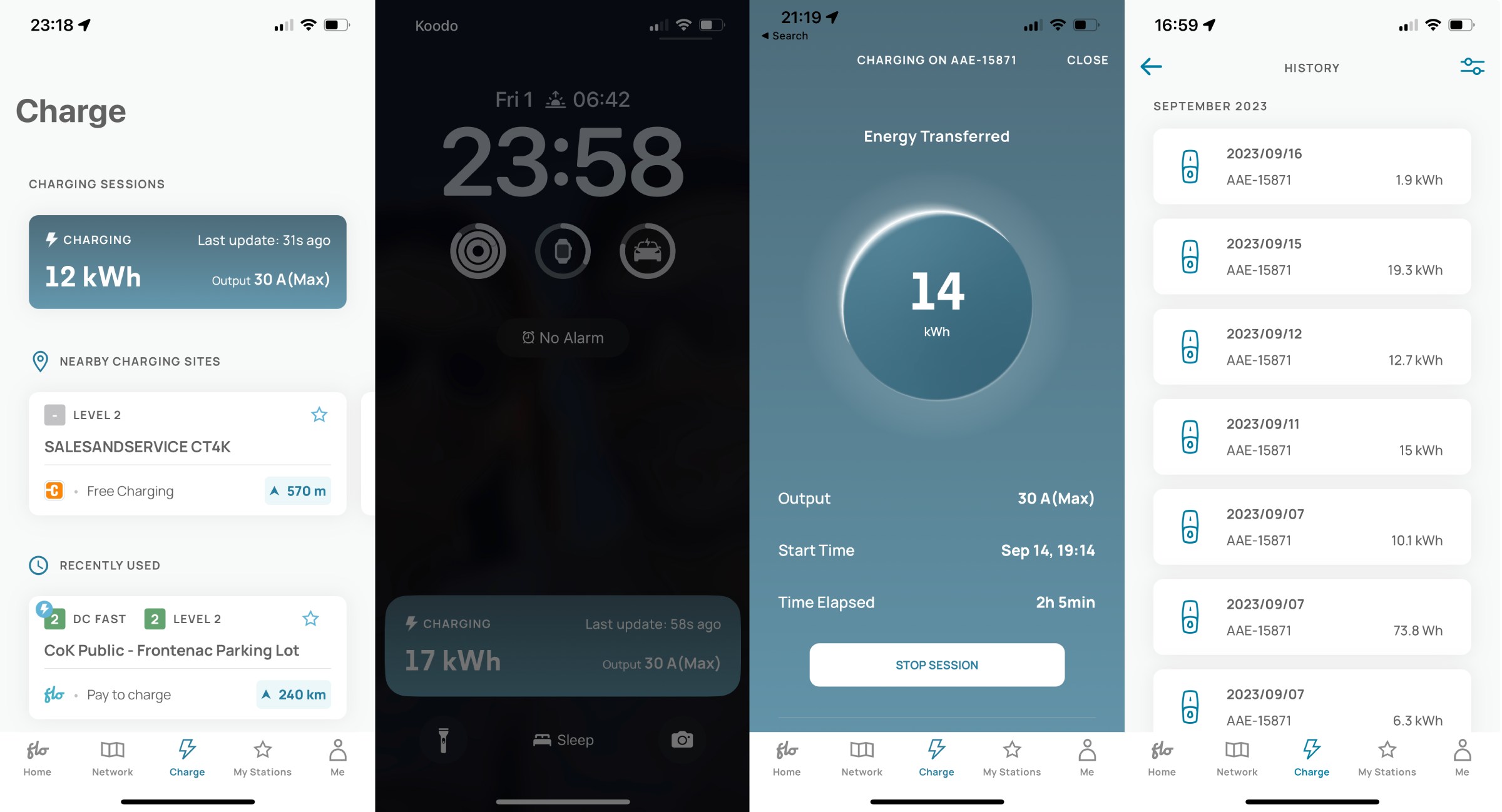 The app is intuitive and displays real-time charging statistics about your session. Conveniently, the iOS app also supports "Live Activities" on the phone lock screen, so there is a FLO charging widget with live data directly on your iOS lock screen.
FLO is a large charging network company that also offers a home charging station product. We were reminded of this fact when an email from the FLO network was sent to us every time we started charging at home. There are benefits to using a common app for home and public charging, especially if you are already a FLO network user. When launching the FLO app, the main screen displays all local charging options, not just your X5 unit.
Although you can keep track of all your home charging sessions from the History screen, we wish there was a better way of keeping track of monthly energy consumption from the app. Competing home charging products take electricity rates into account for estimates of monthly electricity usage and costs, but we haven't seen anything here from FLO.
Scheduling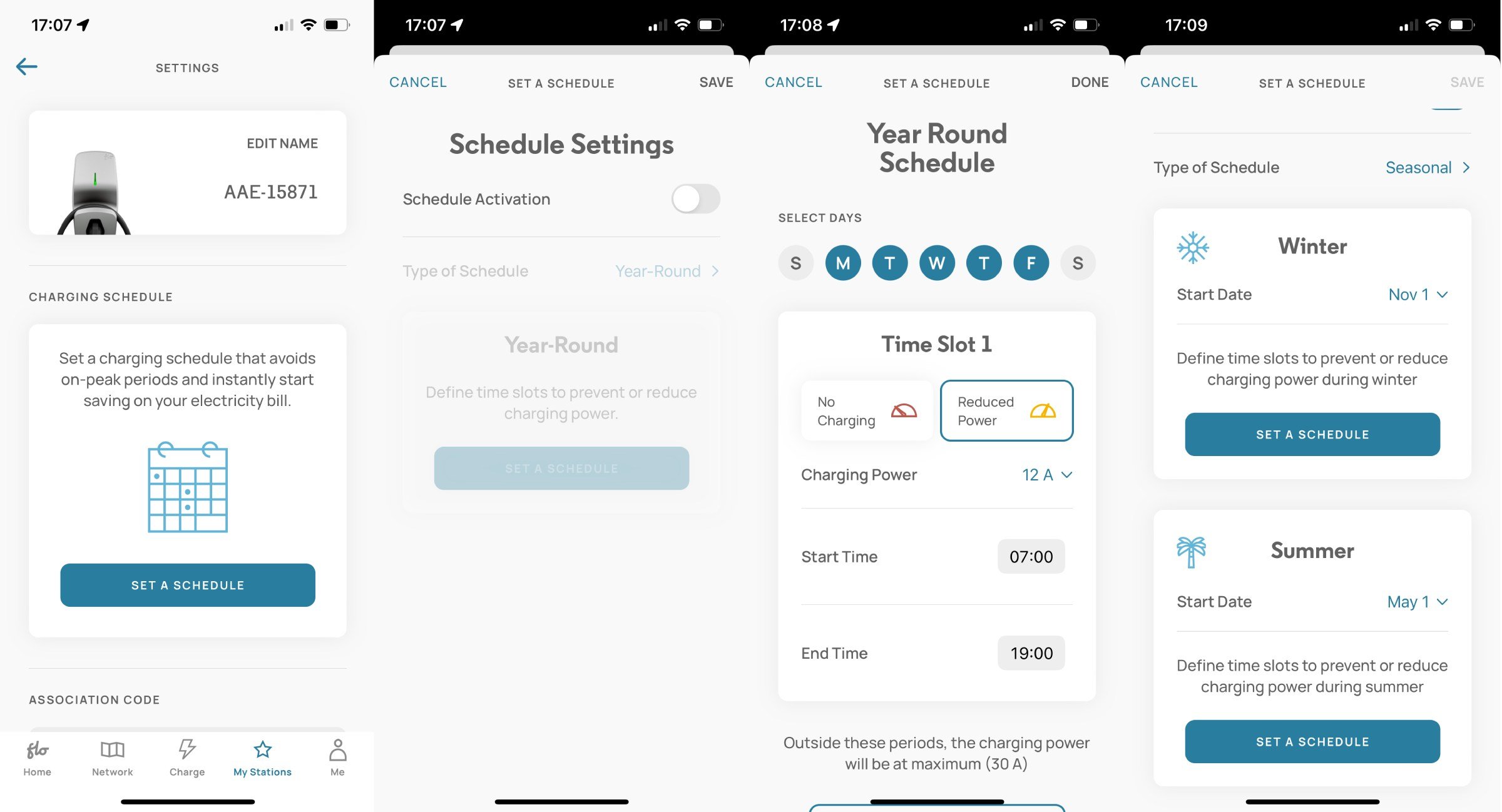 At a minimum, we expect smart home EV charging stations to be able to schedule blackout times of day when charging is not allowed, to avoid peak time of use (TOU) electricity rates. More sophisticated chargers can also differentiate between weekdays and weekends, when pricing may also be different.
But the FLO app takes scheduling to another level. FLO does scheduling better than any other product we have seen so far. Not only can you set an independent schedule for weekdays from weekends, but it is possible to set several time slots throughout the 24-hour cycle where charging is either restricted or operating at reduced power output. For example, when electricity is more expensive, the FLO app lets you reduce power to as little as 6 amps instead of stopping charging completely.
Another smart scheduling feature is the ability to differentiate between seasons. The app lets you specify a different set of schedules for summer and winter to match the pricing schemes of your local utility. This level of customization is very flexible, allowing you to really set it and forget it for the entire year.
Conclusion
The FLO Home X5 is priced higher than competing products, but you get what you pay for. This home charging station is engineered to a higher level for durability and weather resistance. We can't think of a tougher home charging station product on the market for outdoor installation. The 30-amp charging limit may be slower than many competing products, but if most of your charging is done overnight, it will not be a limiting factor. In reality, 0% to 100% charging sessions are rare, but even when you need a full charge, the 30-amp X5 can deliver up to 86 kWh in a 12-hour period.
Shopping Options
Full Review Gallery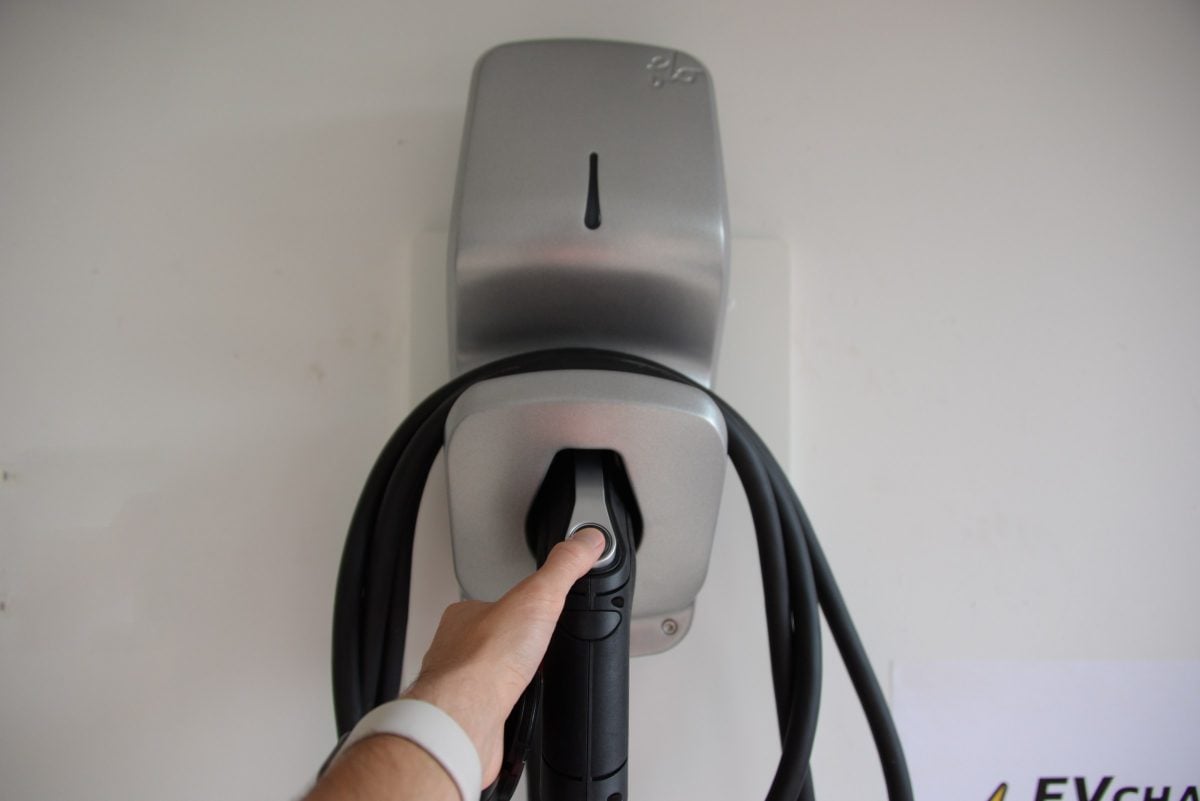 Disclosure: Independent review by Michael Kim from EVchargerReviews.net. We participate in affiliate programs, and we may earn income when you use our links. We hope you think that is fair, based on the amount of work that goes into our reviews.