Every Tesla car is connected to the Internet at all times. This opens up a world of possibilities not possible with any car I've owned before.
Upon purchasing a new Tesla, the buyer now receives 1 month of free Premium Connectivity and eight years of Standard Connectivity.
Basic functions will work with Standard Connectivity, but more data-intensive functions like streaming require the car to be connected to Wi-Fi or a subscription to Premium Connectivity for $9.99 in the US or $13.99 in Canada. Is it worth it? Let's see what you get.
What do you get with the free Standard Connectivity?
Full Remote Access using the Tesla phone app. Lock, and unlock the car remotely, view the location of the car in real-time, and even adjust HVAC settings remotely.
Navigation is fully functional with online maps, route planning, charging stops, and Supercharger availability. It will even bring up points of interest from Google Maps with reviews and photos.
Notifications are sent from the car to the mobile app for events such as alarm triggering, or charging completion.
What do you get with Premium Connectivity?
Navigation with Live Traffic & Sattelite Maps
Tesla's navigation system is genuinely great, you can almost forgive the company for not including Apple CarPlay and Android Auto. It is the only car I've owned where I prefer to use the built-in navigation instead of Google Maps on my phone.
Premium Connectivity adds a layer of live traffic data onto the maps in navigation and helps the driver proactively avoid traffic jams. This is especially useful when driving in unfamiliar locations. In addition, with Premium Connectivity you can change the default grayscale map to a satellite view map. However, satellite maps are only visible while in the light daytime display mode.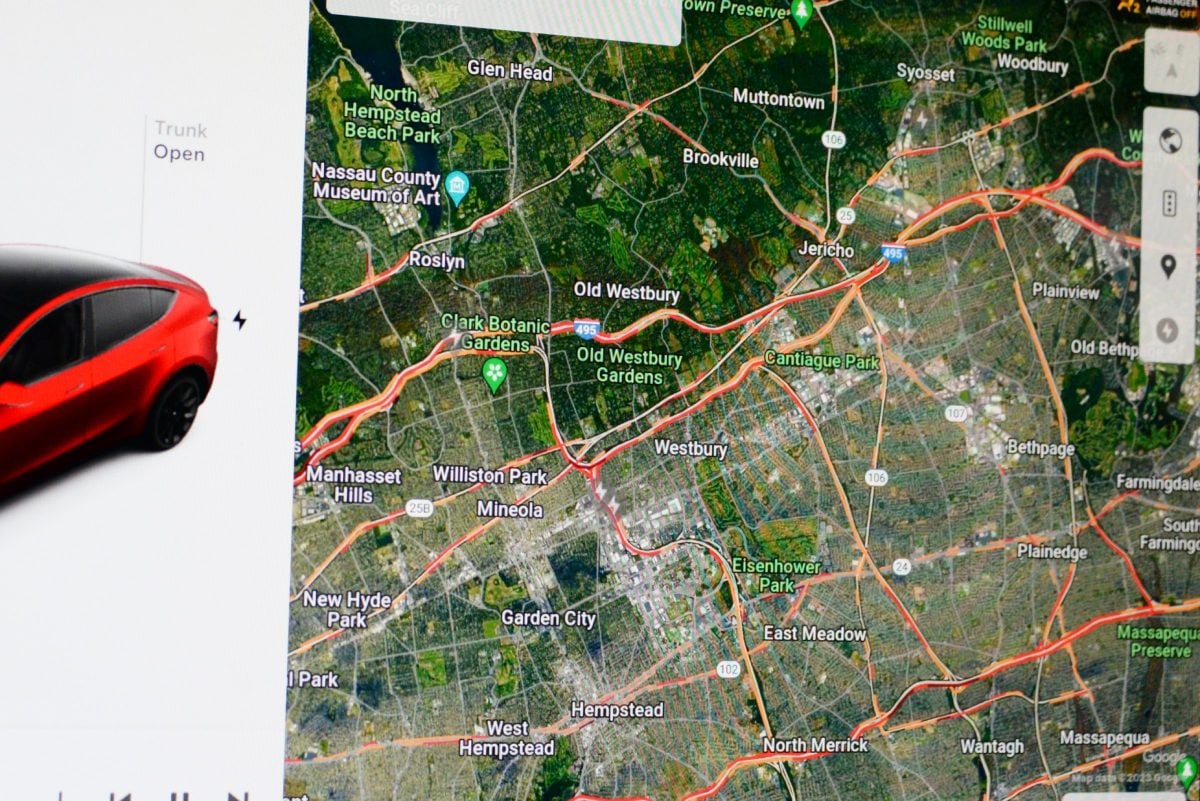 Streaming Netflix, YouTube, Disney Plus and Twitch
The Theater app in the Tesla in-car computer has several popular streaming services that can be enjoyed when the car is parked. Tesla cars have LTE data connections, and this is more than fast enough to stream HD quality videos while you are charging, or in any other situation when you need to pass the time. The large screen and immersive audio system make for a very enjoyable experience to watch your favorite content. Note that Netflix and Disney Plus require accounts and subscriptions, and Premium Connectivity only handles the data transfer.
You can connect the car to a Wi-Fi network (even a phone hotspot) to stream content without Premium Connectivity, but it adds an extra step and eats into your mobile data plan. While Premium Connectivity has no specified usage limits.
Music Streaming with Spotify, Apple Music, and Tesla Streaming app
A good music experience makes long drives much more enjoyable. While you can obviously connect your phone to the Tesla using Bluetooth for streaming audio, the music apps inside the Tesla computer have a couple of advantages. Subscribing to Premium connectivity allows the driver to stream unlimited music over LTE into the car using the Spotify and Apple Music apps (account and subscription required). Not having to worry about your mobile phone data caps is great, but also the audio quality will be higher by streaming directly into the car because Bluetooth audio has compression, slightly reducing audio quality streamed from a phone.
In addition, if you don't have an account for a paid streaming service, Premium Connectivity includes free music streaming using the Tesla Streaming app, which is essentially a rebranded Slacker radio service. As far as I can tell, this option is exclusive to Premium Connectivity subscribers because it is not even available on Wi-Fi without the subscription.
Web Browsing
Tesla cars have a fully featured web browser built into the car interface. It works very well and feels much like browsing the web from a tablet like an iPad. While you can use the browser for free when the car is connected to Wi-Fi, with Premium Connectivity the browser is available anywhere at any time.
Pro tip: You can get a glimpse of how it works without Premium Connectivity when looking at points of interest inside the Tesla Navigation maps. If the listing has a website address, the first page will load even on Standard Connectivity.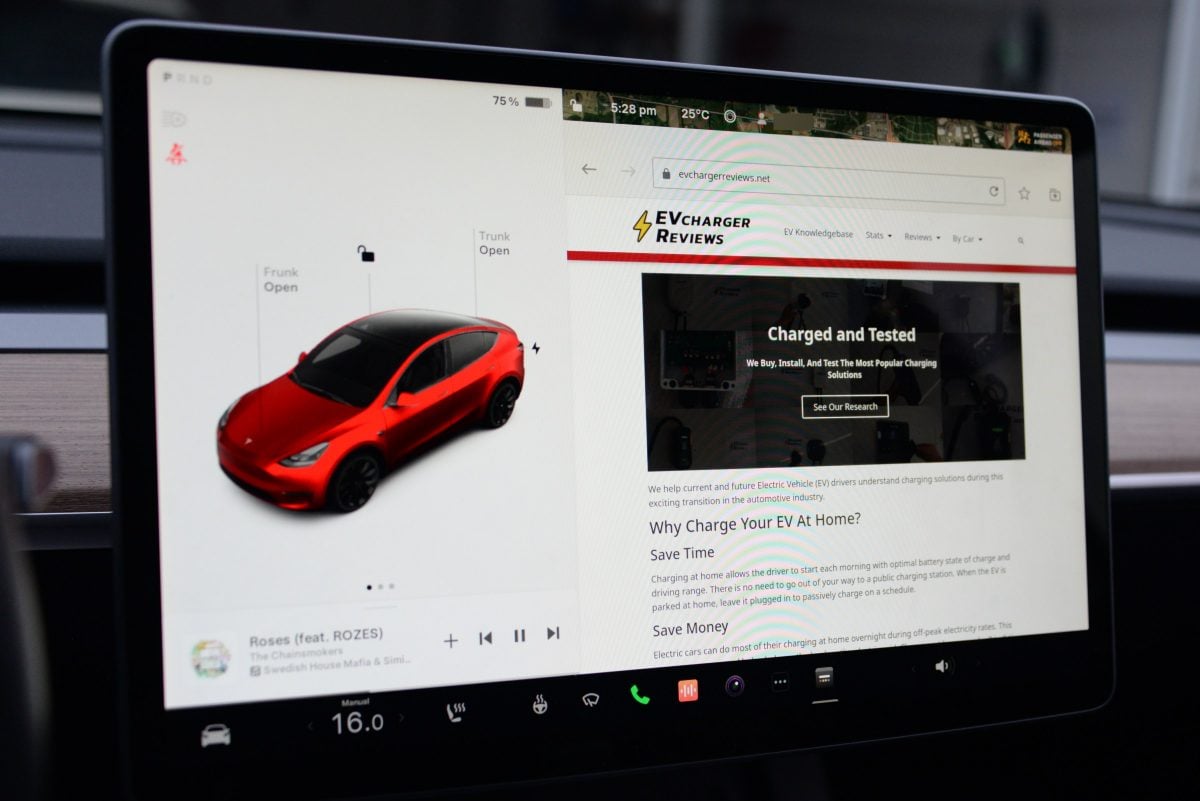 Sentry Mode Live View
Sentry Mode is Tesla's sophisticated car surveillance system that captures suspicious activity around the car using cameras and motion sensors and saves the footage onto the USB drive in the glovebox for review. Several years after the introduction of Sentry Mode, it is still unmatched in the industry by competing car brands.
Premium Connectivity adds to the offline Sentry Mode experience by letting the Tesla owner view the surroundings of their car in real-time from the app. This is very useful if you're worried about your car while it is parked, and want to check in on it. You can even activate the horn, a flash, or use the megaphone remotely.
A caveat here is that while you can view a real-time stream from the car, it is not currently possible to review captured events remotely. You will still need to review those from the car or USB drive.
You should also be aware that the Tesla will be dimly pulsating headlights and taillights while it is streaming video. This lets people around the car know that they are being watched.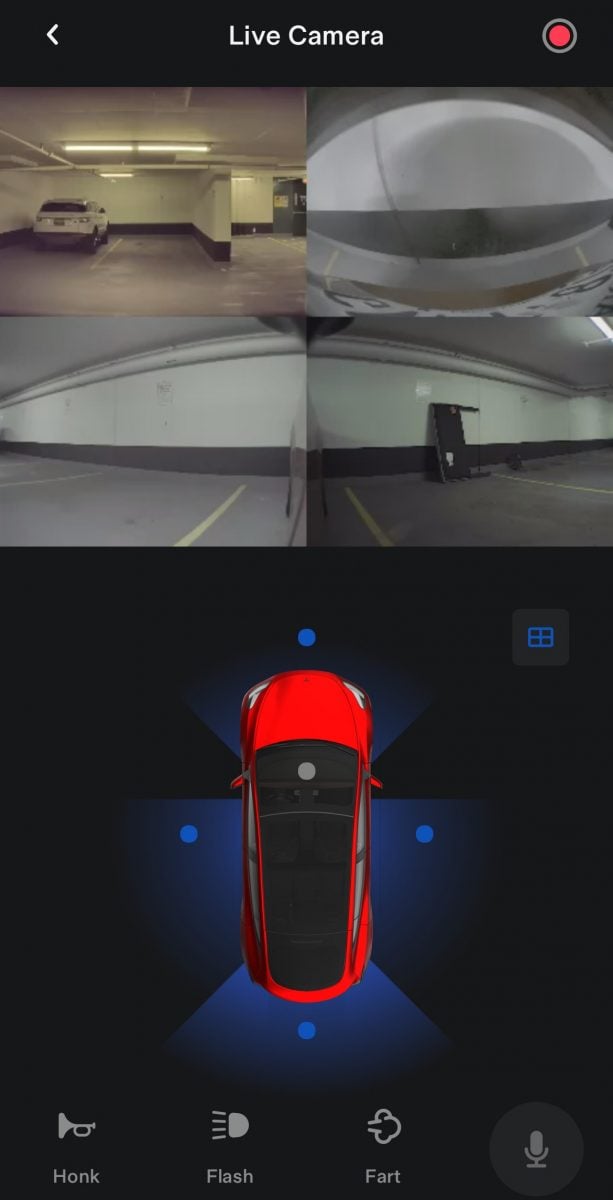 Is it worth the monthly subscription cost?
So do you really need to pay for another data plan? I believe it's up to each Tesla owner to decide based on how much they use their vehicle and the perceived benefits of those features. In my experience, Premium Connectivity does not add enough value for me most months when I have short, predictable commutes and my charging is done at home. Bluetooth tethering my phone was an adequate substitute.
But during months when I spent a lot of time in my Tesla on road trips and visited many Superchargers, the Premium Connectivity cost was much easier to justify. Streaming entertainment on the big screen is a good way to pass the time while charging, and live traffic data helps the built-in navigation route around traffic.
I wish there were more apps and functionality being regularly added to Tesla's in-car computer. The last major addition was Apple Music, but there are a lot of other streaming services that are absent. The Steam gaming store was a long-time promise from the company, but it has yet to be fulfilled.
How to Subscribe/Unsubscribe to Premium Connectivity
If you are not currently subscribed to Premium Connectivity, it can be found as an option in the "Upgrades" menu both within the in-car screen as well as inside the Tesla mobile app. It will automatically bill $9.99 plus applicable taxes to the default payment method for drivers in the United States. The fee is $13.99 (plus tax) in Canada. An annual subscription is also available with some savings.
The easiest way to cancel a Premium Connectivity subscription is from within the Tesla app.
Open the Tesla app, view your vehicle, and go to "Upgrades".
Click on "Software Upgrades"
Go over to the "Subscribe" tab on the next screen with upgrades.
You will see a link to "Manage" your subscriptions, where you will find your Premium Connectivity subscription and an option to Cancel Subscription.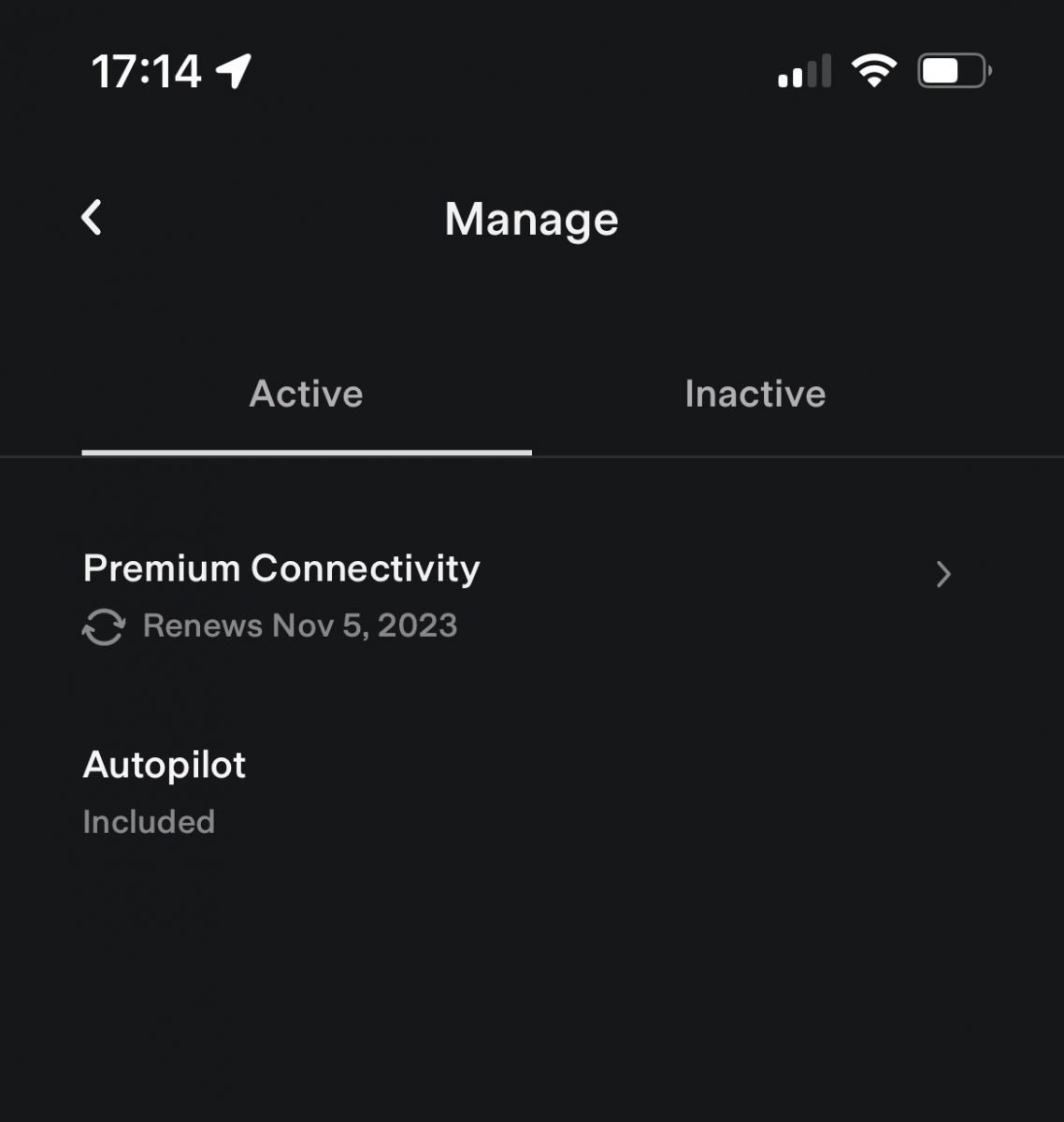 Additional Information
Does Tesla Navigation avoid traffic?
Yes, Tesla Navigation avoids traffic jams, but only with a Premium Connectivity subscription. With Standard Connectivity, the car is not aware of traffic conditions.
Does the Premium Connectivity data plan roam internationally?
Yes, I am able to confirm that my Premium Connectivity subscription from Canada is roaming in the United States as expected, with full navigation and streaming functionality. The reverse is true, and other users are reporting service in Mexico too.

The only issue was a long delay until the Tesla's modem changed networks. While my phone changed providers quickly after crossing the border, the Tesla took almost 15 minutes of driving into the US before the car connected to a service provider and began to load maps again.