Electric cars generally have less frequent maintenance and servicing requirements than gasoline combustion cars. But eventually, you are going to find yourself in the service department to take proper care of your car. Do Tesla Service Centers offer loaner vehicles? How does the policy compare to other brands? Let's find out.
Disclaimer: Tesla Inc., the company may change the policy over time, and policies may vary by location. We have done our best to summarize what is known as of January 2023. Consult with your Service Advisor for exact details.
From Our Experience
Most service centers will have a fleet of loaner vehicles for customers who need to leave their own cars for extended servicing. The loaner vehicles are available on a first come first serve basis. We had Model 3 Standard Range cars offered to us on several occasions. Our experience and anecdotal evidence suggests that booking a service appointment early in the morning (before 9am) or at the end of the day (after 5pm) gives you the best chance to catch a loaner car. During the middle of the day, loaners are more likely to be out with other customers. Tesla Service may pay for an Uber ride for the customer in some cases where loaners are not available.
There is not likely to be a Mobile Connector or any other charging gear inside the loader, but Supercharging is free! Which is a nice perk. These loaners are essentially undelivered and registered cars, like the test drive fleet. That means you are going to see messages and prompts about delivery status on the screen. But you don't need to worry about those.
Before you are given a key card for your loaner ride, the service advisor will send a link by email, where you are required to read and accept the terms and conditions of the loaner.
Customer Loaner T&Cs
Loaners are offered as a courtesy (free) for customers who are getting work done under Tesla's Basic Limited Time Warranty. If the work is not covered under warranty, a fee for the loaner may be charged.
Loaners are offered when the pickup time is more than 4 hours after drop off
Loaner must be returned within 24 hours of service completion
Failing to do so results in 100 EUR / USD / CAD fees for every 24 hours. (Amount can change and vary by location)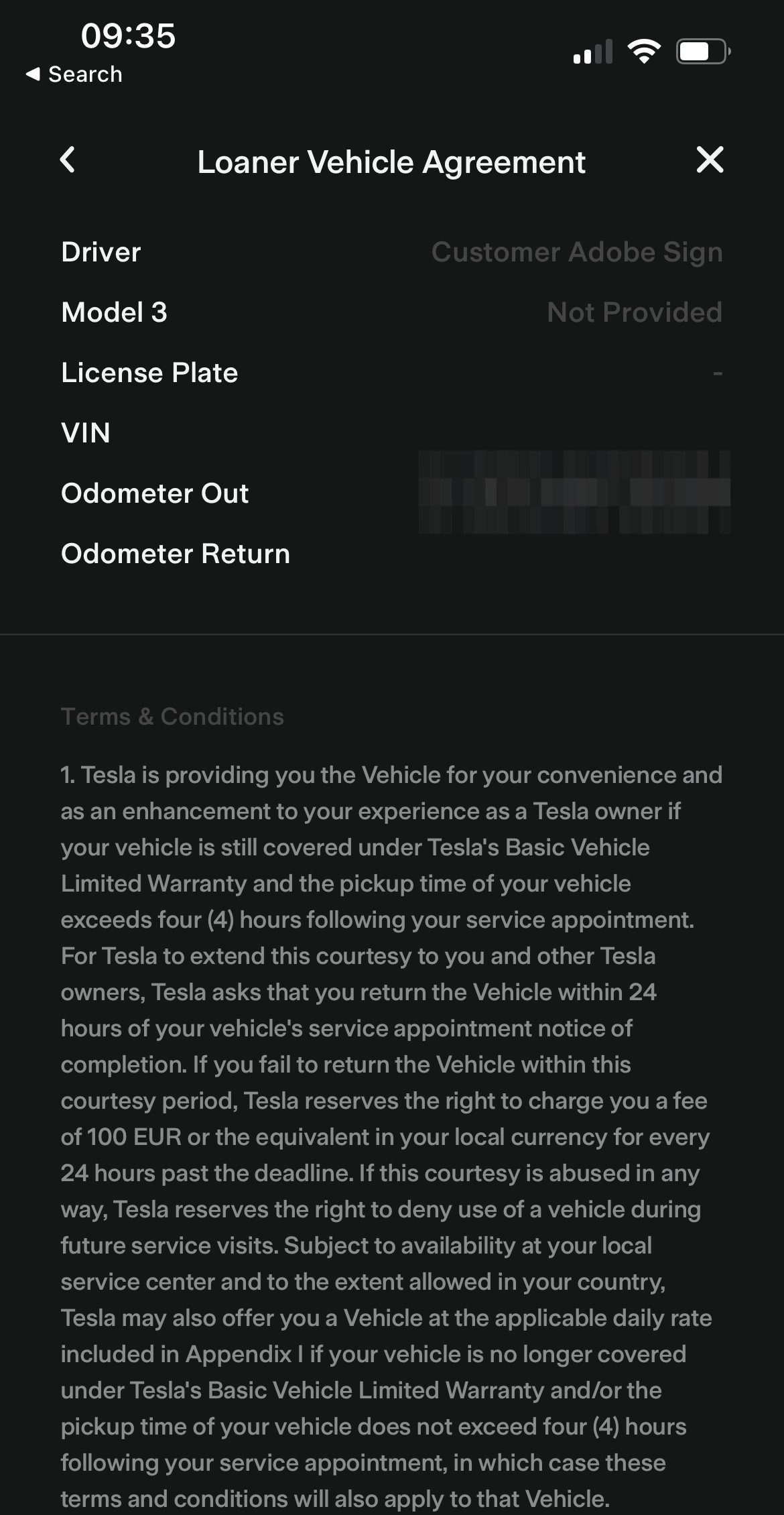 Only you (the customer) is allowed to drive the loaner, and letting someone else drive it requires prior permission from Tesla.
You agree to take good care of the loaner, not race it, or treat it in another negligent manner.
Loaners are restricted to 85 mph / 136 kph.
Tesla does not provide the customer with insurance, and the loaner will be entirely covered by the customer's insurance policy.
If there is damage to the loaner, there is a maximum of 2,500 EUR / USD / CAD deductible to be paid to Tesla. (Check the fine print in your geography for numbers)
Customers will be responsible for any tickets incurred while the loaner is in their possession. Tesla will pay the parking ticket and pass the cost to the customer in addition to a 20 EUR / USD / CAD administrative fee.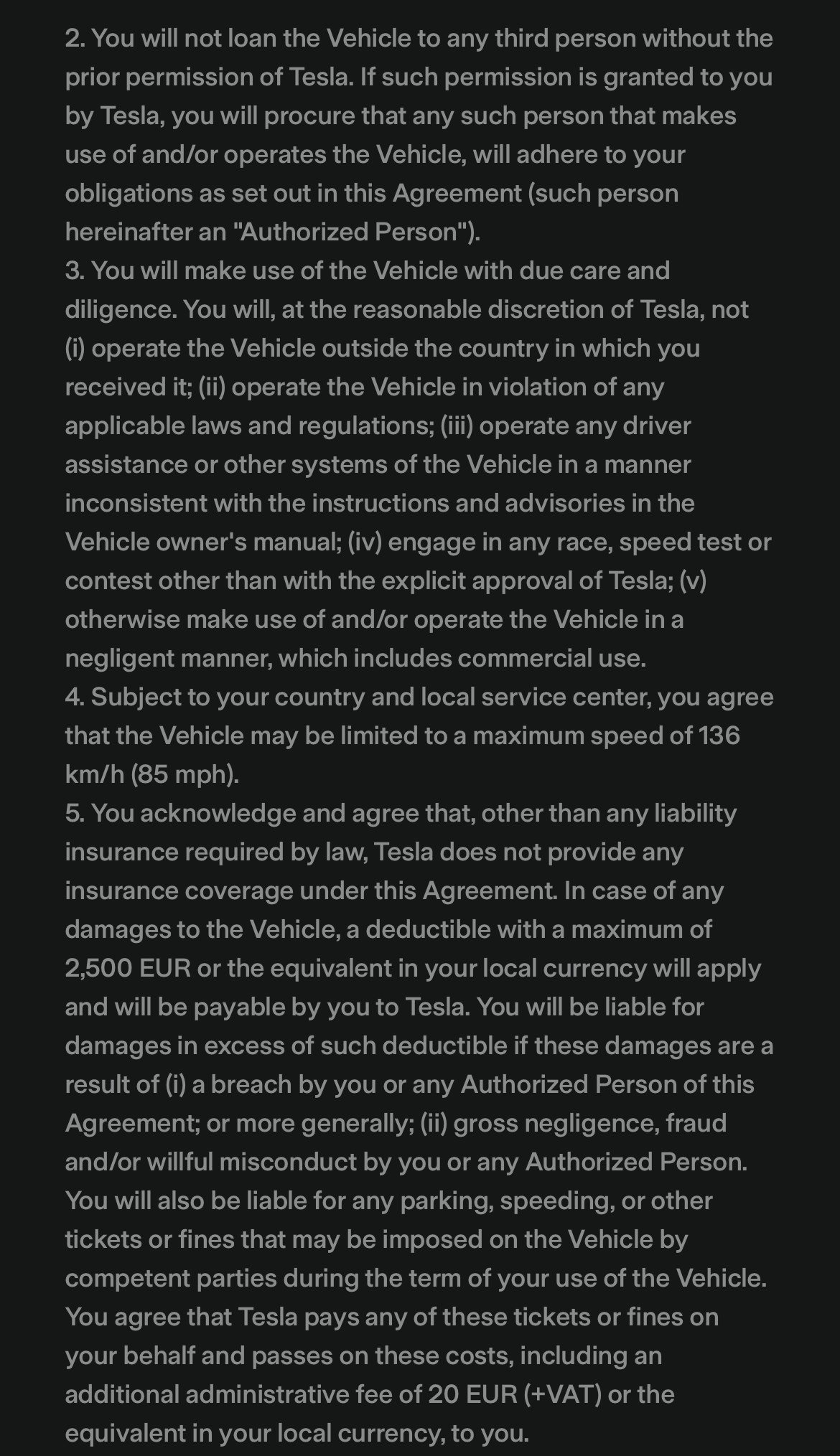 The customer agrees not to take the loaner more than 125 mi / 200 km from the service location. (number will vary by location)
Daily mileage is limited to 200 miles per day. (Most recently, we were told 160 miles/day by a service advisor. Confirm with yours when you sign)
Tesla reserves the right to charge $0.50 per extra mile, but historically this is not enforced to a tee. Unless you've really gone over by a lot.
The customer is liable for the costs of the replacement of a flat tire.
The customer is liable for transportation costs if the loaner runs out of charge.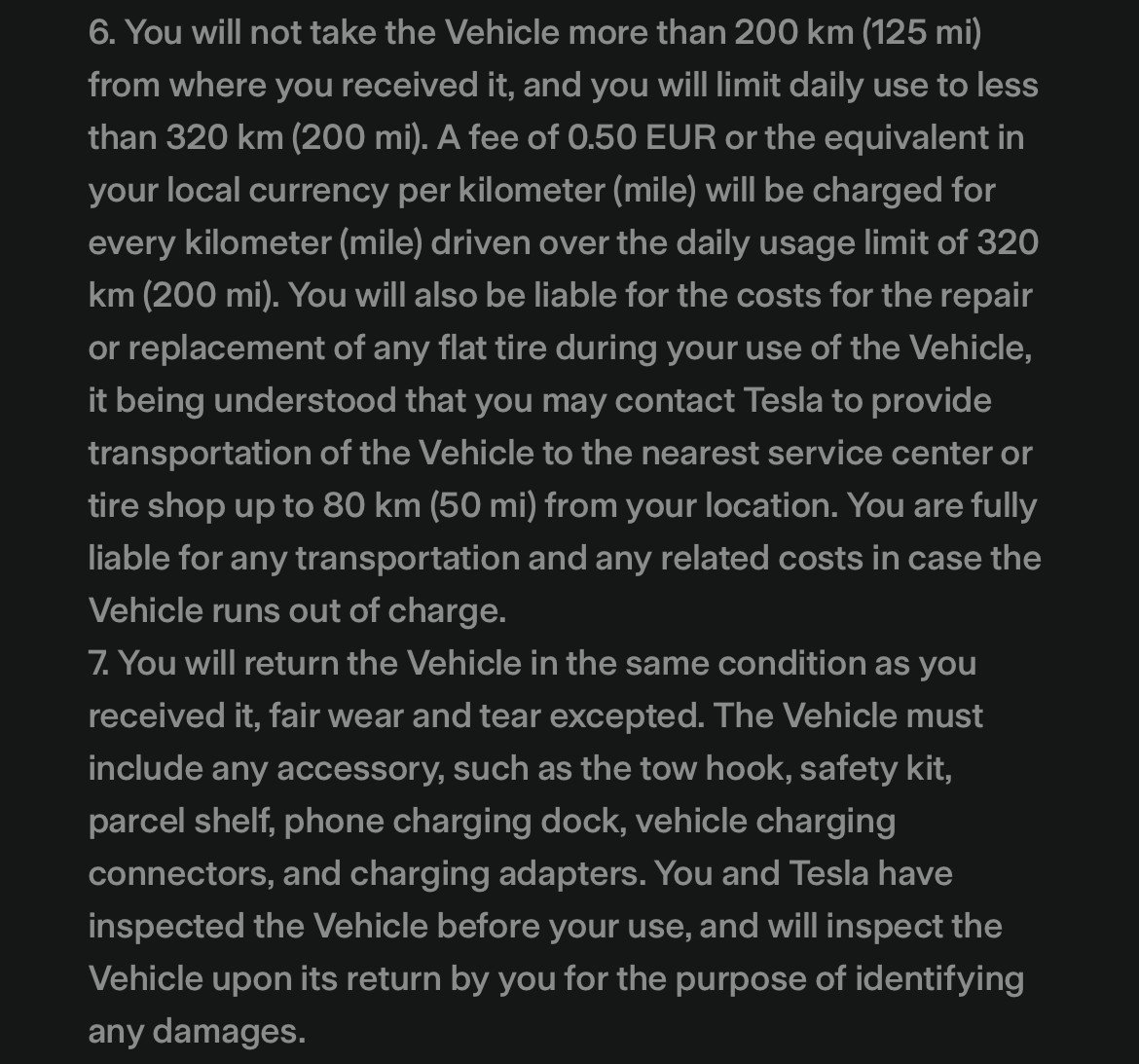 Customer must keep the loaner vehicle reasonably clean.
No smoking and no pets are allowed in the vehicle.
If extensive cleaning is required, a fee of 100 USD / EUR / CAD (varies by location) will be charged
Loaner Teslas (like all Teslas) collect usage and performance data. Your usage is not actively monitored, but the company may look into this data in case of an accident or if there is an issue with the loaner after your usage.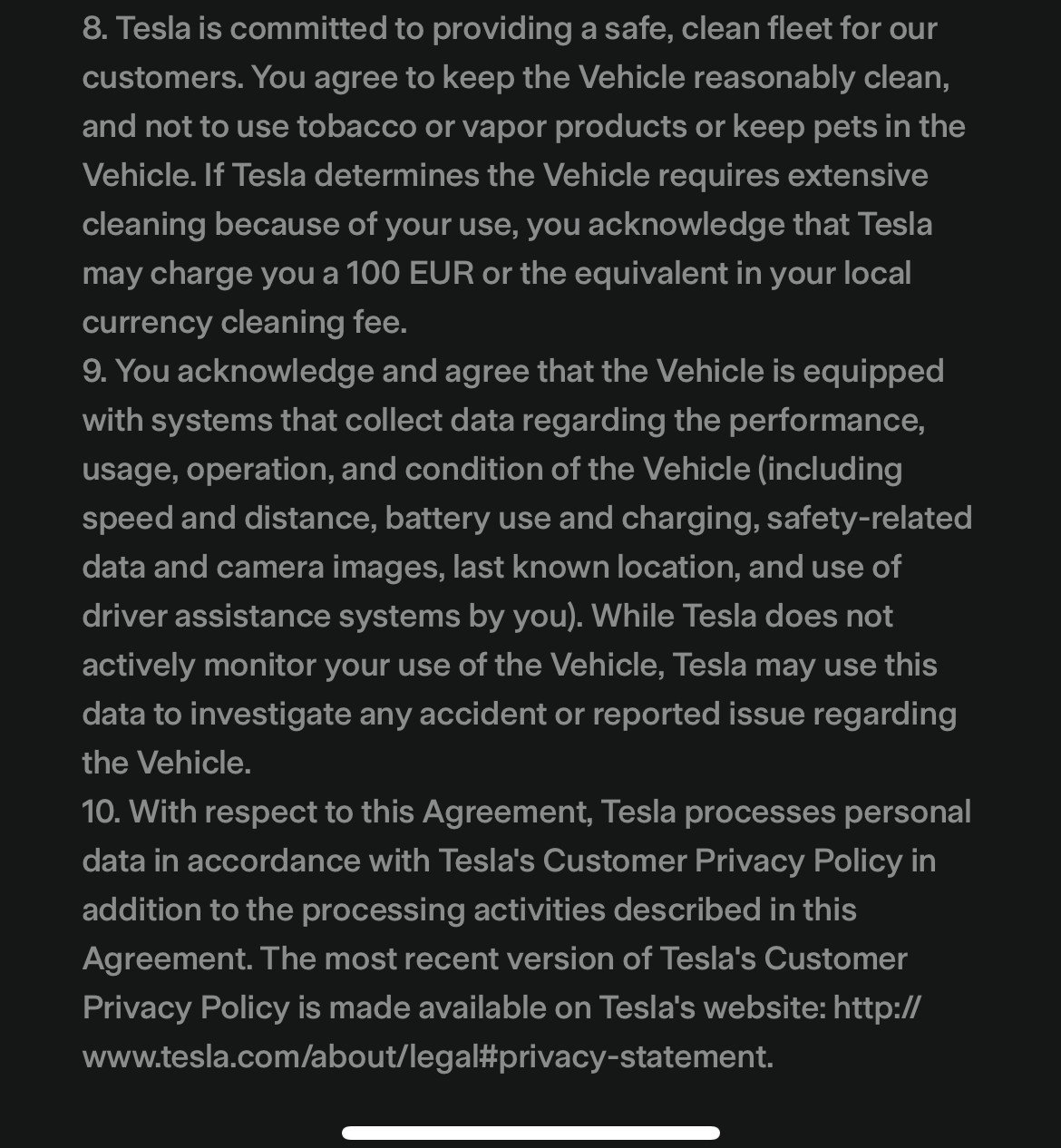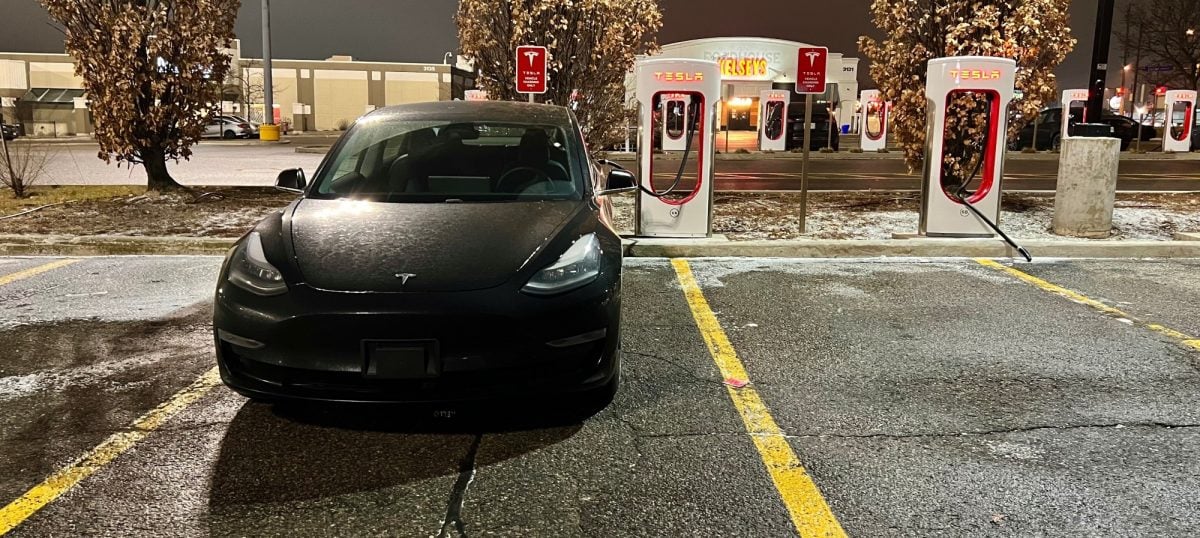 Related
How Much Battery Degradation is There After 30k Miles of Supercharging?