The latest Model 3 and Y Teslas come with two Type-C charging ports in the front, and two more for rear passengers. We just took delivery of the newest Model Y out of Fremont (September 2022 build), and wanted to find out if USB Power Delivery is supported and how much wattage comes out of these outlets.
We're using a physical USB power detector tool that measures voltage and amperage to confirm power in watts, as well as looking at what a Macbook is reporting what it thinks the charger is capable of.
Front Ports
Plugging in a 15-inch Macbook Pro as a load into the front console ports, we recorded a maximum of 33 watts (11.8V x2.87A) delivered. This is actually enough to power most modern laptops, and even charge slowly if not doing intensive tasks. No 12V inverter needed to run laptops! coconutBattery app on the Macbook also recognized the source as a 36 watt power adapter.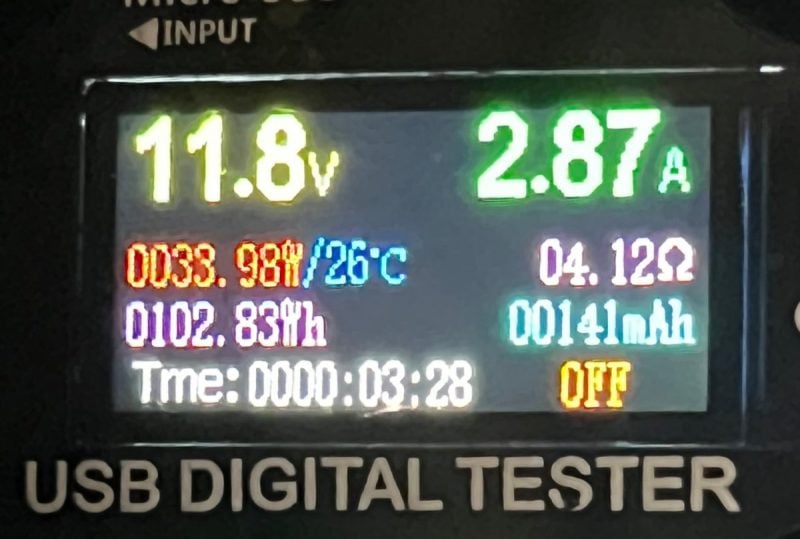 Rear Ports
However, the rear Type-C USB ports appear to max out at only 9 volts. The maximum we were able to draw from the rear ports was 25.6 watts (9.03V x 2.84A). The computer also reported 27 watt power source plugged in. This is still plenty for even the thirstiest mobile devices, but laptops and anything larger are better served at the front.
What about the other cabin power options? We've known from Tesla documentation that the wireless Qi phone chargers can supply up to 15 watts, and the 12V sockets are capable of 12A. But no Vehicle to Load functions on current Teslas, sadly.