EVchargerReviews is supported by our readers. We may earn commissions from links on this page. Why trust us?
Best Home EV Charger for Tesla Model Y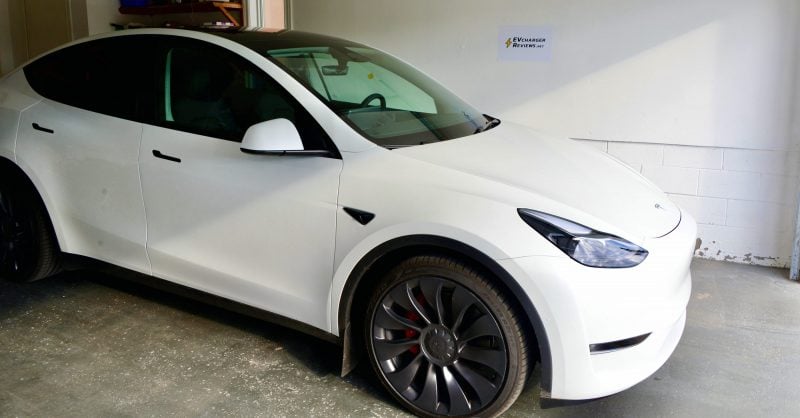 Updated May 3, 2023 by Michael Kim
The Tesla Model Y is on track to become the best-selling EV in the world. This wildly popular crossover SUV from Tesla ticks all the right boxes in performance, efficiency, space, and fun.
With new reservations of the Model Y no longer including a Mobile Connector for Level 2 charging, many new owners are looking for options for charging at home. Based on our hands-on testing and research, we've rounded up our favorite home charging solutions for the Tesla Model Y.
Why trust us? We have hands-on testing experience with the most popular EV charging products.
Tesla Wall Connector Gen 3 (48 Amp)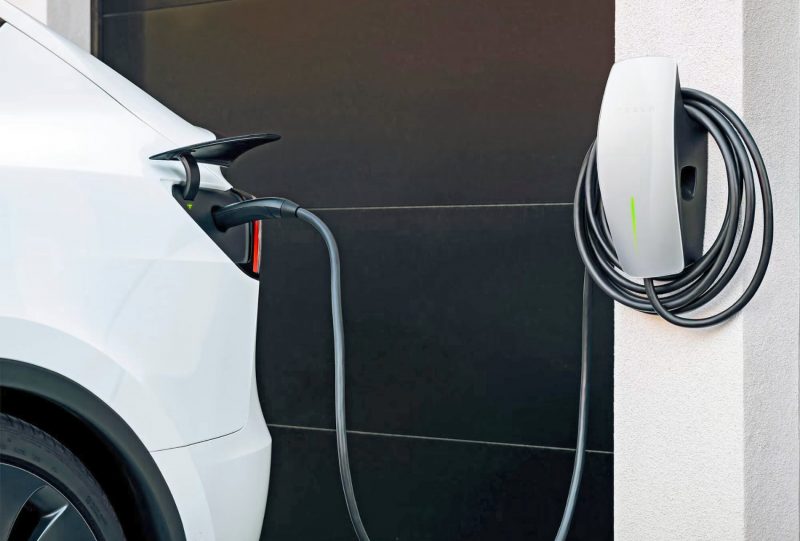 The most obvious choice for Model Y charging at home is Tesla's very own Wall Connector. The latest 3rd generation home charger is Wi-fi connected and supports up to 11.5 kW charging speeds, that is 44 miles of range added to the Model Y every hour. (60 amp circuit breaker is required to get the whole 11.5 kW)
The Tesla Wall Connector seamlessly integrates with the Tesla app and ecosystem. (Like the ability to open the Model Y's charge port with a button on the handle) This product even allows the user to restrict charging to specific Tesla cars. This is especially useful for outdoor installations.
Why Consider Third Party Home Chargers for Tesla?
The biggest benefit of going with Tesla Wall Connector is that it comes with Tesla's proprietary charging plug, while most other chargers come with the standard J1772 plug. But don't worry, every Tesla car comes with a J1772 to Tesla adapter.
However, chargers from other brands may be easier to install and offer additional features. See our other recommendations below.
If backordered at Tesla, try Amazon
Specs
48 amps, 11.5 kW
24 foot long charge cable
Indoor/Outdoor operation
Hardwire installation only
Tesla charging connector (North America)
Pros
Designed specifically for Teslas, attractive design, integrates with Tesla app, no adapters needed to charge Teslas
Cons
Needs to be hardwired professionally, no display, needs additional adapters to charge non-Teslas, often backordered with long wait times
Wallbox Pulsar Plus (48 Amp)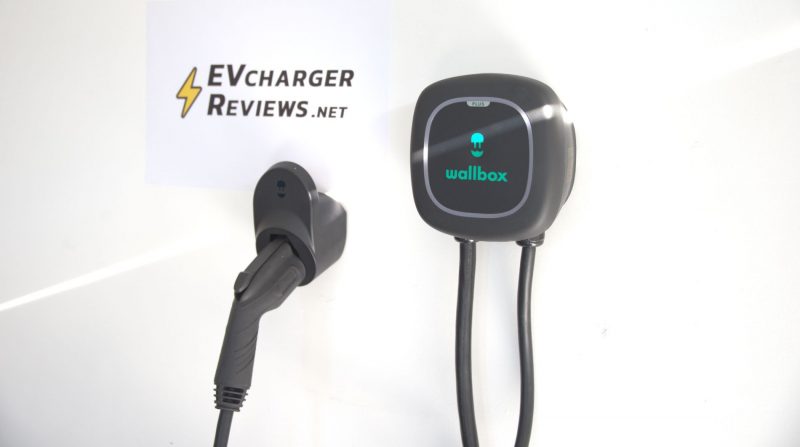 The Wallbox Pulsar Plus is our top pick for a charger with a compact and attractive design at just 7.8″ x 7.9″ x 3.9″ in dimensions.
Available in 40 and 48 amp versions, the Pulsar Plus can charge up to 8 times faster than Level 1 (120v) charging. The Wallbox unit features a 25 foot long cable, the maximum allowed length. The 48 amp version of the Pulsar Plus is able to deliver up to 11.5 kW of power, matching the speed of the Tesla Wall Connector.
Wallbox also works great for households with multiple EVs that need to be charged simultaneously. Two or more Wallbox chargers on the same circuit can communicate with each other and balance the available household power between chargers. See full review here.
Specs
40 and 48 amp versions
25 foot long charge cable
Indoor/Outdoor operation
NEMA 14-50 outlet, or hardwired
Wifi and Bluetooth connectivity
J1772 charge plug, connects to Teslas with adapter
Pros
Compact design with clear indicator lights, myWallbox app companion app for control and charge monitoring
Cons
The app is rather basic compared to other chargers
Grizzl-E Classic EV Charger (40 AMP)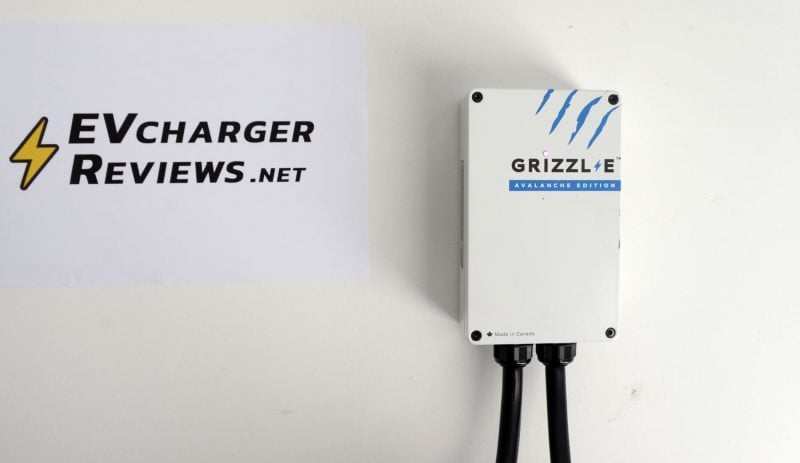 The Level 2 home charger from Grizzl-E is a compelling option for Model Y drivers looking for durability and value. It is a simple utilitarian design metal box with an LED indicator light and heavy duty construction. There are no screens or wifi connectivity options, just a heavy duty industrial looking box with 40 amps of power delivery, which should translate to about 9 kW usable charging speed.
Grizzl-E is based in Canada, so their products are designed to perform in extreme weather conditions. The operating temperature range is between -22F to 122F for outdoor usage.
This charger is available with either NEMA 14-50 or NEMA 06-50 wall connectors (check the SKU when ordering), and all variants can be hardwired by an electrician. Full review available here.
Not sure which version you need? NEMA 14-50 is the most common plug, but both versions can also be hardwired by an electrician.
Specs
40 amps, or as low as 16
24 foot long charge cable
Indoor/Outdoor operation
NEMA 14-50, NEMA 06-50, or hardwired options for installation
J1772 charge plug, connects to Teslas with adapter
Pros
Good value, durable construction and materials, heavy duty charging cable, suitable for extreme climates, can charge almost any EV
Cons
No smart features or app control
ChargePoint Home Flex (48 Amp)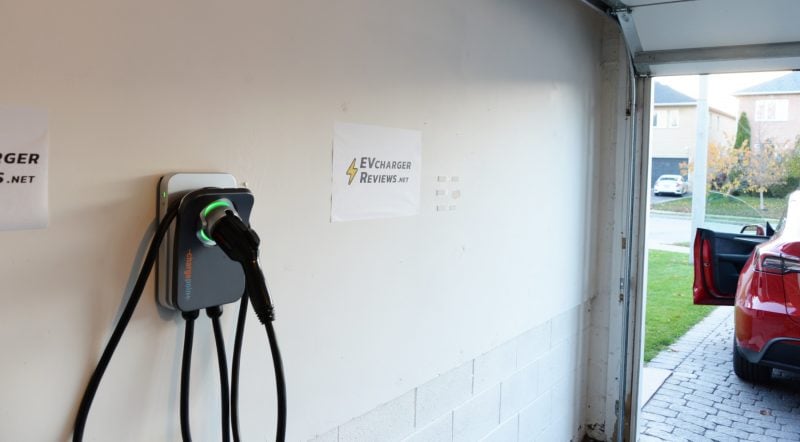 ChargePoint is a reputable brand in public charging as well as home charging. The Home Flex is one of our favorite home EV chargers; with a combination of attractive design, quality materials, and more than enough amps.
At the higher end of home chargers, the Home Flex is able to deliver up to 50 amps to your EV, the Model Y maxes out at 48 amps on AC. The companion ChargePoint app allows the driver to schedule charging sessions when electricity is cheapest, as well as send you reminders to plug-in the car.
Compatible with most EVs on the market, the ChargePoint Home Flex is our top choice for most EVs with larger capacity batteries, like the Model Y. The ChargePoint Home Flex is a top seller on Amazon, and for good reason.
Specs
Up to 50 amp charging, more then enough for Model Y
23 foot long charge cable
Indoor/Outdoor operation
NEMA 14-50, NEMA 6-50, or hardwired options
UL Listed; safe and eligible for rebates/incentives in many states
J1772 charge plug, connects to Teslas with an adapter
Pros
Energy Star Certified, Wifi connectivity, cord remains pliable in colder temperatures, NEMA 14-50 or NEMA 6-50 plugs available, up to 50 amps of current
Cons
A Chargepoint app and account is required for setup. Requires more assembly than competing chargers.
Emporia Smart Level 2 EV Charger (48 Amp)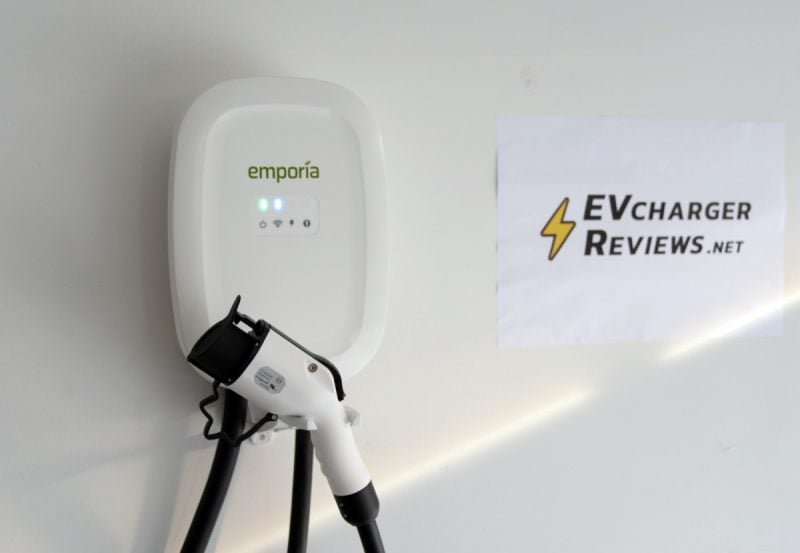 The Emporia home EV charger is easy to recommend if you already have other Emporia energy products in your home, as the app can control a variety of Emporia hardware. But the EV charger is a competitive product in its own right. While cheaper than many competitors on the market, Emporia does not cut corners where it matters most in day to day usage.
We really liked the high power output (48 amps hardwired, 40 amps over NEMA 14-50), and the highly durable single piece metal charge cord holder. Most competing brands throw in a cheap plastic cord holder into the box. Installation and app configuration was relatively easy as well. You can see our full review here.
Specs
Up to 48 amps, when hardwired
24 foot long cable
Indoor/Outdoor operation
NEMA 14-50 outlet or hardwired
J1772 charge plug, connects to Teslas with an adapter
Pros
Lower cost than competitors, up to 48 amps of power, app connectivity and scheduling, really good metal charge plug holder
Cons
The charge cord is shorter than competition, the charger casing is made from plastic
Lectron 240V (40 Amp)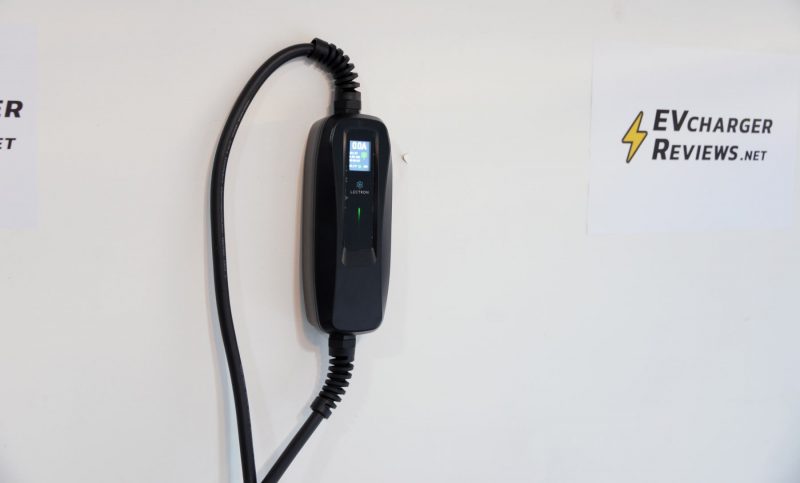 Lectron makes a ton of models, but this specific 40 amp charger is our favorite budget pick. Small, light and portable. But unlike most travel charging adapters, the 40 amp Lectron could be your main home charger.
There are no apps or connectivity options, but the always-on display shows you the critical information about the charging session such as: current, voltage, temperature, and charge time. Teslas allow the user to limit and schedule charging sessions from their infotainment system anyway.
Downsides? The warranty is only one year, and this charger is not suitable for frequent outdoor use (especially not in extreme climates) Lectron review.
Specs
40 amps
18 foot long charge cable
Indoor operation
NEMA 14-50 plug, no hardwiring
J1772 charge plug, connects to Teslas with an adapter
Pros
Great power output for a budget charger, more portable than wall mounted chargers, always on display with charge stats
Cons
Not really suitable for outdoor operation, Lectron customer service does not have a great reputation, shorter warranty than premium brands
More on Amperage and Charging Speeds
The Tesla Model Y is able to accept up to 48 amps of current at 240 volts on level 2 home charging. When you multiply those two figures together you get 11,520 watts, or 11.5 kilo Watts. (kW) This should be fast enough to fully charge a 75 kWh battery in about 7 to 8 hours from zero to full.
There are some caveats to these maximum speeds. When using a "plug-in" style charger with a NEMA 14-50 or NEMA 6-50 plug, the maximum power you can draw from the wall is 40 amps. A hardwired installation of a capable home wall charger is required to pull the full 48 amps.
In addition, your home needs a powerful enough circuit breaker to supply the EV charger's needs. As a hard rule, an appliance should only draw a consistent 80% of the circuit breaker's capacity. Therefore a 50 amp circuit breaker is required for charging at a steady 40 amps, and at least a 60 amp circuit breaker is required to charge at 48 amps. However, even if your household wiring is not up to the task, almost all EV chargers are able to be configured with a lower limit.
Here is a helpful table from Tesla with Level 2 charging speeds, circuit breaker requirements, as well as expected ranger added per hour.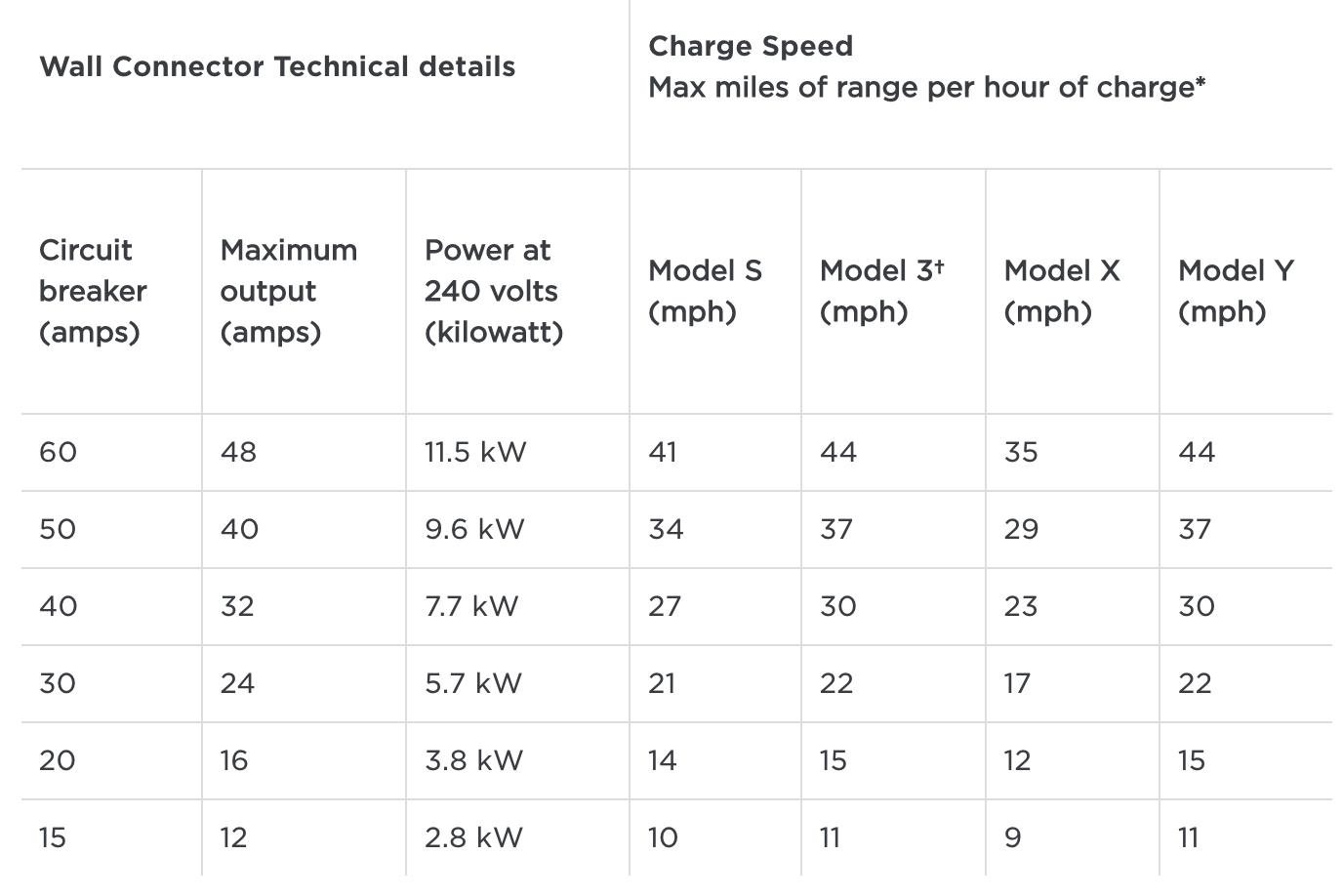 Tesla Model Y Charging Fast Facts
| | |
| --- | --- |
| EV Charging Connector | Tesla / NACS |
| Battery Capacity | 67 – 82 kWh |
| Level 2 Charging Power | 11 kW |
| Level 2 Max Amps | 48 A |
| Level 2 [20-80%] Charge Time | 4 – 5 Hours |
| Level 3 Peak Power | 254 kW |
Level 3 Supercharging Curve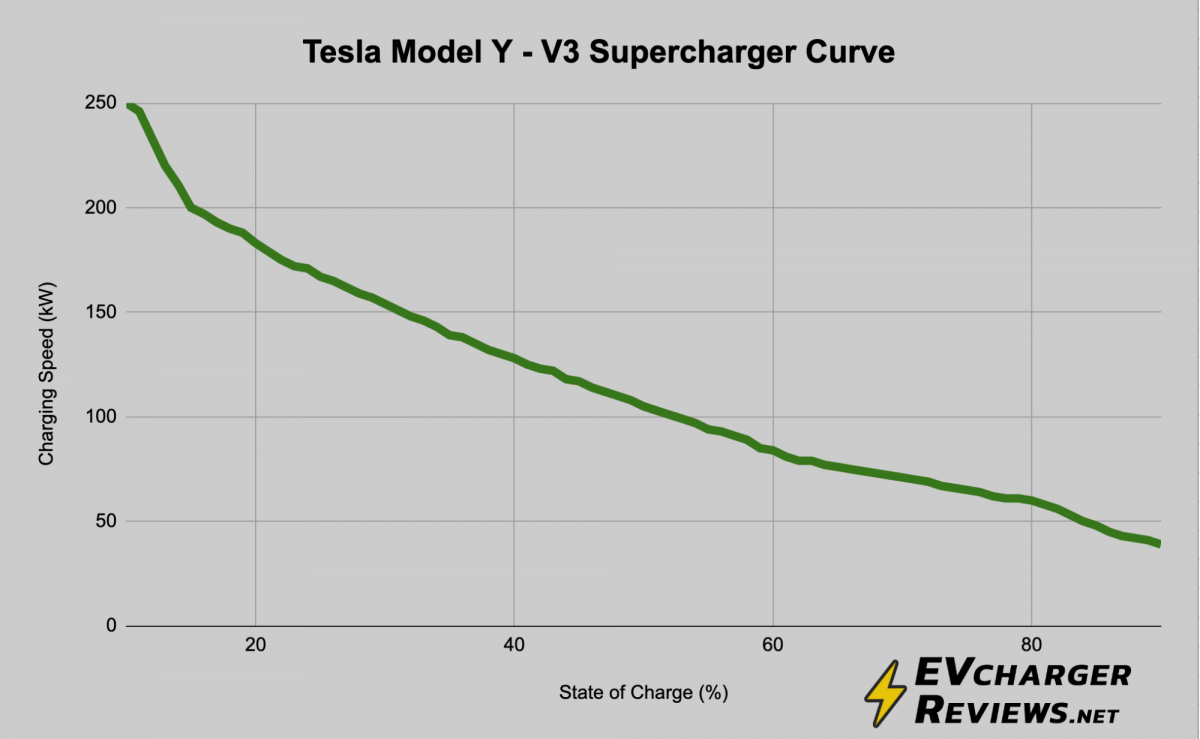 Frequently Asked Questions about charging the Tesla Model Y
What is the battery capacity of the Model Y?
The Model Y Long Range and Performance trims come with a battery capacity of around 82 kWh, and ~75 kWh of that is usable. A standard-range AWD variant with 4680 cells is also currently being produced at Giga Texas, this version is widely thought to contain 67 kWh (~60 kWh usable).
What charger comes with the Tesla Model Y?
New Tesla cars purchased after April 17, 2022 will not include any charging hardware, but the buyer will be given the option to add a Mobile Connector or home Wall Connector. You can also explore some third-party home charging recommendations from us at www.evchargerreviews.net.
How do I know if I am supposed to receive a free Tesla "Mobile Connector" charger?
Reservations made after April 17, 2022 will not include a free Mobile Connector for Level 1 and Level 2 charging. It must be purchased separately, or users can opt to upgrade and buy a dedicated home charging station like the ones above.
Should I charge the Tesla Model Y to 100%?
Tesla recommends setting a charging limit around 80% for day to day charging, and only going above that threshold for long trips when you really need the full range. The battery chemistry inside the Model Y battery may degrade faster if it spends a lot of time near 100% or 0% state of charge. The software on the charging screen makes it easy for the user to set up a charge limit.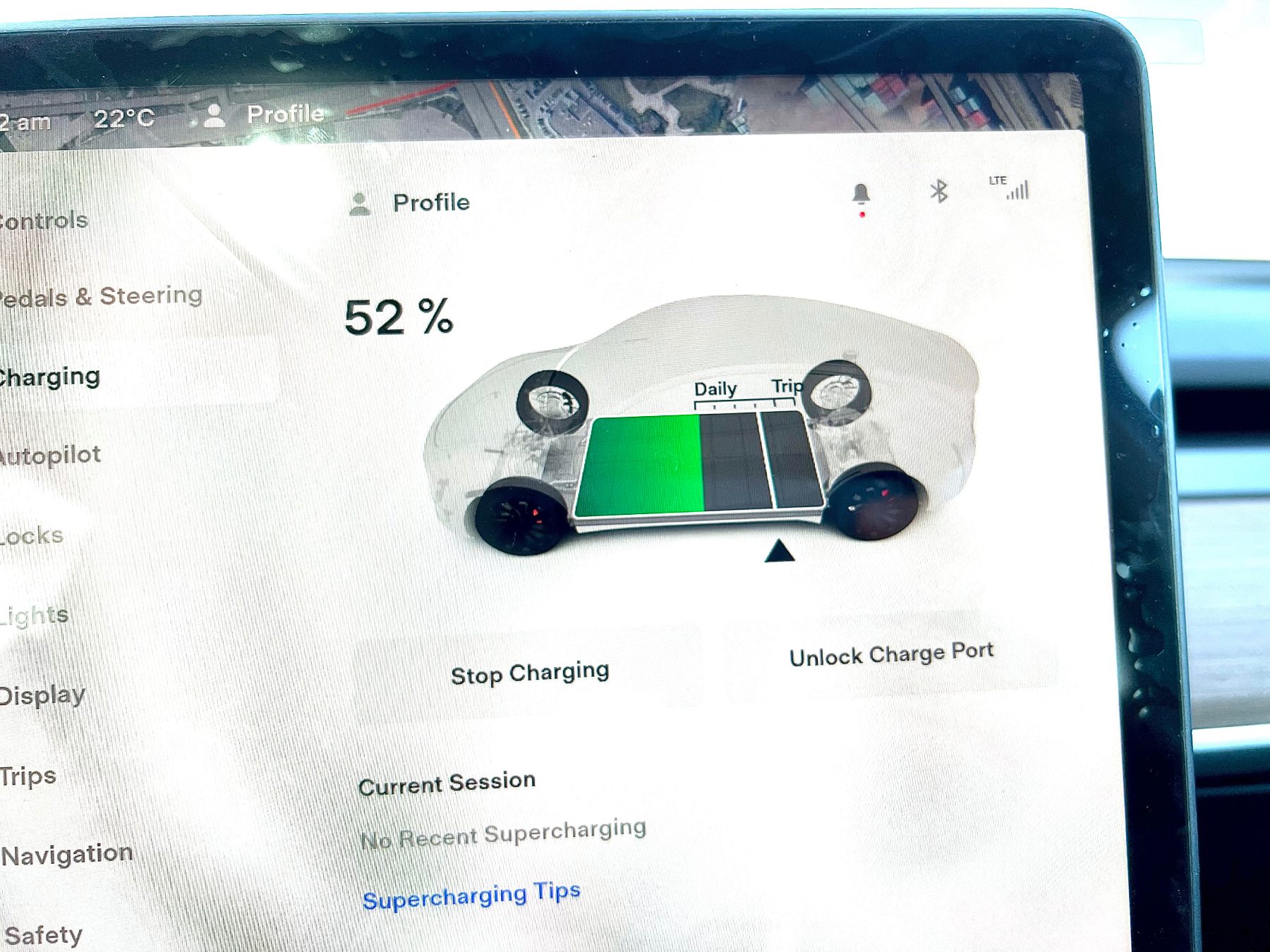 Does wheel size affect range on the Tesla Model Y?
Yes, the Long Range Model Y with the 19-inch wheels is EPA rated for 330 miles of range. While the same car with larger 20-inch wheels is only rated for 318 miles. The 21-inch wheels of the Performance trim further reduce range down to 303 miles.
How much does it cost to charge a Model Y at home?
If your off-peak electricity rates are around 13 cents per kWh like many locations in the US, then you can expect a full battery charger to cost around $10.26. This is assuming 75 kWh usable battery capacity and a 95% charging efficiency. Note that you would very rarely actually need to charge from zero to 100%, a 20% to 80% charging cycle is more representative of typical usage.
How fast can the Model Y charge at home?
The car is able to receive up to 11.5 kW of power on Level 2 AC when using a powerful enough charger. This should translate to roughly 44 miles of range gained per hour.
Can you charge a Tesla Model Y at home with 110V?
Yes, this is technically possible with the Tesla Mobile Connector or any other compatible charger. 110V charging is considered Level 1 charging, and only gains about 3 miles of ranger per hour. For most people a Level 2, 240V home charging system is recommended so the Model Y is ready to drive at the start of every day.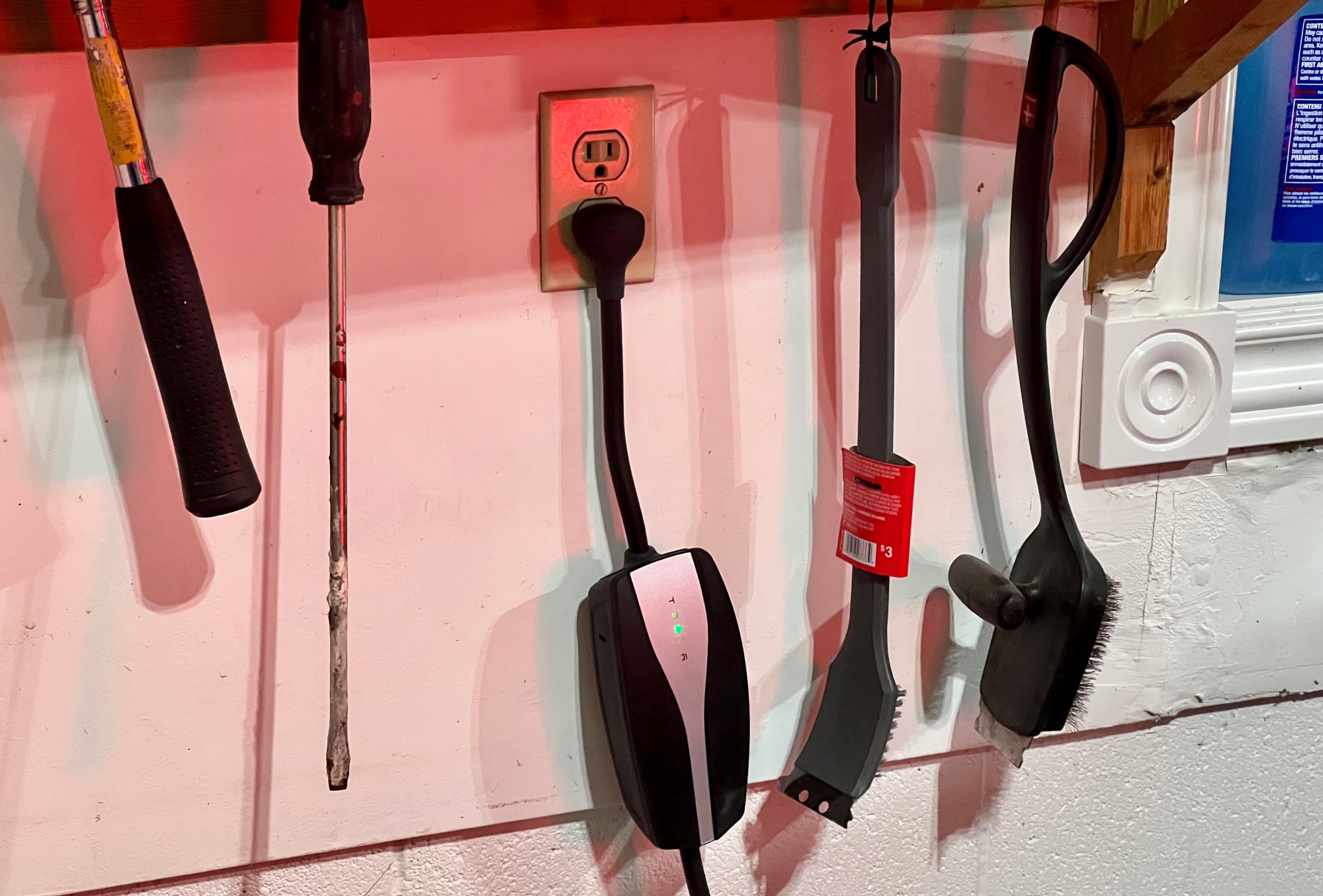 How much range can I get with an overnight Level 1 (110v) charger?
In our own 12 hour overnight charging test, the Model Y Long Range gained 14 kWh and 18% on Level 1. This adds about 60 miles of indicated range, but it's more like 45 miles of highway driving.
Where is the charging port located on the Tesla Model Y?
Like on all Teslas, the Model Y has a charging port in the driver's side rear corner of the car, integrated into the tail light assembly.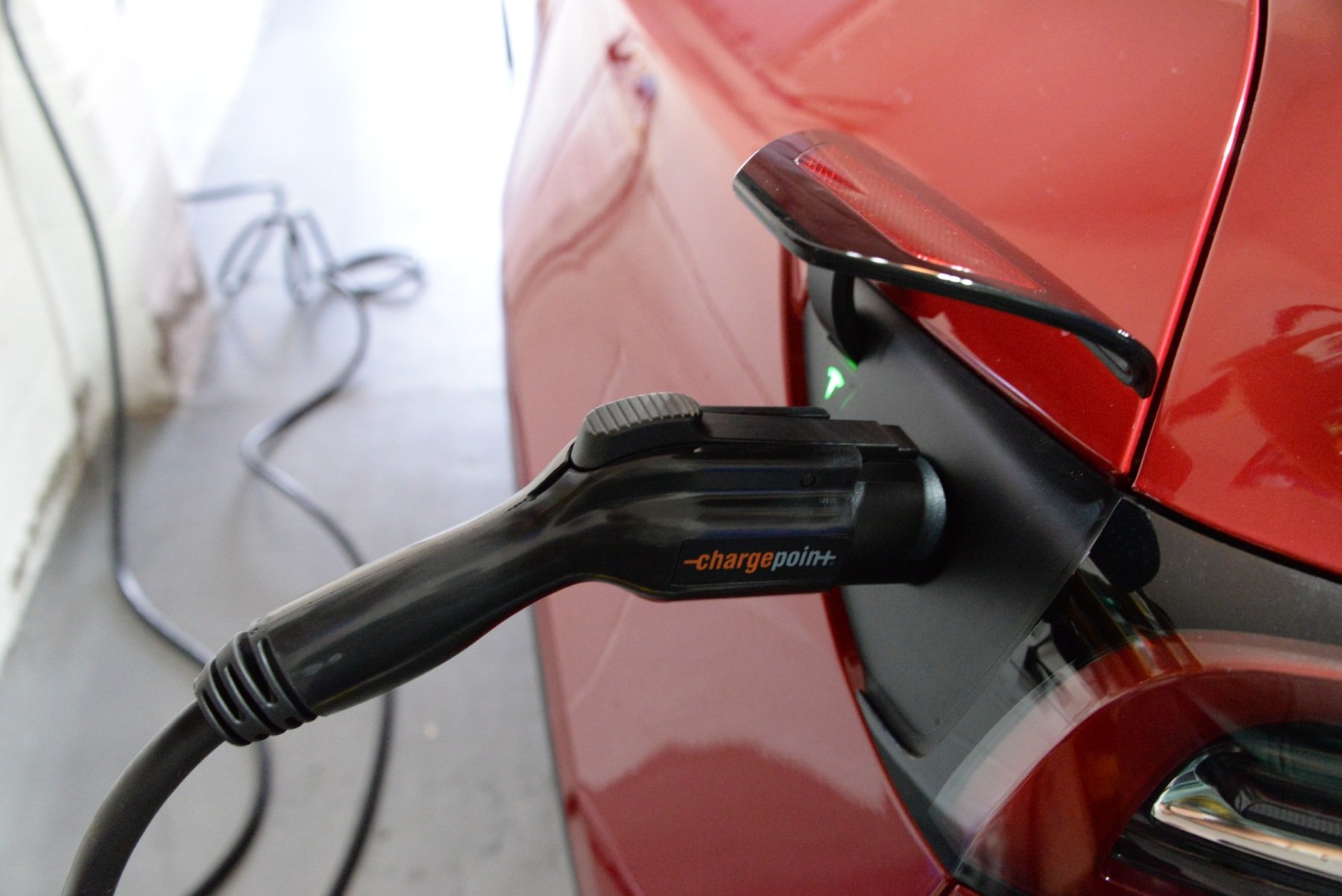 What makes EVchargerReviews.net experts on home EV charging? We get the product shipped into our garage lab and test each charging station for a minimum of two weeks before we can recommend a product.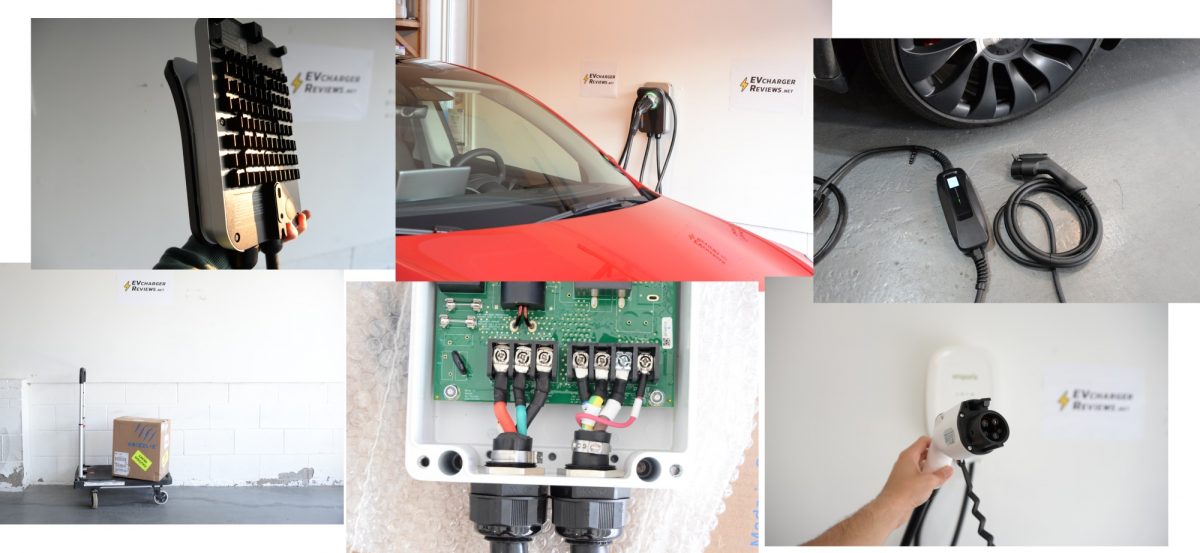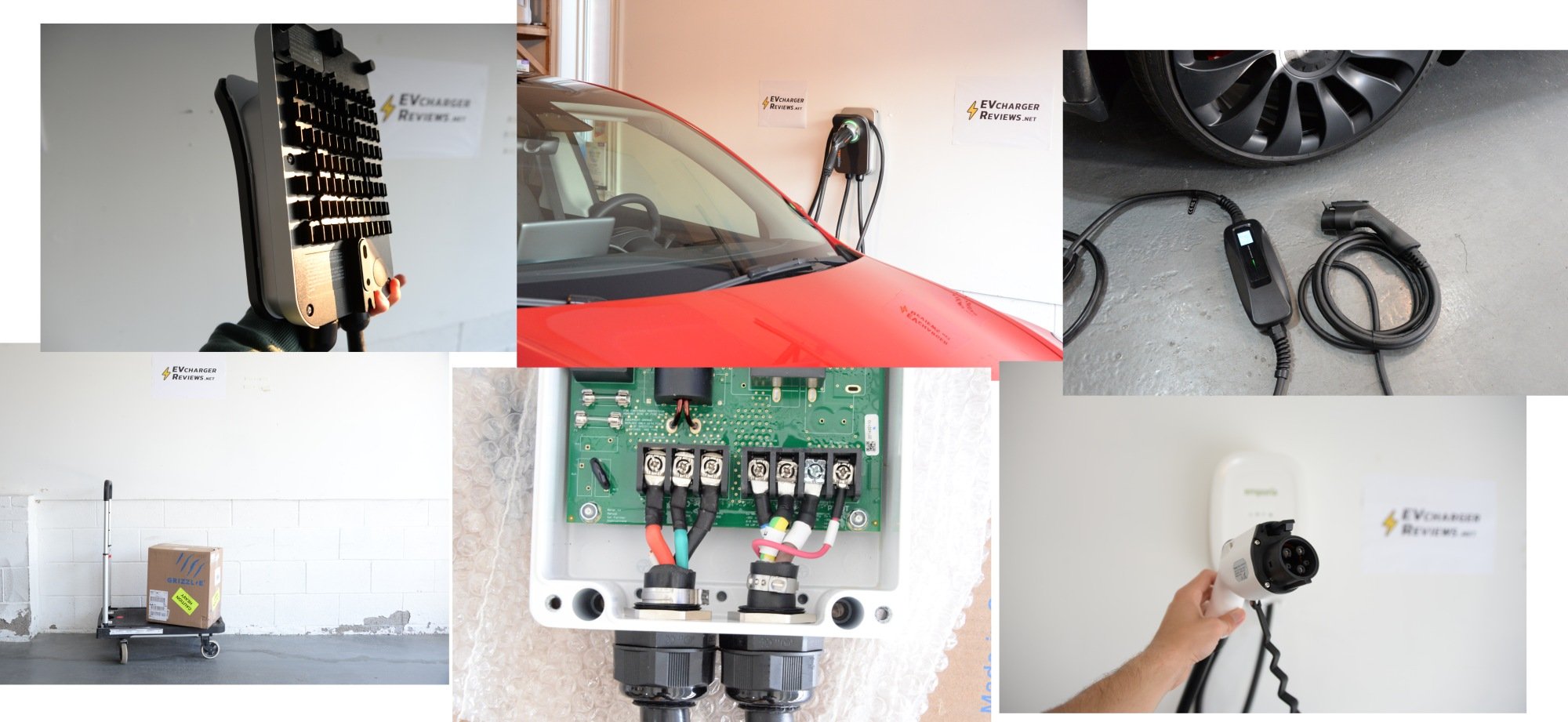 Additional Tesla Articles and Resources