EVchargerReviews is supported by our readers. We may earn commissions from links on this page. Why trust us?
Best EV Home Charger for Porsche Taycan
Updated May 6, 2023, by Michael Kim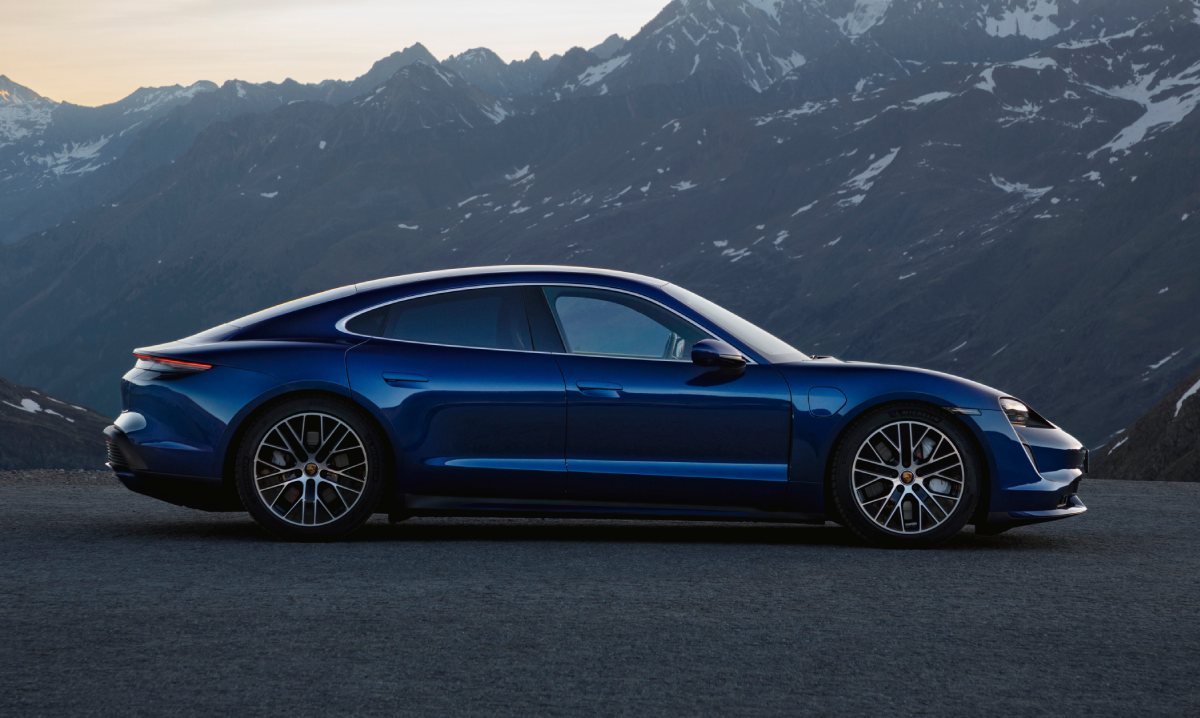 Our Top Picks for Taycan
The Porsche Taycan is the brand's first mass produced electric car. The Taycan comes in two body styles; a sedan and shooting brake Cross Turismo. The car has been very well received for its 800-volt electric architecture, blistering performance, as well as maintaining driving engagement despite the added weight of electric batteries.
The standard battery is a 79.2 kWh pack is rated at around 200 miles of range according to the EPA, while the Performance Battery Plus optional upgrade will increase the capacity to 93.4 kWh and increase the EPA range to 225 miles. However, both numbers have been proven to be conservative in independent testing.
The Porsche Taycan uses a standard J1772 / CCS connector for charging speeds up to 19.2 kW on a Level 2 three-phase home setup. To take advantage of the Taycan's capabilities, see our top home chargers for Taycan below:
ChargePoint Home Flex (50 Amp)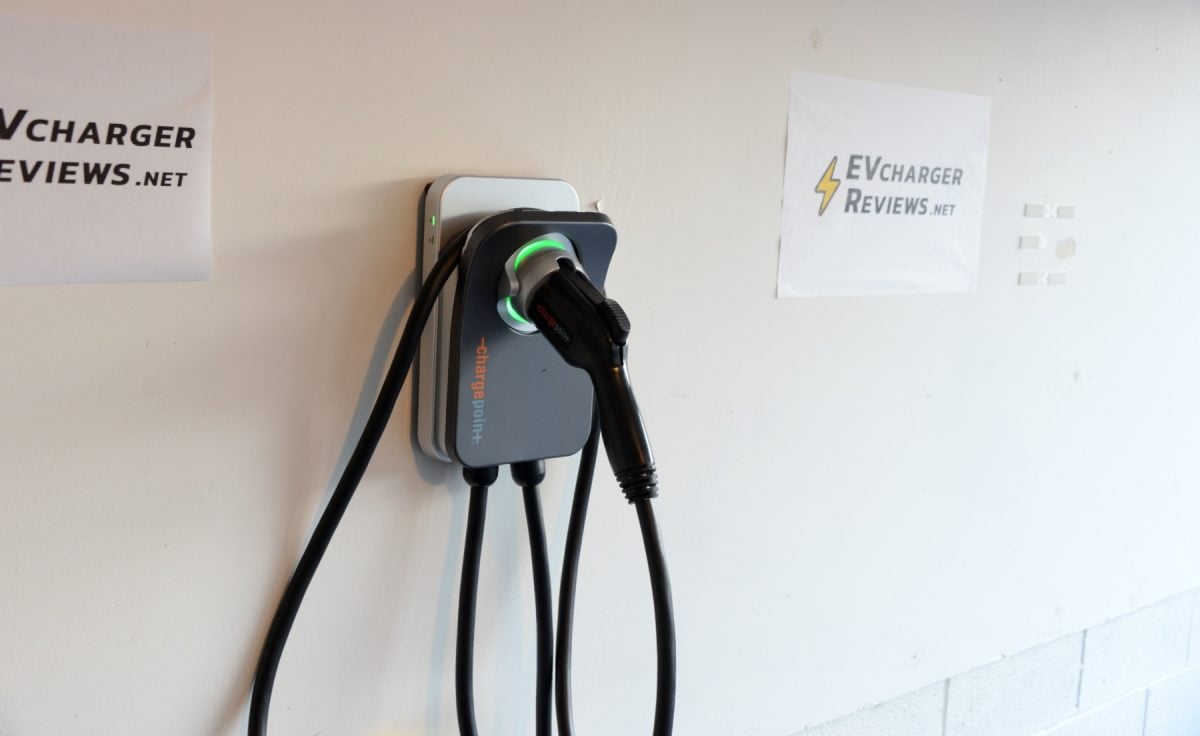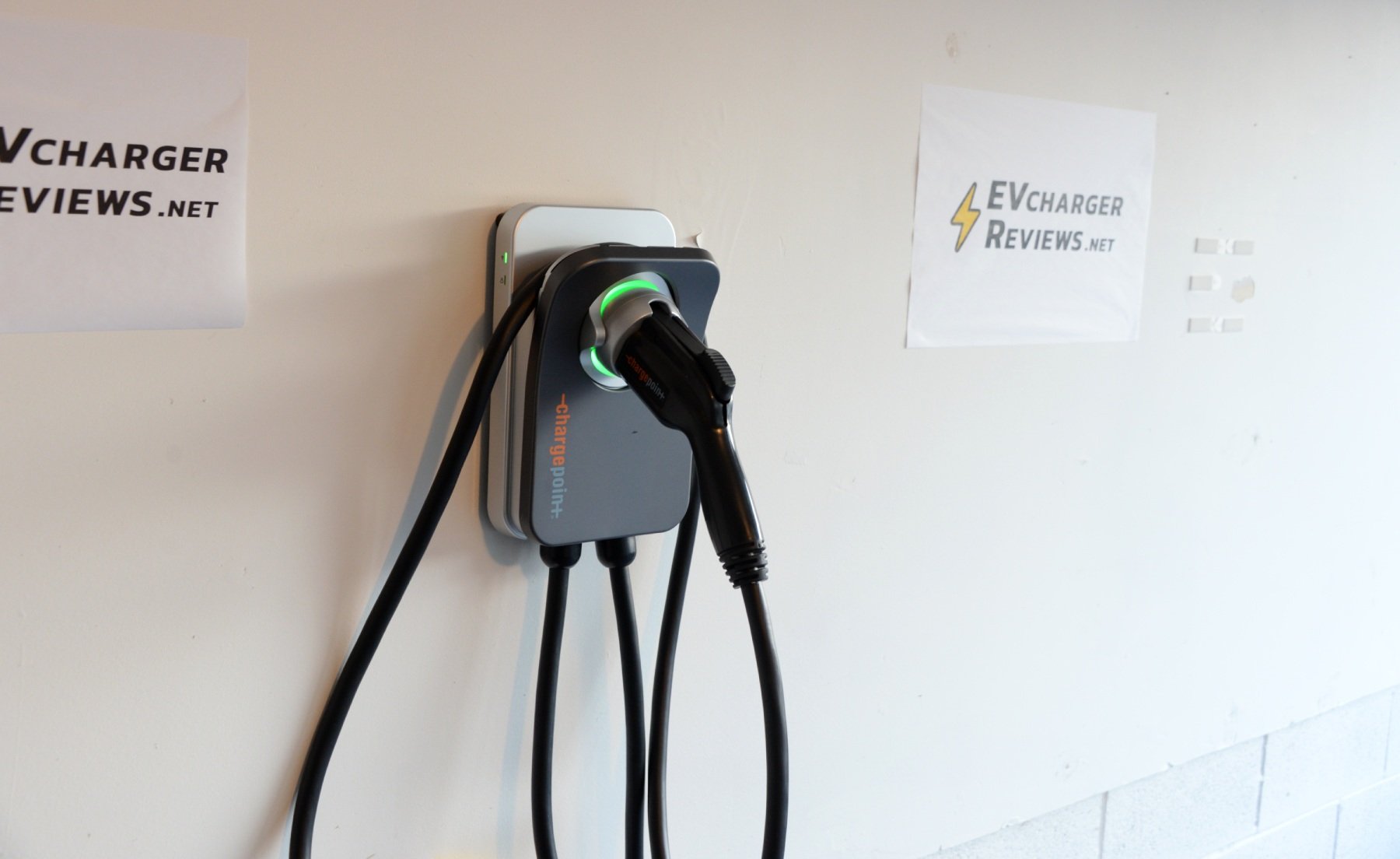 ChargePoint is a reputable brand in public charging as well as home charging. The Home Flex is a current favorite with a combination of attractive design, 50-amp performance, and responsive customer support.
At the higher end of home chargers, the Home Flex is able to deliver up to 50 amps to your EV, which translates to approx. 36 miles of range added per hour. The companion ChargePoint app allows you to schedule charging sessions when electricity is cheapest, as well as send reminders if you forget to plug in your Taycan.
ChargePoint Home Flex is consistently good in a broad range of environments and is our top choice for drivers of high-performance electric vehicles like the Porsche Taycan.
Specs
Up to 50 amp charging, 9 times faster than wall outlet
23 foot long charge cable
Indoor/Outdoor operation
NEMA 14-50, NEMA 6-50, or hardwired options
UL Listed; safe and eligible for rebates/incentives in many states
Pros
Energy Star Certified, Wifi connectivity, Alexa voice assistant compatibility, choice of NEMA 14-50 or NEMA 6-50 plugs, configurable between 16 and 50 amps
Cons
Dependent on the smartphone app for configuration and some features.
Wallbox Pulsar Plus (48 and 40 Amp)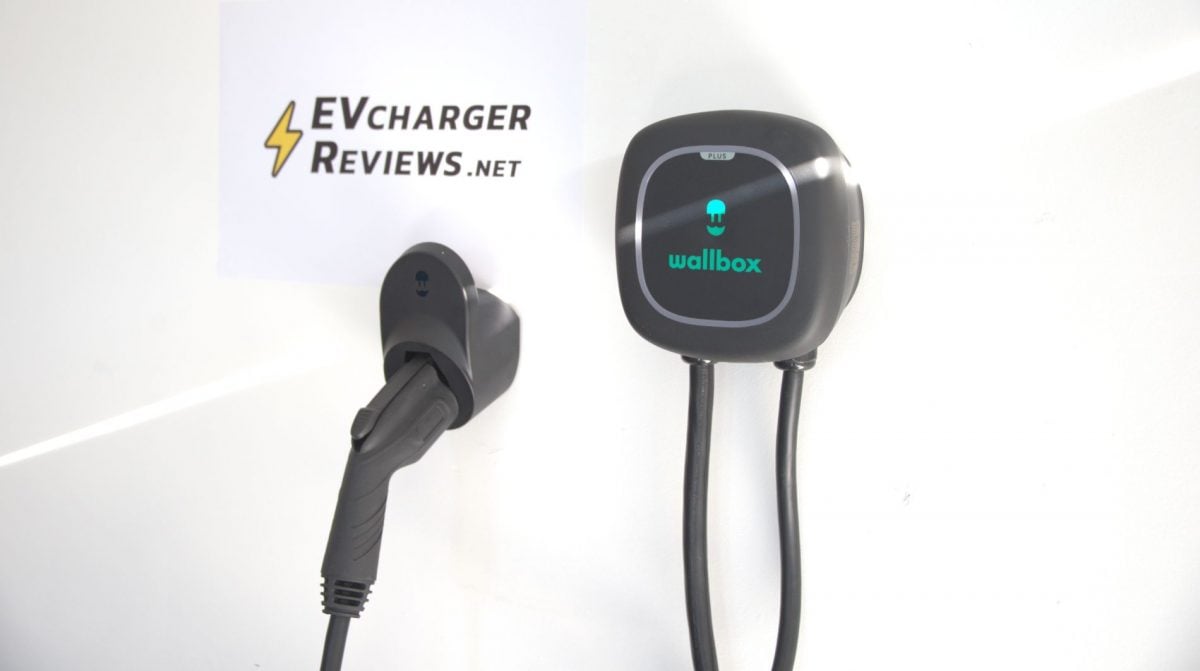 The Wallbox Pulsar Plus is our top pick for a charger with a compact and attractive design at just 7.8″ x 7.9″ x 3.9″ in dimensions.
Available in 40 and 48 amp versions, the Pulsar Plus can charge up to 8 times faster than Level 1 (120v) charging. Like the Blink Charger, it features a 25 foot long cable. The 48 amp version is able to deliver up to 11.5 kW of power, cutting down charge times to just a few hours rather than overnight for a Taycan.
Wallbox also works great for households with multiple EVs that need to be charged simultaneously. Two or more Wallbox chargers on the same circuit can communicate with each other and balance the available household power between chargers.
Specs
40 and 48 amp versions
25 foot long charge cable
Indoor/Outdoor operation
NEMA 14-50 outlet, or hardwired
Wifi and Bluetooth connectivity
Pros
Compact design with clear indicator lights, Wallbox app for control and charge monitoring
Cons
The app is rather basic compared to other chargers
Electrify America Level 2 Charger (40 Amp)
Taycan owners have likely heard of Electrify America, it is the brand behind the largest public fast charging network in the US, outside of Tesla's Supercharger network. Electrify America has an excellent charger for home too, delivering up to 40 amps.
Frequent users of Electrify America's public network will appreciate the integration of this home charger with the Electrify America app. Using a single app for managing both home and public charging is the main competitive advantage of this home charger.
The EA home charger is widely compatible with all EVs that support the standard Type 2 (J1772) charging connector. The 24-foot vehicle connector cable is thick and sturdy, suitable for indoor or outdoor usage.
Specs
Up to 40 amps, can be configured as low as 16 amps
24 foot long charge cable
Indoor/Outdoor operation
NEMA 14-50, or can be hardwired
UL Listed
Wifi Connectivity
Pros
Energy Star Certified and UL Listed, reputable brand and excellent customer support, one app for both public and home charging, 3 year warranty
Cons
The charger box is physically larger than most, at 15.75″ x 8.66″. The glossy black plastic shell is sturdy, but may not appeal to everyone.
Grizzl-E Level 2 EV Charger (40 AMP)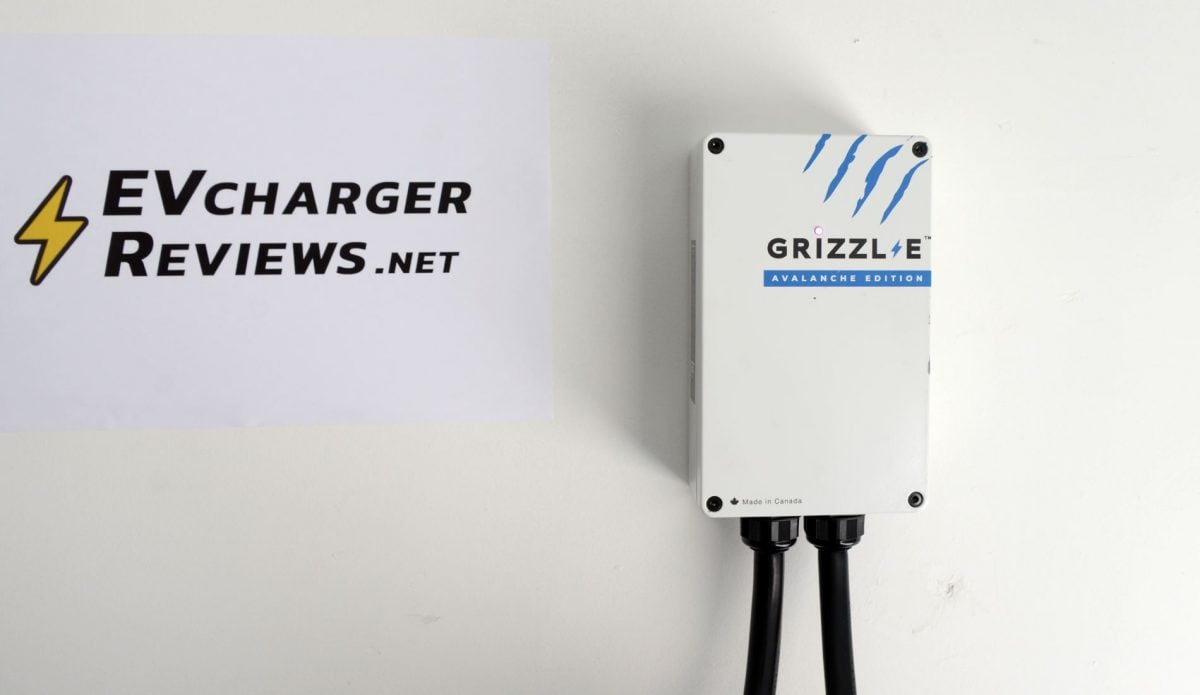 The Level 2 home charger from Grizzl-E is a compelling option for Taycan owners looking for durability and value. It is a simple utilitarian design metal box with an LED indicator light and heavy-duty construction. There are no screens or wifi connectivity options, just an industrial box with 40 amps of power delivery, which should translate to about 10 kW usable charging speed.
Grizzl-E is based in Canada, so their products are designed to perform in extreme weather conditions. The operating temperature range is between -22F to 122F for outdoor usage.
This charger is available with either NEMA 14-50 or NEMA 06-50 wall plugs (check the SKU when ordering), and an electrician can hardwire all variants.
Specs
40 amps, or as low as 16
24 foot long charge cable
Indoor/Outdoor operation
NEMA 14-50, NEMA 06-50, or hardwired options
Pros
Good value, durable construction and materials, heavy duty charging cable, suitable for extreme climates
Cons
No smart features or app control
JuiceBox 40 Smart from Enel-X (40 Amp)
The JuiceBox 40 from Enel-X is a popular home charger and a suitable choice for Taycan owners. This smart charger is priced in the middle of the spectrum and offers impressive 40 amp charging performance and smart scheduling/monitoring options via a companion smartphone app. Users are also able to control charging via Google Home and Amazon Alexa voice assistant in smart home setups.
DIY enthusiasts will be pleased with the easy installation instructions of the JuiceBox charger, there is just one simple wall bracket that needs to be attached to your wall. The charger can also be locked with an included key to the bracket, so the JuiceBox can not be easily removed and stolen from your wall. This is a nice feature for chargers mounted outside or in apartment complex parking lots.
When ordering, check between NEMA 14-50 plug-in version or the hardwired version for a cleaner look.
Specs
Up to 40 amps
25 foot charge cable
Indoor/Outdoor operation
NEMA 14-50 and hardwired variants
3 year warranty
Pros
Key locking to the bracket, UL Listed, Energy Star certification, wi-fi connectivity and charge scheduling, integrated cord holster, simple installation
Cons
Some users reported finicky wi-fi performance (but there have been several software updates since), the charging cable is less pliable in cold weather than competitors like ChargePoint.
AMPROAD iFlow P9 (40 Amp)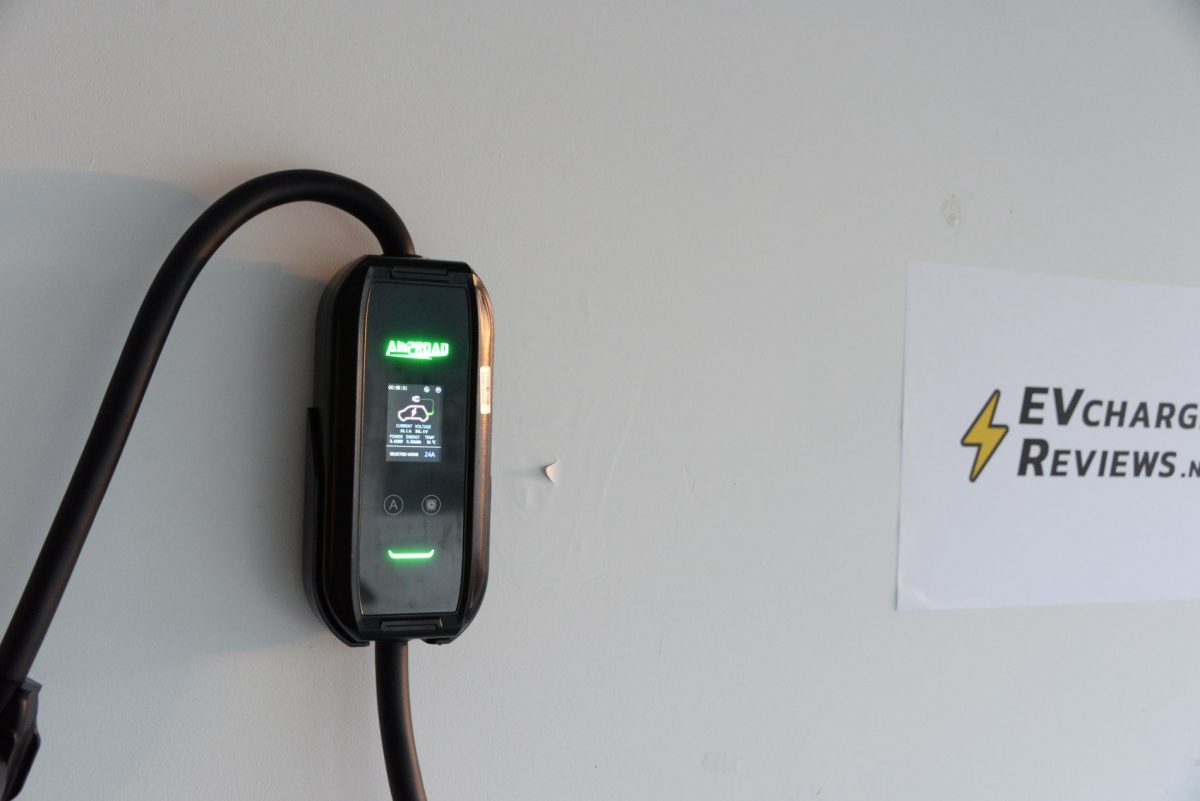 AMPROAD is a newer option on the market that offers a budget-friendly but versatile home charger with portability for Taycan owners.
This charger includes 40 amp maximum output, a wall mounting bracket, a wall-mounted cord holder, a generous 25 foot length, and a thick and durable cable. Basically, all the criteria for daily use home EV charging stations. But you can slide the unit out from its wall mount, and tuck it away into the included travel bag, and you have a perfectly good portable EV charger.
Downsides? Not many. But the smart features require the user to connect to the wi-fi network created by the charger instead of going through dedicated apps. Full AMPROAD review here.
Specs
Up to 40 amps, with modes as low as 10 amps
25 foot long in total
Indoor operations
IP67 water tightness rating
NEMA 14-50 plug
Wi-Fi Connectivity
Pros
Portable, has a high quality and thick cable, clear LCD screen, optional Wi-Fi connectivity
Cons
NEMA 14-50 placement at the top of the box may limit mounting options, the smart connectivity functions may have a learning curve
Porsche Taycan Charging Fast Facts
| | |
| --- | --- |
| EV Charging Connector | J1772 / CCS |
| Battery Capacity | 79 – 93 kWh |
| Level 2 Charging Power | 11 – 19 kW |
| Level 2 Max Amps | 48 – 80 A |
| Level 2 [20-80%] Charge Time | 4 – 5 Hours |
| Level 3 Peak Power | 261 kW |
Frequently Asked Questions about charging the Porsche Taycan
How much does it cost to charge a Porsche Taycan at home?
Assuming an off-peak electricity rate of 13 cents per kWh, and 95% charging efficiency, it would cost $12.73 to fully recharge a Taycan with the larger battery pack. Much cheaper than premium gasoline!
What kind of charging adapter does the Porsche Taycan use for charging at home?
Standard Type 2 J1772 connector, like the majority of other EVs.
How fast can the Taycan charge?
Standard equipment supports up to 11 kW charging speeds, while a 22 kW AC charger is optional from the factory.
What is the standard wheel and tire size on the Taycan?
The smallest wheel size is 19-inches, and all Taycans have staggered wheel setups. The front tires measure 225/55 R19, and the rears are 275/45 R19. This is going to be the most energy efficient setup for the Taycan. GTS variants step up to standard 20-inch wheels with wider tires all around; 255/40 R20 front and 295/35 R20 rear. Turbo S variants have the greatest amount of ground contact with 21-inch wheels and 265/35 R21 and 305/30 R21 tires. This increased level of grip comes with reduced driving range compared to lower trims.
Does the Taycan have a heat pump?
Yes, all variants of the Porsche Taycan include a heat pump, which contributes to increased driving efficiency in colder climates.
How fast can the Taycan charge on Level 3 public chargers?
Porsche claims that in optimal conditions, the Taycan can charge from 5% to 80% in just 22 minutes.
Can the Taycan charge at Tesla Superchargers?
Not at this time. Superchargers are unavailable to Porsche Taycans in North America. Tesla uses proprietary charging connectors, and no adapters are currently on the market. The Supercharger network in North America is currently exclusive to Tesla cars. Later in 2023, Tesla is expected to make Supercharging stations available to all brands using a new docking adapter.
Where is the charging port located on the Porsche Taycan?
The Taycan is unique because it has charging ports on both sides near the front driver/passenger doors. Both ports support AC charging, while only the right-side port supports DC fast charging with a full CCS connector.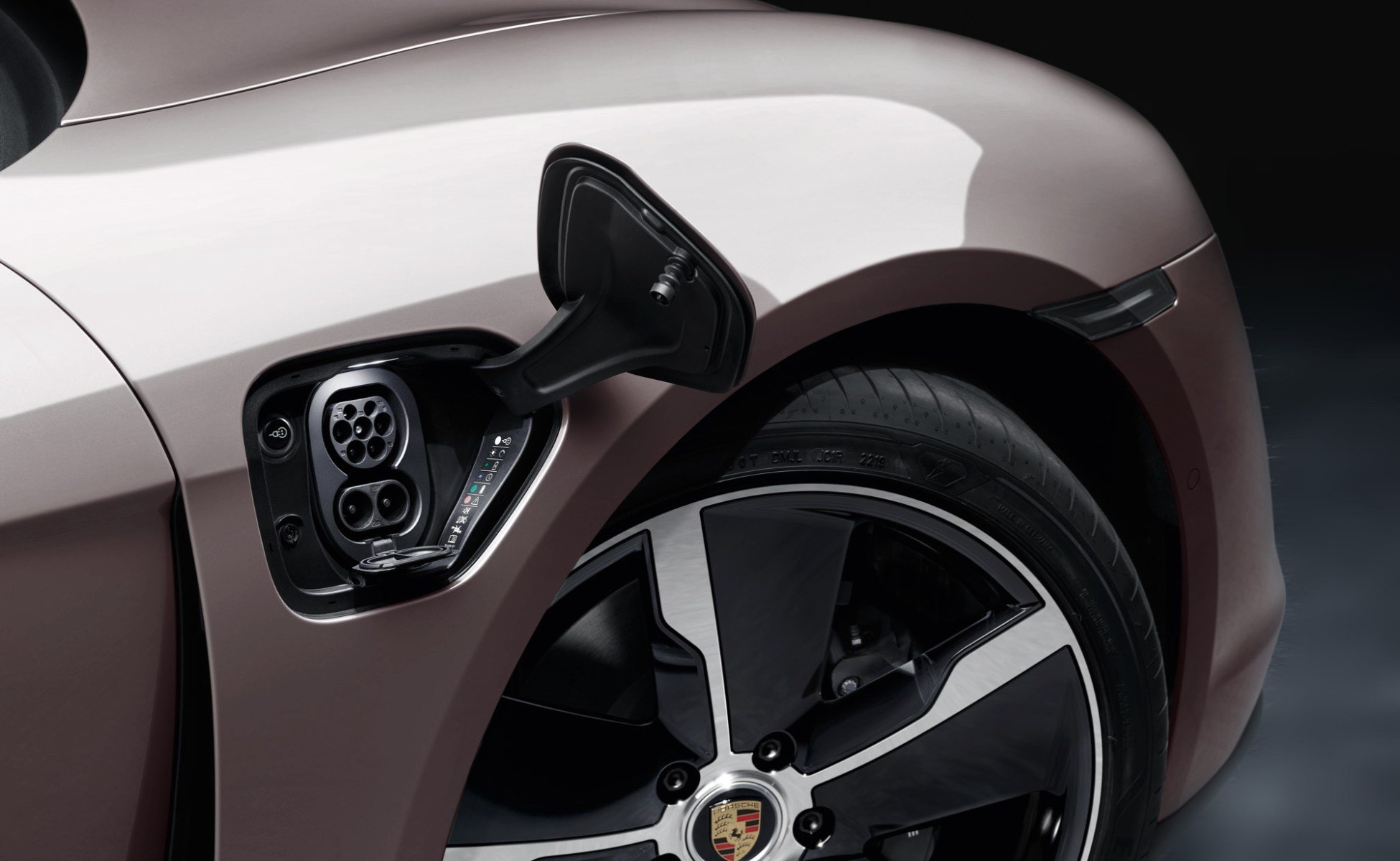 Why is EVchargerReviews.net different? We actually get the home charging stations into our garage for hands-on testing for a minimum of two weeks before we can recommend a product.