Best Home EV Charger for Volkswagen ID.4
The Volkswagen ID.4 is the brand's mass market electric crossover SUV, based on the MEB platform. The ID.4 is built from the ground up as a battery electric vehicle, and has been on sale in the United States since 2021.
In North American markets, the ID4 is available with a 82 kWh battery pack, and a 150 kW motor (201 hp). The rear-wheel-drive trims have EPA rated range between 262 and 275 miles on a charge. While the all-wheel-drive trims scored between 245 and 251 miles on the EPA cycle. Opting for AWD also bumps up the total system power up to 295 hp.
The ID.4 uses an industry common Type 2 / CCS connector for charging at home and on the road. US spec cars are able to charge at 125 kW on level 3 public chargers, and up to 11 kW at home on level 2. Full charging at home is expected to take between 7.5 and 11.5 hours depending on charger power.
Wallbox Pulsar Plus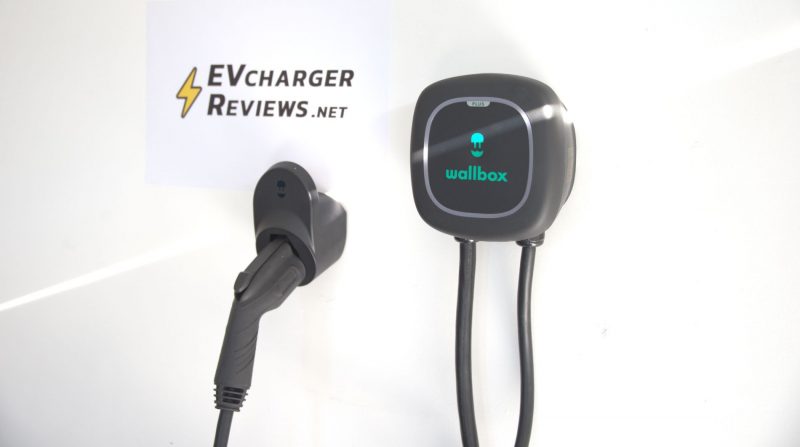 The Wallbox Pulsar Plus is our top pick for a charger with a compact and attractive design at just 7.8″ x 7.9″ x 3.9″ in dimensions.
Available in 40 and 48 amp versions, the Pulsar Plus can charge up to 8 times faster than Level 1 (110v) charging. The Wallbox unit features a 25 foot long cable, the maximum allowed length. The 48 amp version of the Pulsar Plus is able to deliver up to 11.5 kW of power, cutting down charge times to just a few hours rather than overnight. This is a great choice for VW ID.4 owners looking to take advantage of the full 11 kW charging capability.
Wallbox also works great for households with multiple EVs that need to be charged simultaneously. Two or more Wallbox chargers on the same circuit can communicate between each other and balance the available household power between chargers. See full review.
Specs
40 and 48 amp versions
25 foot long charge cable
Indoor/Outdoor operation
NEMA 14-50 outlet, or hardwired
Wifi and Bluetooth connectivity
Pros
Compact design with clear indicator lights, myWallbox app companion app for control and charge monitoring
Cons
The app is rather basic compared to other chargers
Grizzl-E Level 2 EV Charger 40 AMP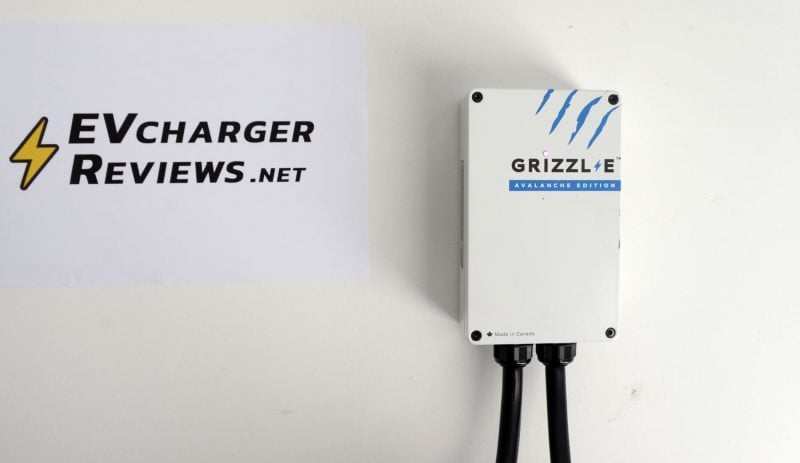 The Level 2 home charger from Grizzl-E is a compelling option for ID.4 owners looking for durability and value. It is a simple utilitarian design metal box with an LED indicator light and heavy duty construction. Their basic version of the Grizzl-E has no screens or wifi connectivity options, just an industrial looking box with 40 amps of power delivery, which should translate to about 9 kW usable charging speed. (Charging schedules can be configured inside the ID.4 instead)
Grizzl-E is based in Canada, so their products are designed to perform in extreme weather conditions. The operating temperature range is between -22F to 122F for outdoor usage.
This charger is available with either NEMA 14-50 or NEMA 06-50 wall connectors (check the SKU when ordering), and all variants can be hardwired by an electrician. Full review available here.
Specs
40 amps, or as low as 16
24 foot long charge cable
Indoor/Outdoor operation
NEMA 14-50, NEMA 06-50, or hardwired options
Pros
Good value, durable construction and materials, heavy duty charging cable, suitable for extreme climates
Cons
No smart features or app control
Electrify America Level 2 Charger
You have probably heard of Electrify America, it is the brand behind the largest public fast charging network in the US, outside of Tesla's Supercharger network. Electrify America has an excellent charger for home too, delivering up to 40 amps. Your ID.4 likely comes with free charging credit from Electrify America upon purchase of the car.
Frequent users of Electrify America's public network will appreciate integration of this home charger with the Electrify America app. Using a single app for managing both home and public charging is the main competitive advantage of this home charger.
The EA home charger is widely compatible with all EVs that support the standard Type 2 (J1772) charging connector. The 24 foot vehicle connector cable is thick and sturdy, suitable for indoor or outdoor usage.
Specs
Up to 40 amps, can be configured as low as 16 amps
24 foot long charge cable
Indoor/Outdoor operation
NEMA 14-50, or can be hardwired
UL Listed
Wifi Connectivity
Pros
Energy Star Certified and UL Listed, reputable brand and excellent customer support, one app for both public and home charging, 3 year warranty
Cons
The charger box is physically larger than most, at 15.75″ x 8.66″. The glossy black plastic shell is sturdy, but may not appeal to everyone.
Emporia Smart Level 2 EV Charger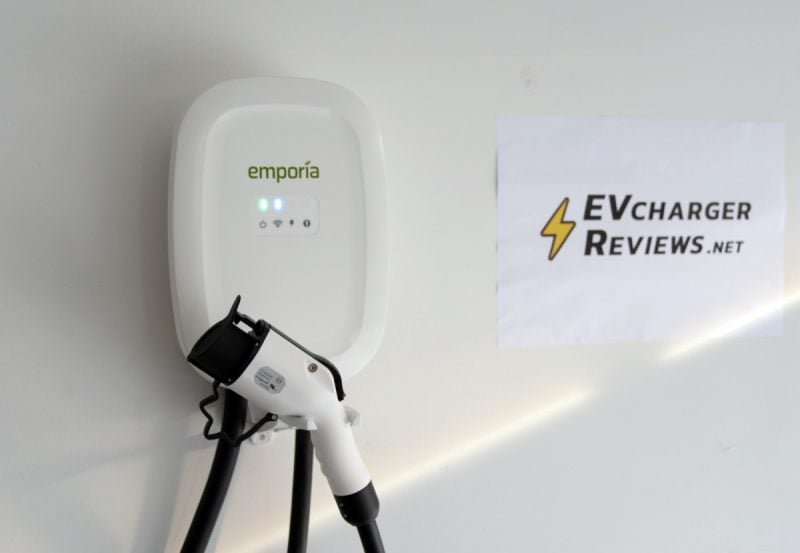 The Emporia home EV charger is easy to recommend if you already have other Emporia energy products in your home, as the app can control a variety of Emporia hardware. But the EV charger is a competitive product in its own right. While cheaper than many competitors on the market, Emporia does not cut corners where it matters most in day to day usage.
We really liked the high power output (48 amps hardwired, 40 amps over NEMA 14-50), and the highly durable single piece metal charge cord holder. Most competing brands throw in a cheap plastic cord holder into the box. Installation and app configuration was relatively easy as well. You can see our full review here.
Specs
Up to 48 amps, when hardwired
24 foot long cable
Indoor/Outdoor operation
NEMA 14-50 outlet or hardwired
Pros
Lower cost than competitors, up to 48 amps of power, app connectivity and scheduling, really good metal charge plug holder
Cons
The charge cord is shorter than competition, the charger casing is made from plastic
JuiceBox 40 Smart from Enel-X
The JuiceBox 40 from Enel-X is a popular home charger, and a good choice for ID.4 owners. This smart charger is priced in the middle of the spectrum and offers impressive 40 amp charging performance and smart scheduling/monitoring options via a companion smartphone app. Users are also able to control charging via Google Home and Amazon Alexa voice assistant in smart home setups.
Self installers will be pleased the easy mounting instructions of the JuiceBox charger, there is just one simple wall bracket that needs to be attached to your wall. The charger can also be locked with an included key to the bracket, so the JuiceBox can not be easily removed and stolen from your wall. This is a nice feature for chargers mounted outside, or in apartment complex parking lots. 
When ordering, check between NEMA 14-50 plug-in version or hardwired version for a cleaner look.
Specs
Up to 40 amps
25 foot charge cable
Indoor/Outdoor operation
NEMA 14-50 and hardwired variants
3 year warranty
Pros
Key locking to the bracket, UL Listed, Energy Star certification, wi-fi connectivity and charge scheduling, integrated cord holster, simple installation
Cons
Some users reported finicky wi-fi performance (but there have been several software updates since), the charging cable is less pliable in cold weather than competitors like ChargePoint.
Lectron 240V 40 Amp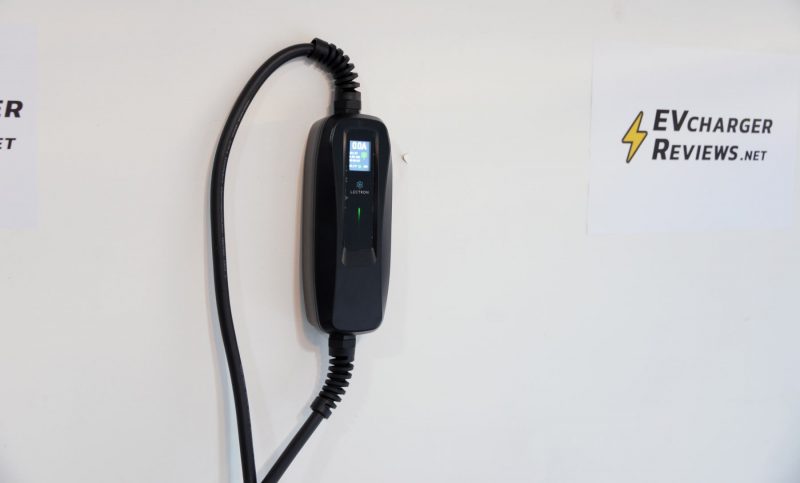 Lectron makes a ton of models, but this specific 40 amp charger is our favorite budget pick. Small, light and portable. But unlike most travel charging adapters, the 40 amp Lectron could be your main home charger.
There are no apps or connectivity options, but the always-on display shows you the critical information about the charging session such as: current, voltage, temperature, and charge time. Most new EVs allow you to schedule charging sessions from their infotainment system anyway.
Downsides? The warranty is only one year, and this charger is not suitable for frequent outdoor use (especially not in extreme climates)
Specs
40 amps
18 foot long charge cable
Indoor operation
NEMA 14-50 plug, no hardwiring
Pros
Great power output for a budget charger, more portable than wall mounted chargers, always on display with charge stats
Cons
Not really suitable for outdoor operation, Lectron customer service does not have a great reputation, shorter warranty than premium brands
Frequently Asked Questions about charging the Volkswagen ID.4
What charging cable comes with the VW ID.4?
The VW ID.4 comes with a Level 1 (110v) charging cable. This is only good for adding about 3 miles of range to the car per hour. So if you drive your ID.4 more than 20-30 miles per day, you will definitely benefit from installing a home Level 2 EV charger.
Does the VW ID.4 have a heat pump?
US spec ID.4s do not have heat pumps, an electric resistance heater element is used instead to keep the cabin warm. But Canadian spec cars have it as standard equipment, because of harsher climates. (The ID.4 is also more expensive in Canada)
Can I charge my ID.4 at Tesla Supercharger?
No, not yet. Tesla has announced plans to let non-Teslas charge on the Supercharger network, but as of now it's not available to other brands like Volkswagen in North America. Electrify America is the largest competing network of fast chargers in the USA.
How fast can the ID.4 charge?
ID.4s with the smaller battery can charge at 7.2 kW on level 2 at home and 110 kW at public fast chargers. The cars with the larger battery can charge at 11 kW at home, and up to 125 kW on level 3.
Should I charge my ID.4 to 100%?
VW recommends charging to 80% for day to day driving, and only charging up to 100% just before taking a longer trip. It is perfectly fine to use the entire battery capacity of any EV, as long as the battery does not spend prolonged amounts of time near 0% or 100% state of charge. This article has more in depth information about battery maintenance.