EVchargerReviews is supported by our readers. We may earn commissions from links on this page. Why trust us?
Best EV Home Charger for Hyundai Ioniq 5
Updated November 17, 2023, by Michael Kim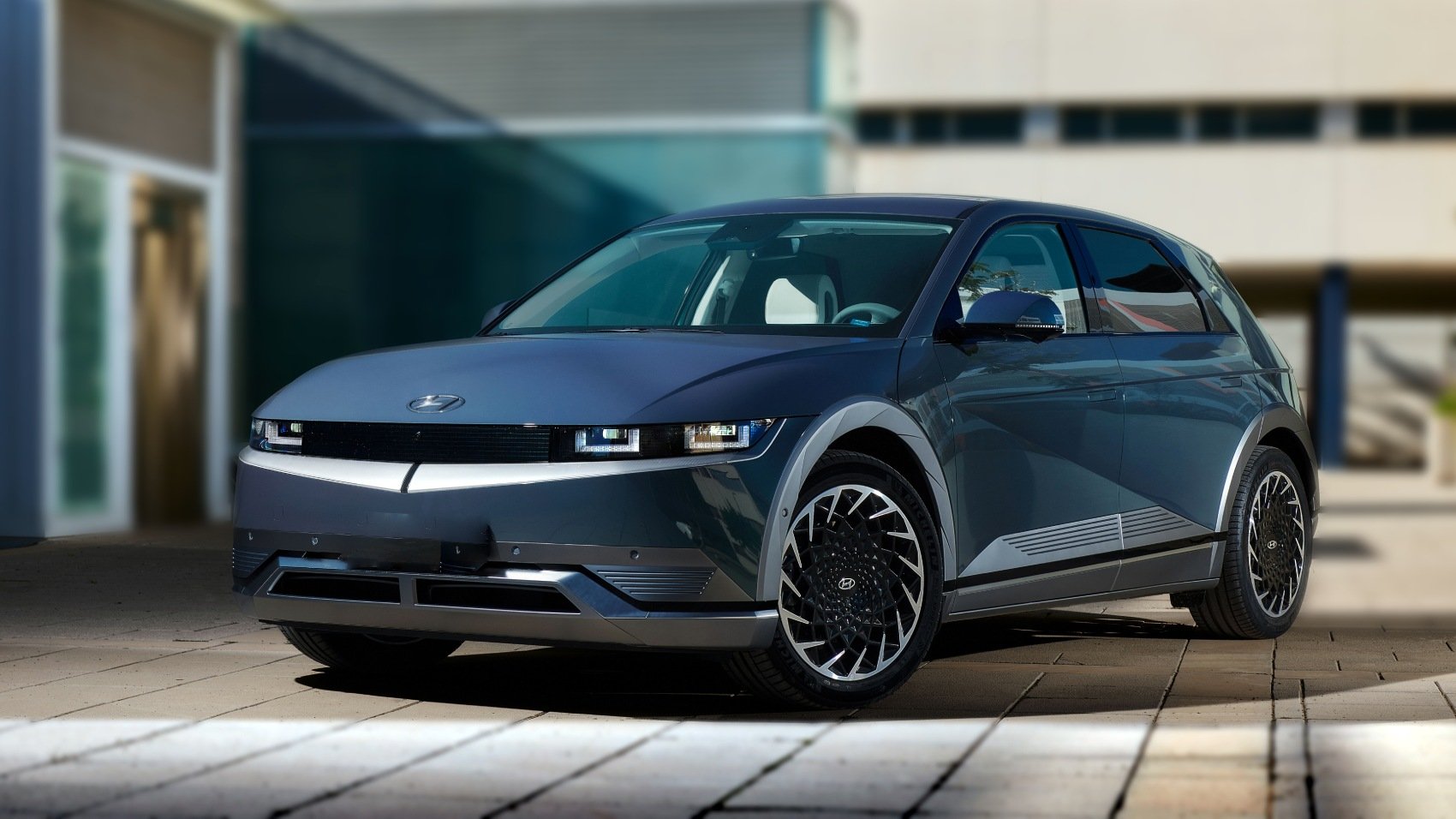 Our Top Picks for the Ioniq 5
The Ioniq 5 is a stunning retro-futuristic electric crossover from Hyundai. Introduced in 2021 as a 2022 model, the Ioniq 5 quickly became an instant sales hit for the brand due to interesting styling cues and advanced 800-volt battery architecture. The Ioniq 5 is closely related to the Kia EV6, sharing the same E-GMP platform.
In North America, the Ioniq 5 is available with a base RWD model with 58 kWh capacity, which is good for 220 miles of EPA rated range. Moving up the trim to AWD and the 77.4 kWh battery will get you 256 miles of range. However, if you opt for the larger battery pack and skip all-wheel drive, up to 303 miles is achievable.
The Ioniq 5 uses the common J1772 / CCS charging connector. The 800-volt electrical system allows for ultra fast Level 3 top-ups at public chargers. At home, you can expect to charge at up to 11 kW with a powerful enough Level 2 charging station that will fully charge the Hyundai Ioniq 5 overnight.
Why Trust US? We have hands-on testing experience with the most popular EV charging products.
LENZ Level 2 EV Charger (40 Amp)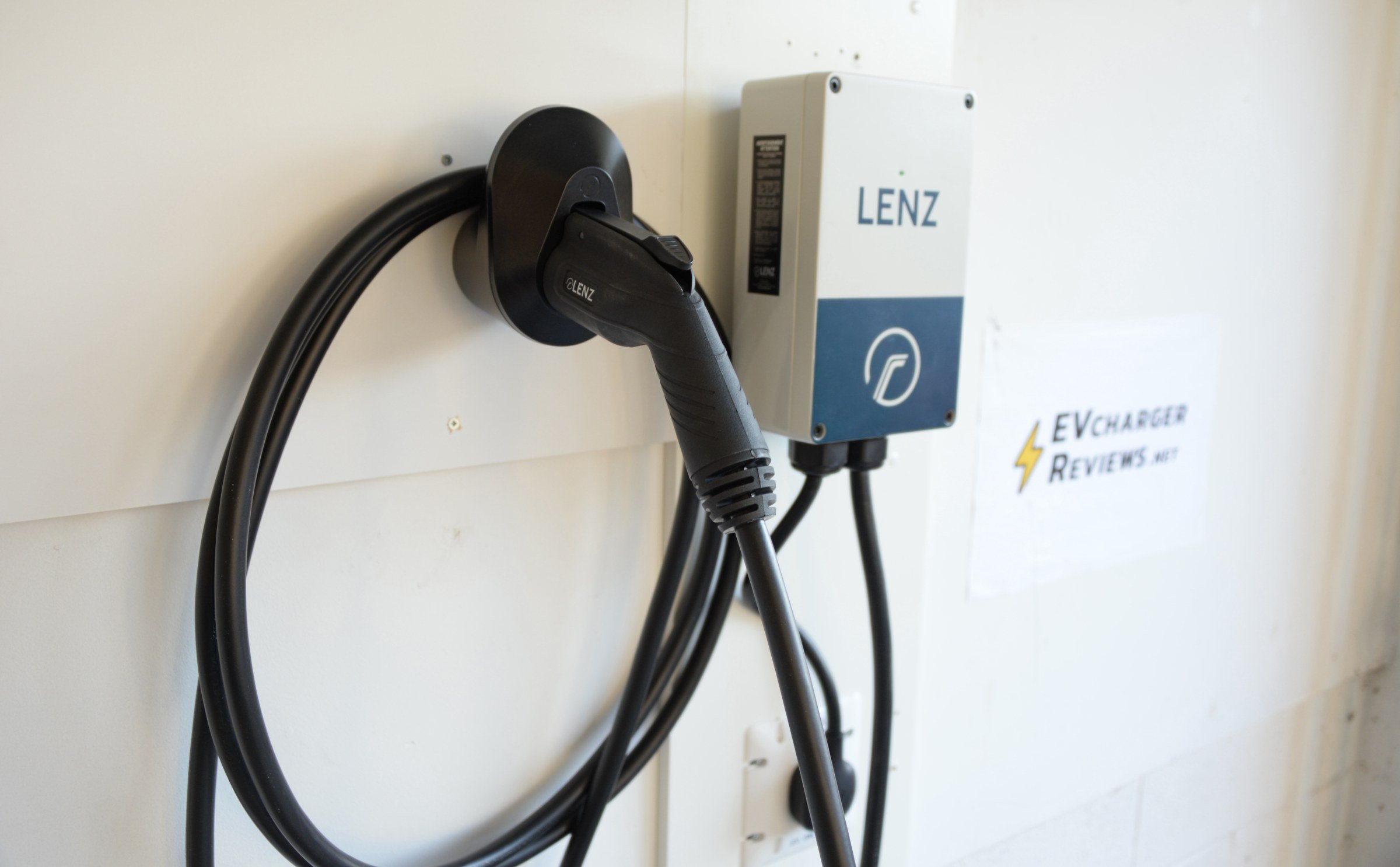 LENZ offers an uncomplicated Level 2 home charging station that is easy to install and set up. The enclosure and mounting brackets are fully made of metal, and an external cord holster is included. The unit plugs directly into a NEMA 14-50 outlet and can supply the Ioniq 5 with 9.6 kW of power using a standard J1772 connector. The charging cord appears to be made from a soft pliable rubber that should perform well in cold weather too.
LENZ is based out of California, they offer US-based support and a 3-year warranty in case something goes wrong.
Specs
40 amps, configurable to 16
24-foot-long charge cable
Indoor/Outdoor operation
NEMA 14-50 plug
Pros
Heavy-duty durable enclosure, 24 foot long cable made of pliable materials, easy installaiton
Cons
No connected/smart features, the holster makes the cord stick out from the wall
Wallbox Pulsar Plus (48 Amp)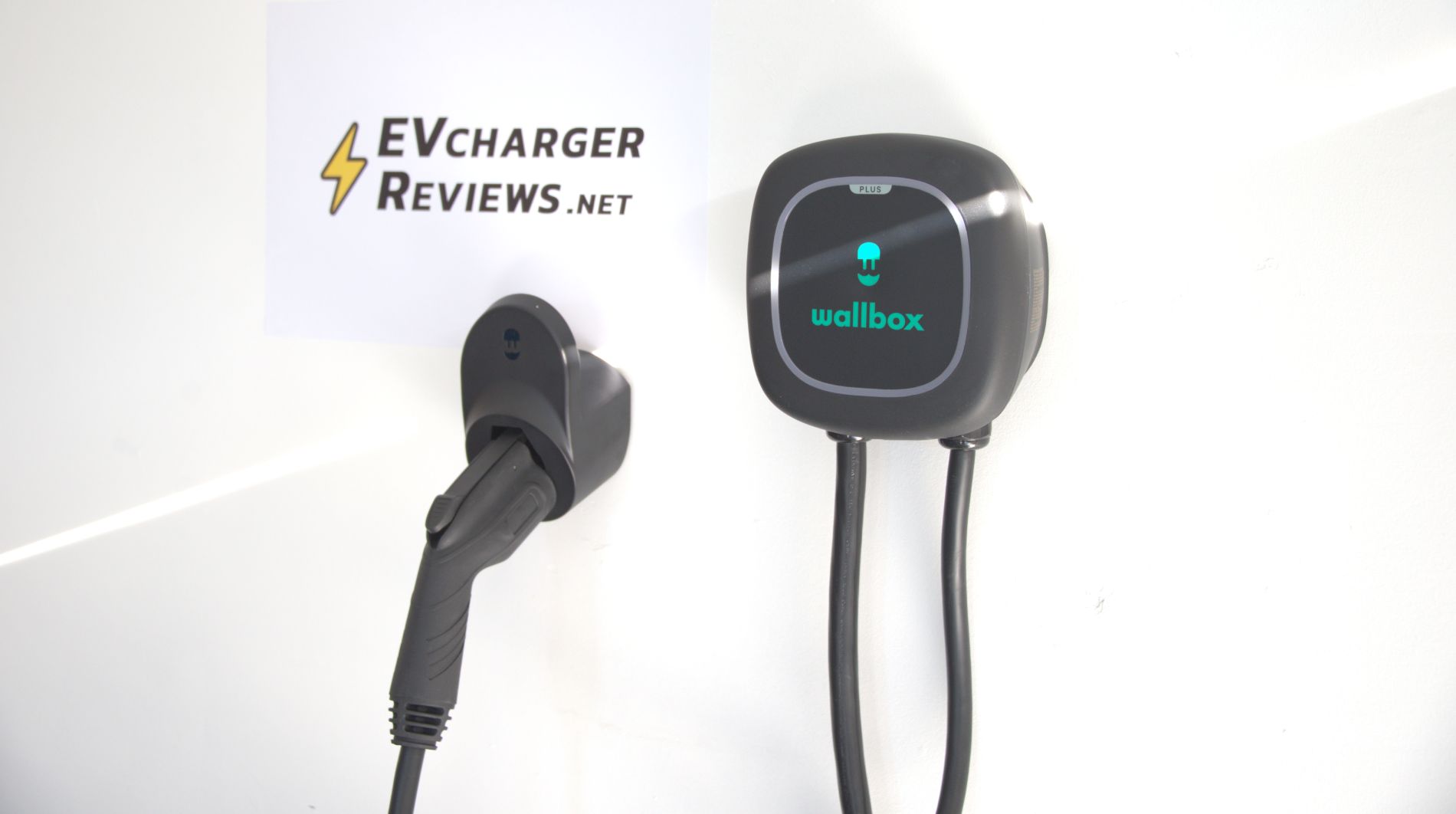 The Wallbox Pulsar Plus is our top pick for a charger with a compact and attractive design at just 7.8″ x 7.9″ x 3.9″ in dimensions.
Available in 40 and 48 amp versions, the Pulsar Plus can charge up to 8 times faster than Level 1 (120v) charging. The Wallbox unit features a 25 foot long cable, the maximum allowed length. The 48 amp version of the Pulsar Plus is able to deliver up to 11.5 kW of power, cutting down charge times to just a few hours rather than overnight.
Wallbox also works great for households with multiple EVs that need to be charged simultaneously. Two or more Wallbox chargers on the same circuit can communicate with each other and balance the available household power between chargers. See full review.
Specs
40 and 48 amp versions
25 foot long charge cable
Indoor/Outdoor operation
NEMA 14-50 outlet, or hardwired
Wifi and Bluetooth connectivity
Pros
Compact design with clear indicator lights, myWallbox app companion app for control and charge monitoring
Cons
The app is rather basic compared to other chargers
Electrify America Level 2 Charger (40 Amp)
You have probably heard of Electrify America, it is the brand behind the largest public fast charging network in the US, outside of Tesla's Supercharger network. Electrify America has an excellent charger for home too, delivering up to 40 amps. Depending on when you buy your Ioniq 5, Hyundai may even give you some complimentary access to the Electrify America network.
Frequent users of Electrify America's public network will appreciate the integration of this home charger with the Electrify America app. Using a single app for managing both home and public charging is the main competitive advantage of this home charger.
The EA home charger is widely compatible with all EVs that support the standard J1772 charging connector. The 24 foot vehicle connector cable is thick and sturdy, suitable for indoor or outdoor usage.
Specs
Up to 40 amps, can be configured as low as 16 amps
24 foot long charge cable
Indoor/Outdoor operation
NEMA 14-50, or can be hardwired
UL Listed
Wifi Connectivity
Pros
Energy Star Certified and UL Listed, reputable brand and excellent customer support, one app for both public and home charging, 3-year warranty
Cons
The charger box is physically larger than most, at 15.75″ x 8.66″. The glossy black plastic shell is sturdy, but may not appeal to everyone.
ChargePoint Home Flex (50 Amp)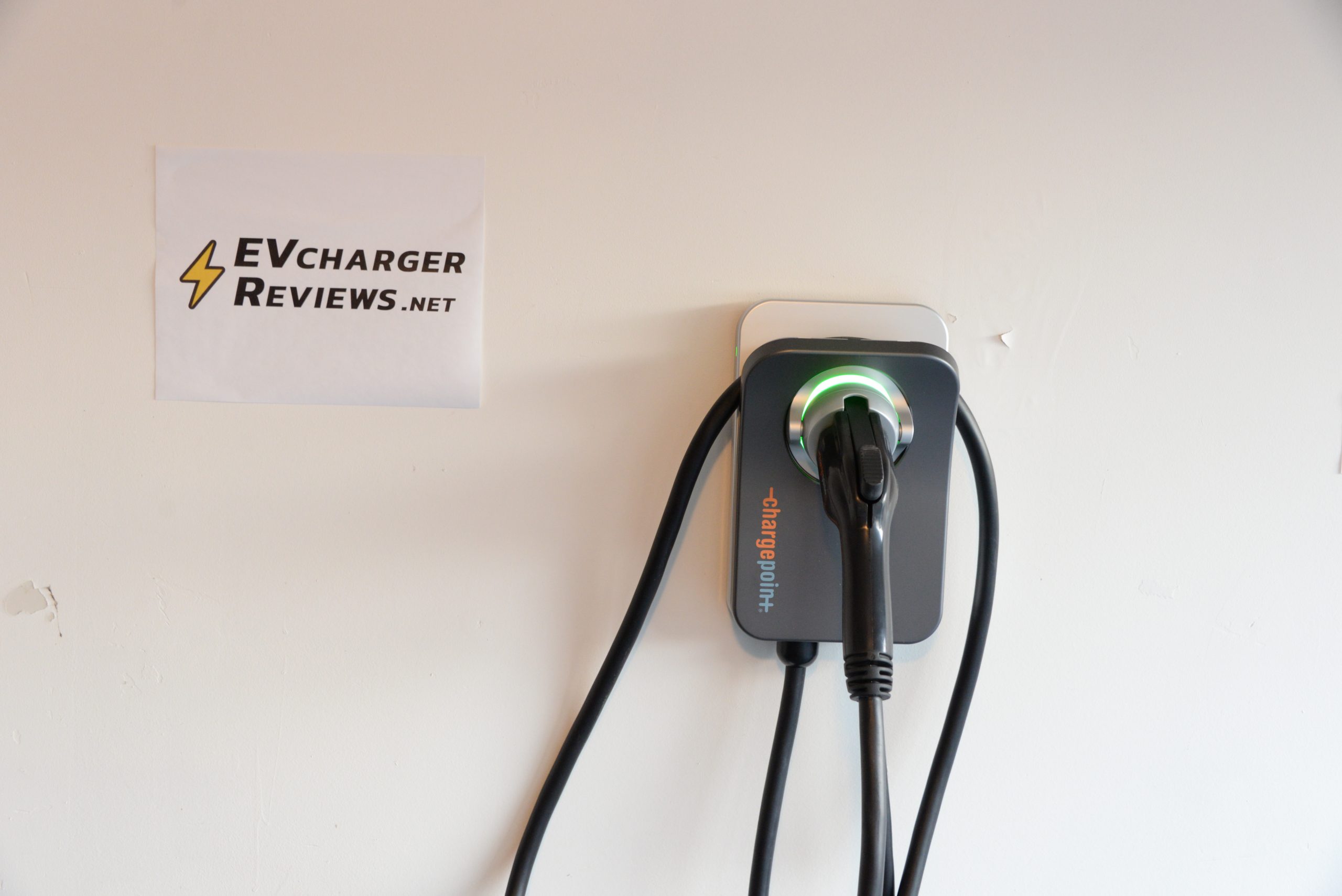 ChargePoint is a reputable brand in public charging as well as home charging. The Home Flex is a current favorite with a combination of attractive design, 50 amp performance, and responsive customer support.
At the higher end of home chargers, the Home Flex is able to deliver up to 50 amps to your EV, which translates to approx. 36 miles of range added per hour. The companion ChargePoint app allows you to schedule charging sessions when electricity is cheapest, as well as send you reminders if you forget to plug in your EV.
Compatible with most EVs on the market, the ChargePoint Home Flex is our top choice for most EVs with larger capacity batteries, like the Ioniq 5.
Specs
Up to 50 amp charging, 9 times faster than 120v wall outlet
23 foot long charge cable
Indoor/Outdoor operation
NEMA 14-50, NEMA 6-50, or hardwired options
UL Listed; safe and eligible for rebates/incentives in many states
Pros
Energy Star Certified, Wifi connectivity, Alexa voice assistant compatibility, choice of NEMA 14-50 or NEMA 6-50 plugs, configurable between 16 and 50 amps
Cons
Dependent on the smartphone app for configuration and some features.
Emporia Smart Level 2 EV Charger (48 Amp)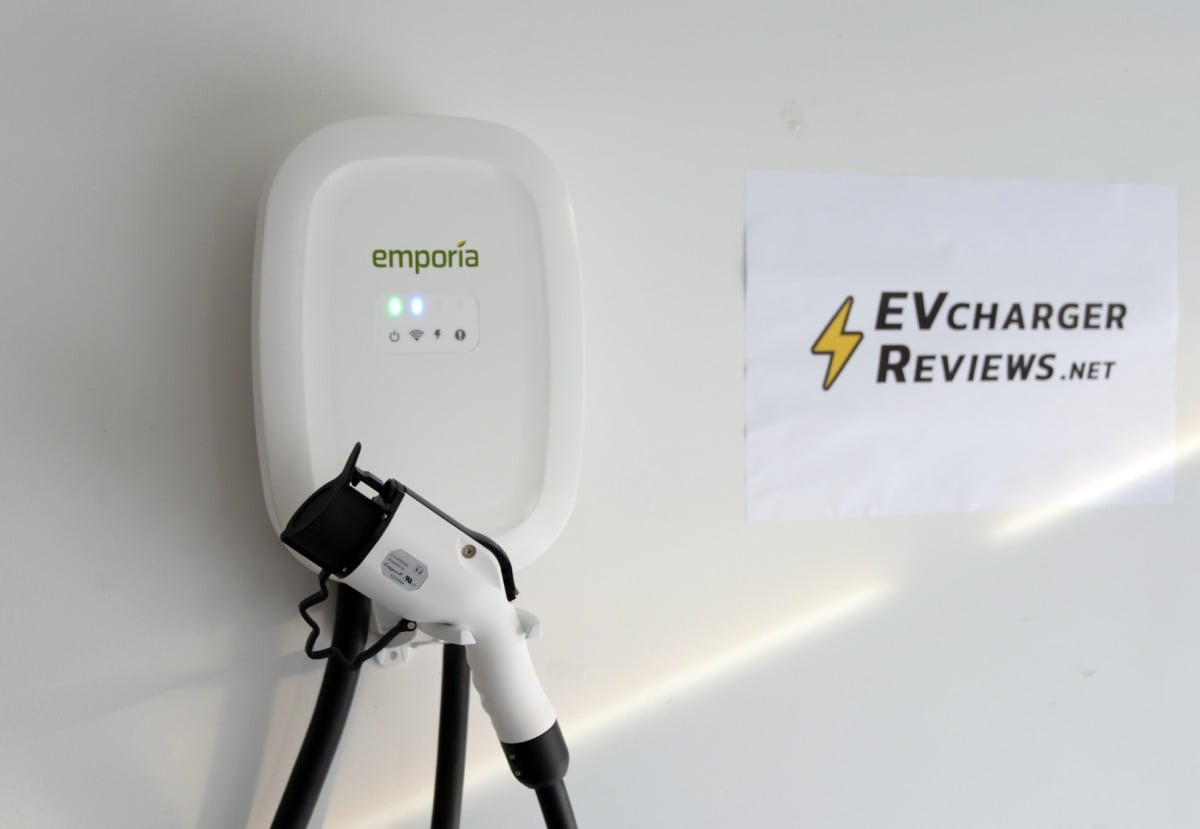 The Emporia home EV charger is easy to recommend if you already have other Emporia energy products in your home, as the app can control a variety of Emporia hardware. But the EV charger is a competitive product in its own right. While cheaper than many competitors on the market, Emporia does not cut corners where it matters most in day to day usage.
We really liked the high power output (48 amps hardwired, 40 amps over NEMA 14-50), and the highly durable single piece metal charge cord holder. Most competing brands include a cheap plastic cord holder in the box. Installation and app configuration was relatively easy as well. You can see our full review here.
Specs
Up to 48 amps, when hardwired
24 foot long cable
Indoor/Outdoor operation
NEMA 14-50 outlet or hardwired
Pros
Lower cost than competitors, up to 48 amps of power, app connectivity and scheduling, really good metal charge plug holder
Cons
The charge cord is shorter than the competition, the charger casing is made from plastic
Lectron 240V (40 Amp)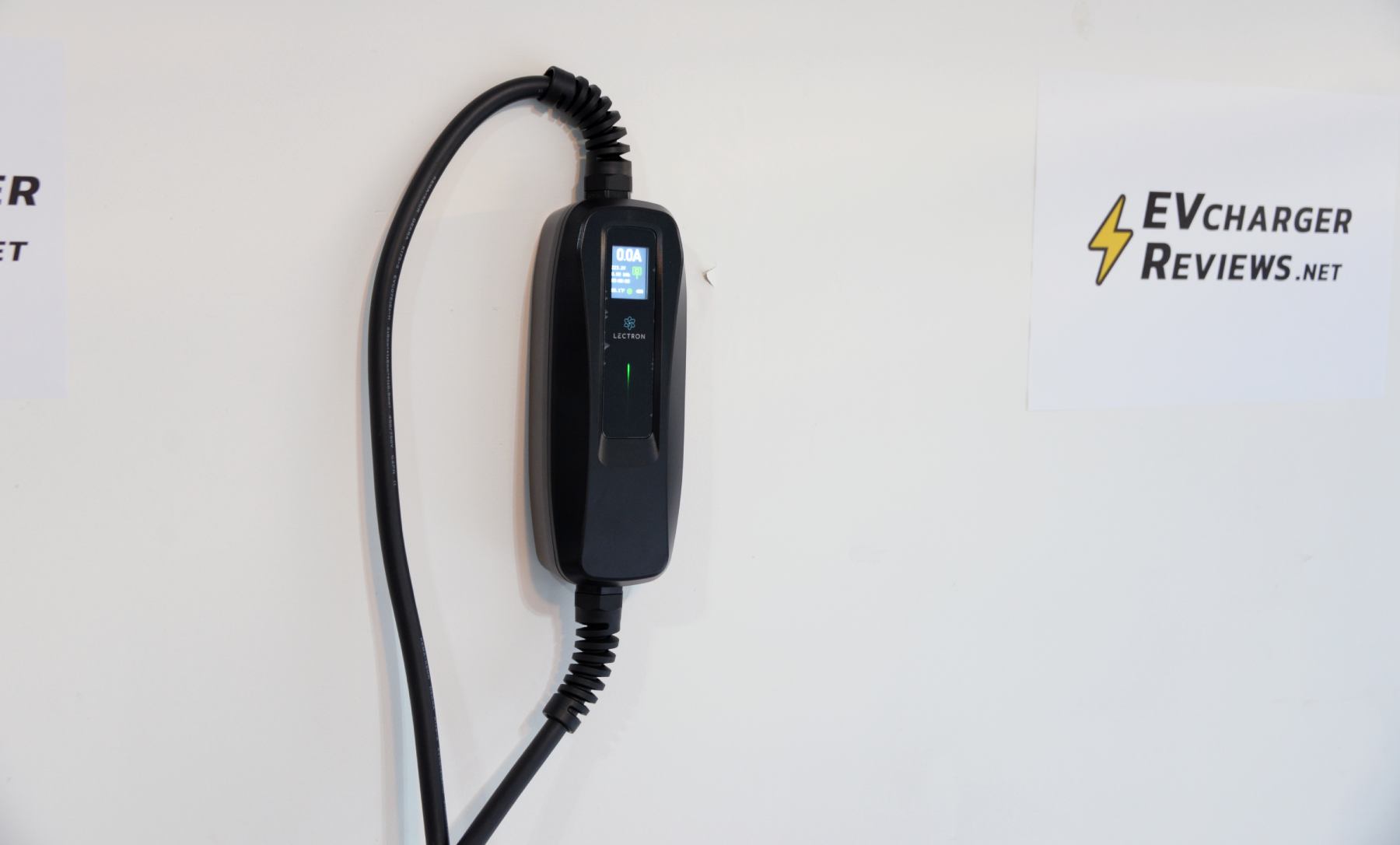 Lectron makes a ton of models, but this specific 40 amp charger is our favorite budget pick. Small, light and portable. But unlike most travel charging adapters, the 40 amp Lectron could be your main home charger.
There are no apps or connectivity options, but the always-on display shows you critical information about the charging session such as: current, voltage, temperature, and charge time. Most new EVs allow you to schedule charging sessions from their infotainment system anyway.
Downsides? The warranty is only one year, and this charger is not suitable for frequent outdoor use (especially not in extreme climates). See our Lectron full review.
Specs
40 amps
18 foot long charge cable
Indoor operation
NEMA 14-50 plug, no hardwiring
Pros
Great power output for a budget charger, more portable than wall mounted chargers, always on display with charge stats
Cons
Not really suitable for outdoor operation, Lectron customer service does not have a great reputation, shorter warranty than premium brands
Criteria
Most charging stations and charging cords with a J1772 plug will work with the Ioniq 5 just fine. However, we selected products based on our hands-on experience that we think will provide the most utility and value to Ioniq 5 owners. Our main criteria are the quality and length of the charging cord (which undergoes wear and tear), ease of use, and reliability. The Ioniq 5 is able to accept up to 11 kW (48 amps), however, note that a home charging station will need to be hardwired to a 60+ amp circuit breaker to pull the full 48 amps. NEMA 14-50 plug-in charging stations are restricted to 40 amps.
IONIQ 5 Charging Fast Facts
| | |
| --- | --- |
| EV Charging Connector | J1772 / CCS |
| Battery Capacity | 58 – 77 kWh |
| Level 2 Charging Power | 11 kW |
| Level 2 Max Amps | 48 A |
| Level 2 [20-80%] Charge Time | 3.5-4.5 Hours |
| Level 3 Peak Power | 218 kW |
Frequently Asked Questions about charging the Ioniq 5
What kind of charging adapter does the Ioniq 5 use for charging at home?
Standard J1772 connector, like most other new EVs (other than Tesla).
How much does it cost to charge an Ioniq 5 at home?
With an off-peak electricity rate of 13 cents per kWh and assuming 95% charging efficiency, it would cost approximately $10.59 to charge from dead to 100% overnight. Much cheaper than a full tank of gas! Check electricity rates in your area for more accurate costs.
How long does the Ioniq 5 take to charge at home?
It will take between 7 and 9 hours to fully recharge the Ioniq 5 at home, on Level-2 240 volt charging. This will depend on if your charger (and home wiring) can support full 50 amps of current, or if you have to go down to 40 amps or lower.
How fast does Ioniq 5 charge at home?
The fastest home charging is done over Level 2 AC power at 220 volts in North America. The Ioniq 5 can accept up to 11 kW at home with a powerful enough wall charger.
Does the Ioniq 5 support scheduled charging?
Yes. Like most modern EVs, the Ioniq 5 has configurable charging schedules on the main infotainment screen. Scheduling can be found in the  EV -> "Next Departure" menu. This is very useful if you're using a home charger without scheduling functions.
What is the rated range for the Ioniq 5?
In the US, the EPA estimates range to be 220 miles for the smaller battery pack and rear-wheel-drive. The larger battery pack and rear-wheel-drive version is rated up to 303 miles.
Does wheel size affect the range on the Ioniq 5?
Yes, the Limited AWD trim comes with larger 20-inch wheels with wider 255/45R20 tires. Although sportier in appearance, it does reduce the usable range of the car. Lower trims come standard with 19-inch wheels and 235/55R19 tires.
What is the recommended tire pressure?
Hyundai USA recommends 36 psi for cold tire pressures for the Ioniq 5, for both 19-inch and 20-inch sets of wheels. Lower values will reduce the range of the vehicle. Over-inflated tires may wear out faster, however.
Can you charge the Ioniq 5 at a Tesla Supercharger?
Only a limited number of Supercharger locations are available to non-Teslas at this time, but the Ioniq 5 will be able to charge at all Supercharger locations in 2024 or 2025. However, a hardware adapter may be required.
Do you get free charging with the Hyundai Ioniq 5?
Hyundai of America and Electrify America have a partnership agreement for new car sales. You may be eligible for two years of complimentary 30-minute charging sessions from Electrify America charging stations, confirm with your Hyundai dealer. It is still recommended for owners to have level 2 home chargers for convenience and to maintain good battery health. EA's fast public charging network is fantastic for road trips and going beyond the Ioniq 5's range.
Should I charge the Ioniq 5 to 100%?
You may charge the car to 100% when you need the full change for road trips. Setting a change limit of 80% is recommended for day to day usage to avoid battery degradation. Try to limit the amount of time the battery spends above 80% and below 20%.
Where is the charging port located on the Hyundai Ioniq 5?
The charging port is located on the right-side corner, near the back of the car.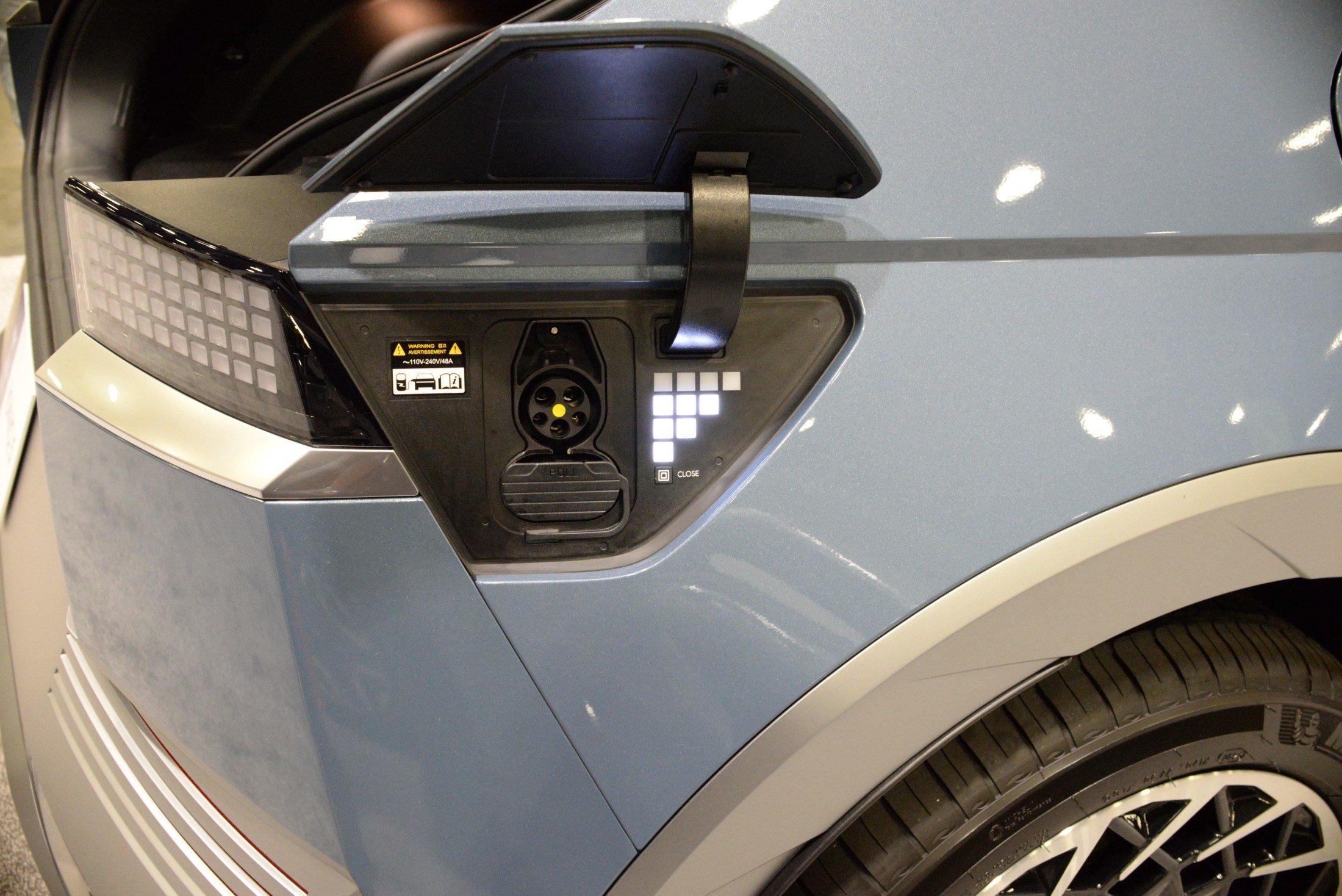 Why trust EVchargerReviews.net? Each product we list is thoroughly tested in our garage lab for at least two weeks before we add it to the website.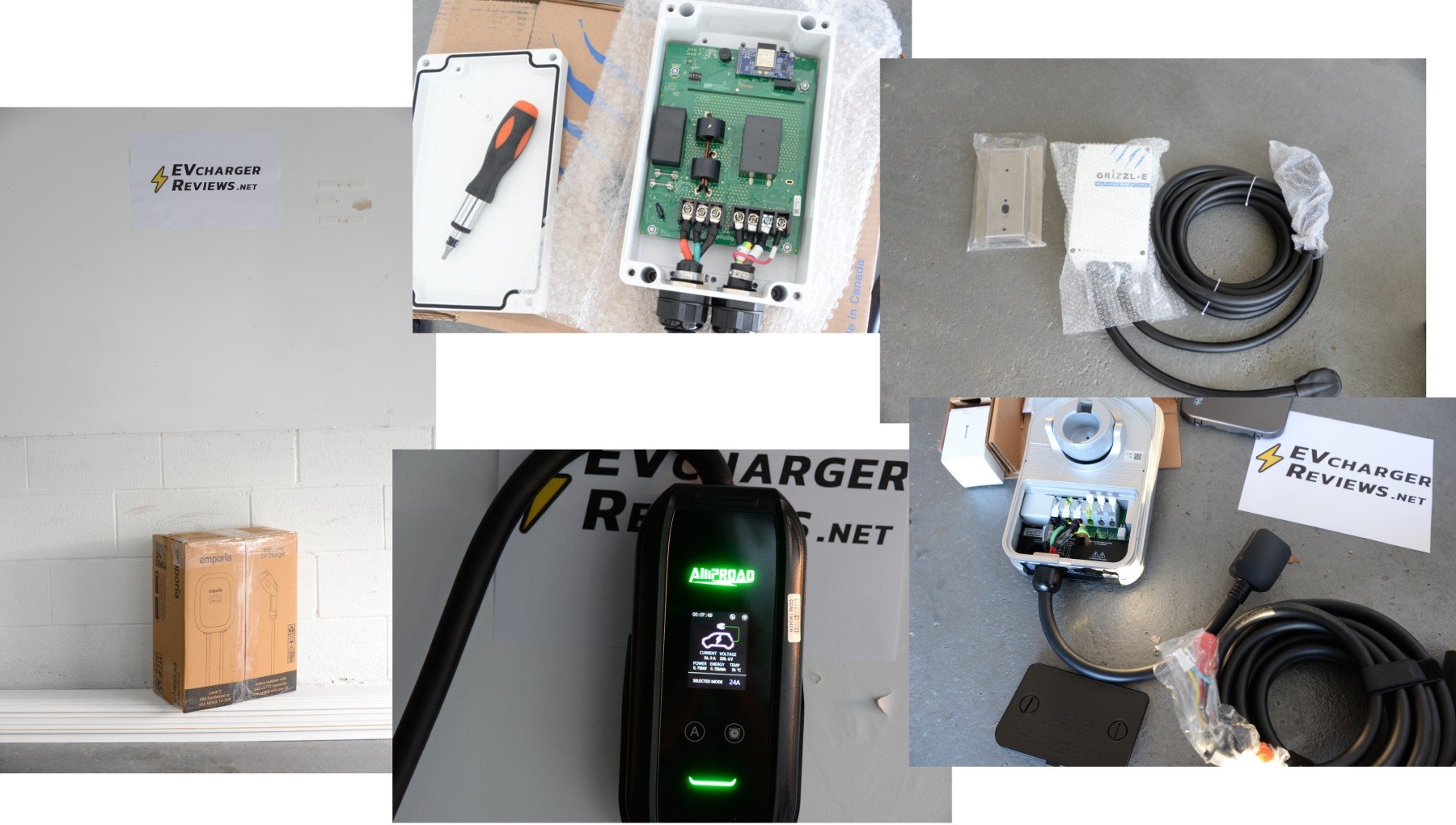 More EV Home Charging Resources