Best Home EV Charger for Kia Niro EV
Updated Aug. 21, 2023, by Michael Kim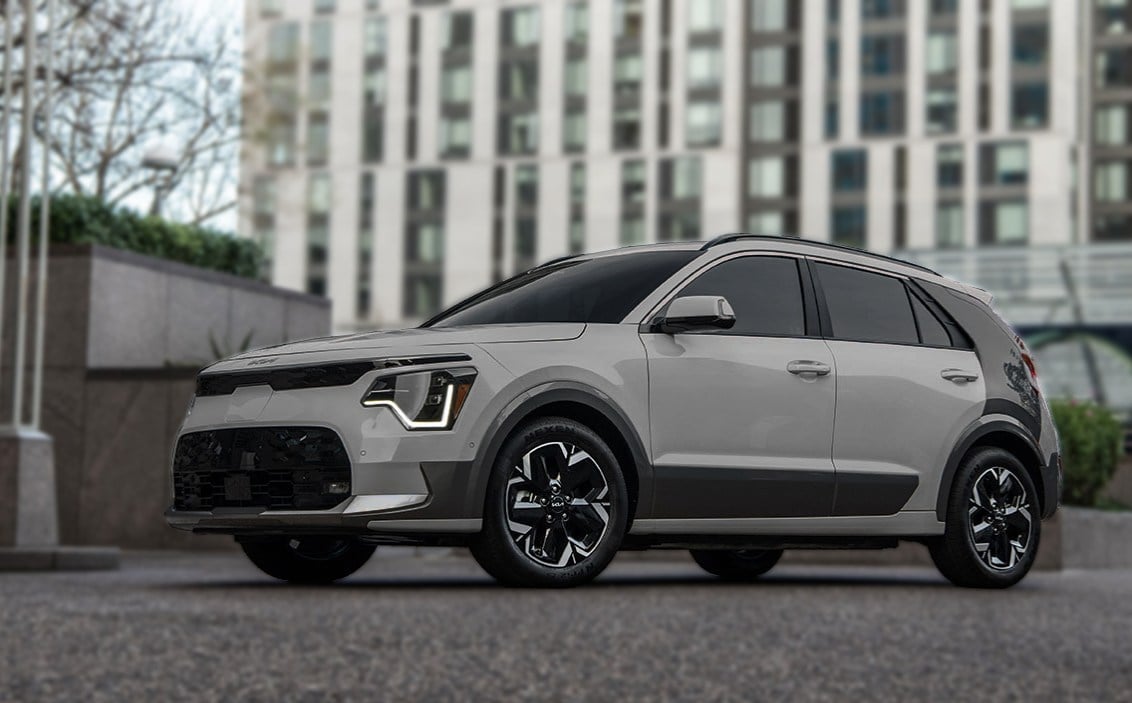 Our Top Picks for Niro EV
The Niro EV from Kia is all new for 2023. The e-Niro name is gone in favor of the new "Niro EV" and Niro PHEV. The new vehicle sports bolder new looks and drivetrain improvements.
Kia archived an EPA-rated range of 253 miles with the new Niro EV. This is an impressive level of efficiency coming from a 64.8 kWh battery.
For charging, the Niro EV uses a standard combo J1772 / CCS connector, and the onboard charging equipment is capable of receiving as much as 11 kW from a Level 2 power source. With a 48 amp home charging setup, you can typically expect to fully recharge the Niro EV in about 6-7 hours. Below we have listed our top recommended products for charging the Kia Niro EV at home
Emporia Smart Level 2 EV Charger (48 Amp)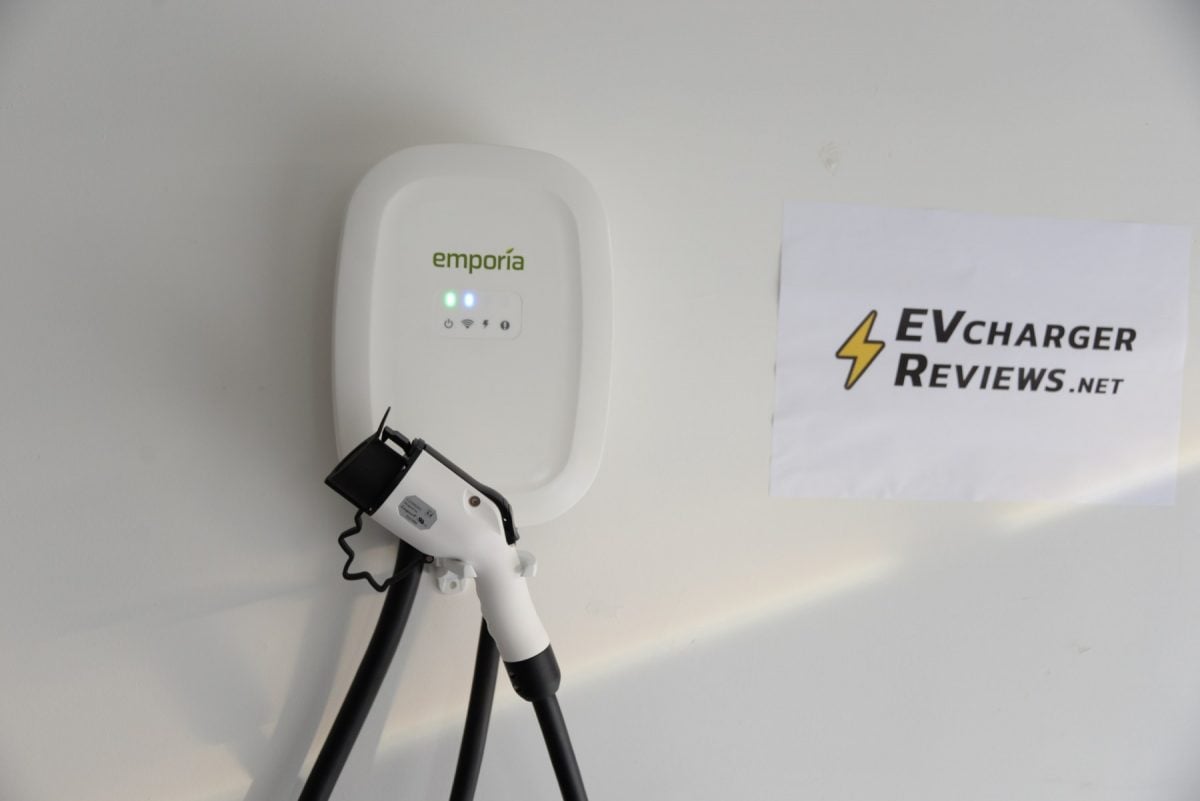 Emporia's popular Level 2 charging station is a great fit for the new Kia Niro EV. It can charge the Niro EV at the full 11 kW, and it comes at an affordable price.
Unlike many competing brands in this price range, Emporia is USA-based out of Colorado and offers a full suite of energy products for your home. All of Emporia's home products belong to the same ecosystem and can be controlled with the same app. But the EV charging station is a competitive product in its own right. While it is less expensive than most 48 amp chargers, it does not cut corners in usability.
We really liked the high power output (48 amps hardwired, 40 amps over NEMA 14-50), and the highly durable single piece metal charge cord holder. The charging cord too, was good quality by slightly shorter than competitors. You can see our full review here.
Specs
Up to 48 amps, when hardwired
24 foot long cable
Indoor/Outdoor operation
NEMA 14-50 outlet or hardwired
Pros
Lower cost than competitors, up to 48 amps of power, app connectivity and scheduling, really good metal charge plug holder
Cons
The charge cord is shorter than competition, the charger casing is made from plastic
Grizzl-E Level 2 EV Charger (40 Amp)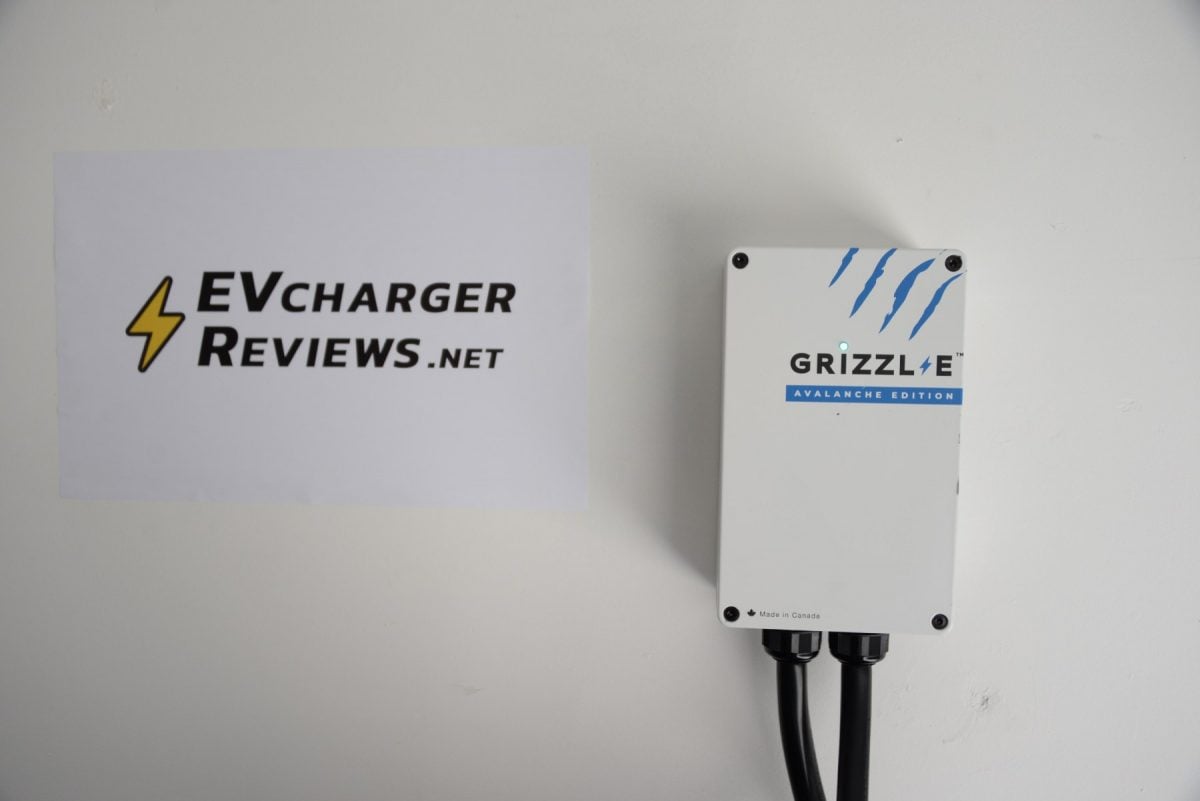 The Level 2 home charger from Grizzl-E is a no-nonsense option for Niro EV owners looking for durability and value. It doesn't have the prettiest enclosure, instead, you are paying for a durable metal case, dependable electronics, and a charging cord that won't suffer in extremely cold weather.
Grizzl-E is based in Canada, so their products are designed to perform in extreme weather conditions. The operating temperature range is between -22F to 122F for outdoor usage, and the rubber cable stays pliable in cold weather.
This charger is available with either NEMA 14-50 or NEMA 06-50 wall connectors (check the SKU when ordering), and an electrician can hardwire all variants.
Specs
40 amps, or as low as 16
24 foot long charge cable
Indoor/Outdoor operation
NEMA 14-50, NEMA 06-50, or hardwired options
Pros
Good value, durable construction and materials, heavy-duty charging cable, suitable for extreme climates
Cons
No smart features or app control, our review unit had minor paint issues
Wallbox Pulsar Plus (40 Amp)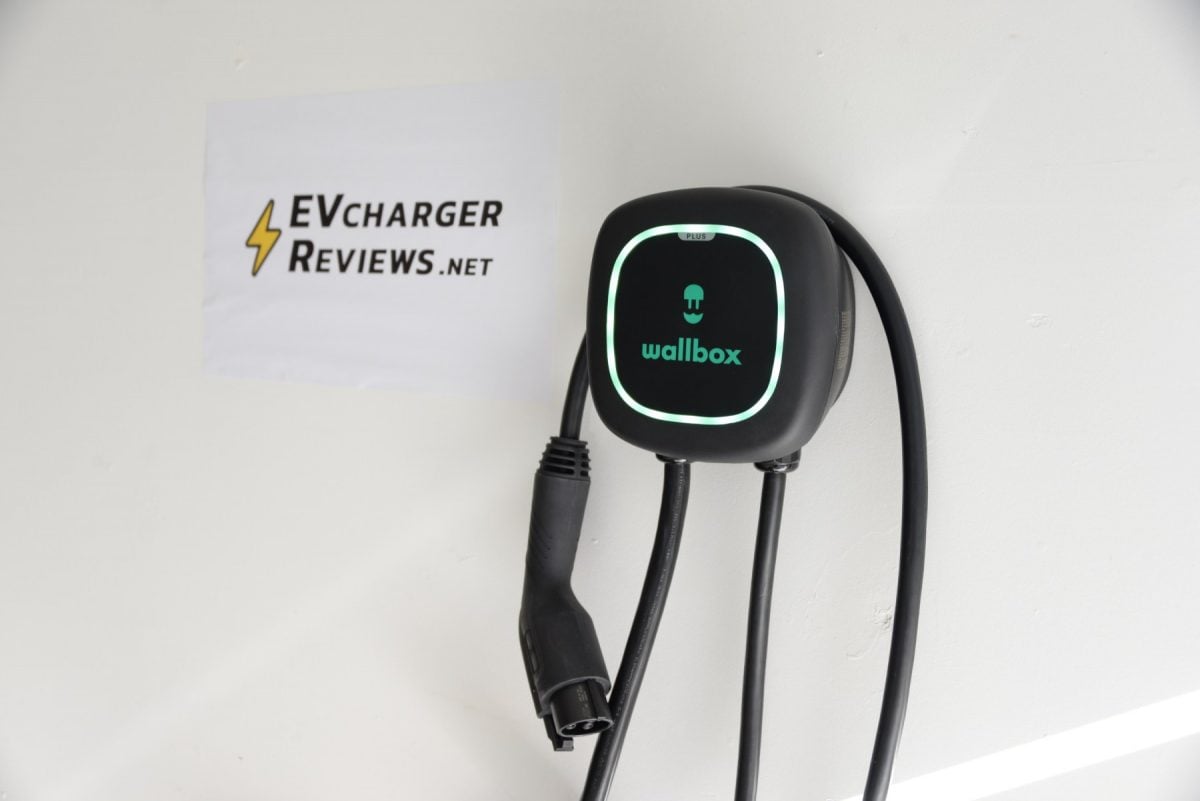 Looking for an attractive and innovating designed charging station for your garage? We really liked the Wallbox Pulsar Plus for this reason. It is our compact EV charger pick, because of its' attractive design and small dimensions (7.8″ x 7.9″ x 3.9″).
If you plan to using a NEMA 14-50 outlet, go with the 40 amp SKU. But if you want to charge at the full 11 kW (instead of just 9kW), then you will need to splurge for the 48-amp unit and have it hardwired into your home circuit by an electrician. Other benefits include a long 25 foot cord, and both Wifi and Bluetooth connectivity.
Wallbox also works great for households with multiple EVs that need to be charged simultaneously. Two or more Wallbox chargers on the same circuit can communicate with each other and balance the available household power between chargers.
Specs
40 and 48 amp versions
25 foot long charge cable
Indoor/Outdoor operation
NEMA 14-50 outlet, or hardwired
Wifi and Bluetooth connectivity
Pros
Compact design with clear indicator lights, myWallbox app companion app for control and charge monitoring
Cons
The app is rather basic compared to other chargers
AMPROAD iFlow P9 (40 Amp)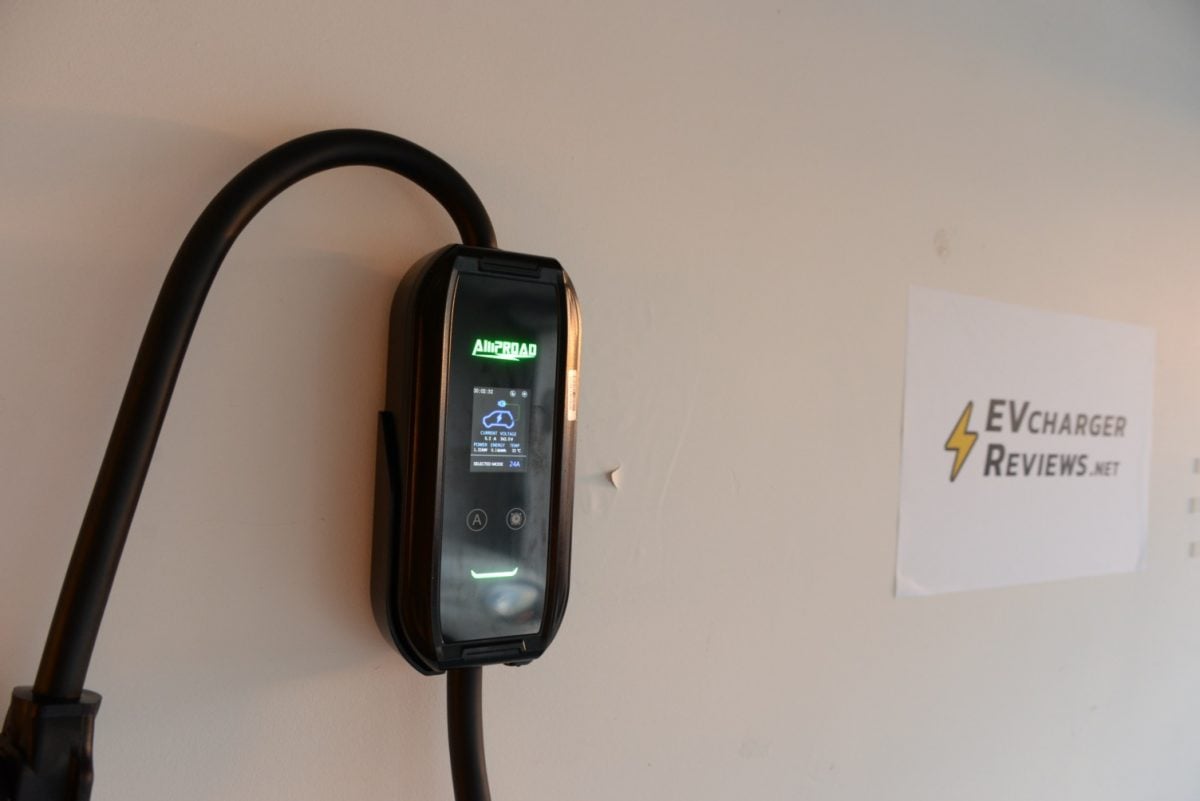 If you need a home charging station for the Niro EV that can be occasionally taken on the road, the AMPROAD is likely the best choice. It includes smart features like Wifi connectivity, offers the full 40-amp NEMA 14-50 power output, a long 25-foot long cord, but also comes with a home wall mounting bracket
Downsides? Not many. But the smart features require the user to connect to the Wi-Fi network created by the charger instead of going through dedicated apps. Full AMPROAD review here.
Specs
Up to 40 amps, with modes as low as 10 amps
25 foot long in total
Indoor operations
IP67 water tightness rating
NEMA 14-50 plug
Wi-Fi Connectivity
Pros
Portable, has a high quality and thick cable, clear LCD screen, optional Wi-Fi connectivity
Cons
NEMA 14-50 placement at the top of the box may limit mounting options, the smart connectivity functions may have a learning curve
ShockFlo S1 Home EV Charger (40 amp)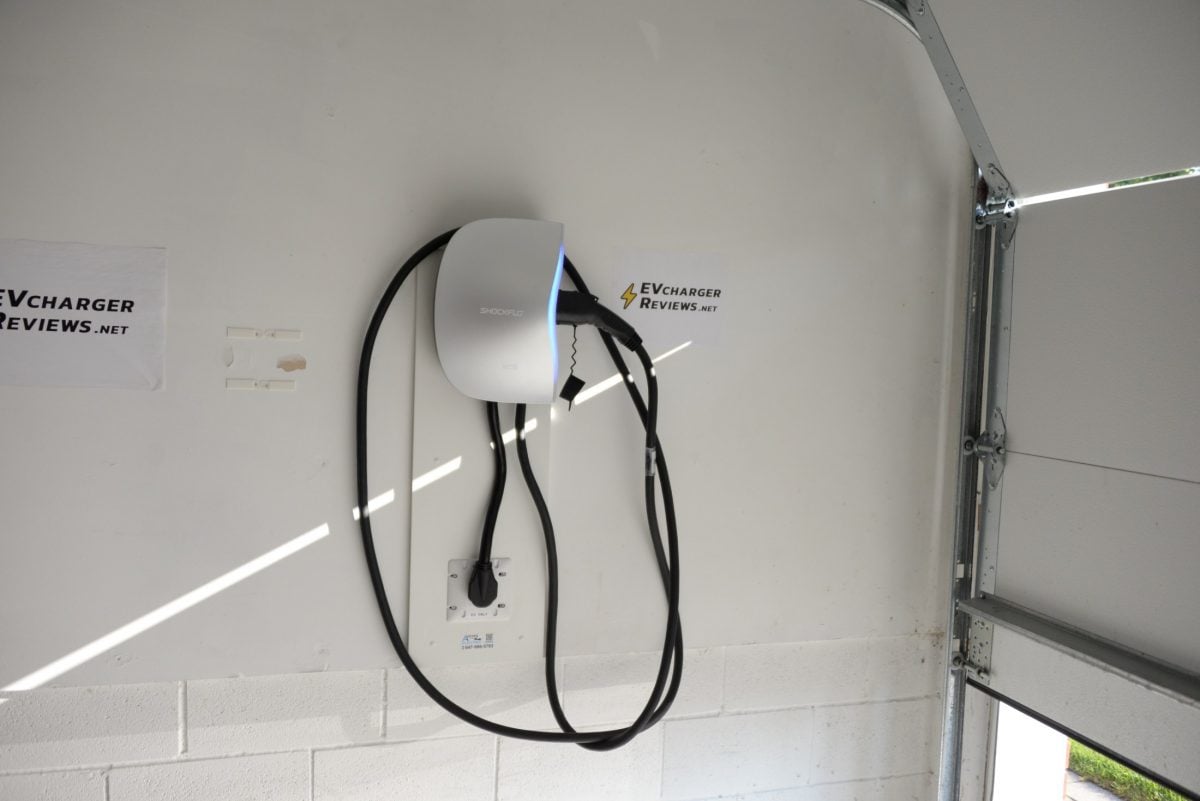 A relative newcomer to home charging, ShockFlo has a good product on their hands for Niro EV owners. Do you have a more compact parking space in your garage? This could be a good pick. The cord is shorter at only 17-feet, and it can tuck away nicely and out of the way, thanks to the side-mounted J1772 holder. This means you are less likely to strike the cord with your mirrors while driving out of the parking space.
The unit was easy to install and comes with 40 and 48-amp versions. With a shorter cord though, you must plan your installation location carefully because the Niro EV's charging port is located on the front of the vehicle.
Specs
Up to 40 amps
17 foot charge cable
Indoor/Outdoor operation
NEMA 14-50, can be hardwired
3 year warranty
Pros
Smart design, bright LED status indicator, easy installation, 3 year warranty is rare at this price point
Cons
The cord is shorter than most other home EV chargers, and the app is functional but needs more polish
Aimiler Level 2 EV Charger (48 Amp)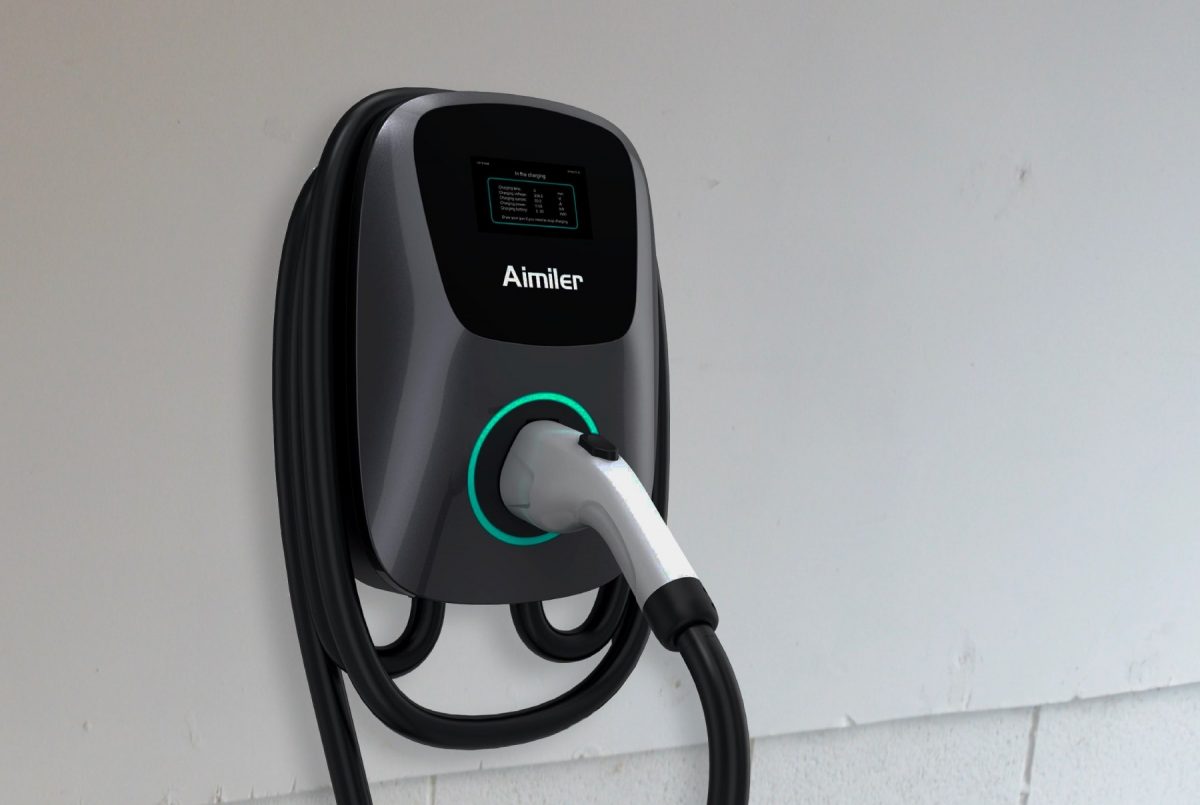 Aimiler is another newer brand in home EV charging. Their level 2 charging station is a competitive offering in an increasingly crowded market.
We like it because it is a relatively low-cost 48-amp capable charging station with a generous 25 foot long cord. It has a built-in J1772 plug holster with a ring LED light, and the shape of the unit allows for easy cord wrapping and management.
Overall, we have only a few concerns. Aimiler is a newer brand in the space, and their other products are vacuum cleaner and a chainsaw. So this product appears to be a while-label product under the Aimiler brand. However, it has the right certifications and protection mechanisms like the competitors. A 3-year warranty is also standard with the product.
Specs
48 amps
Cable length: 25 foot
IP65 rating: Indoor/Outdoor operation
NEMA 14-50 wall plug, can be hardwired
Pros
Long cord length, 48 amp power, often discounted on Amazon
Cons
Fully plastic construction, the shiny front panel can get scuffed, a third party app is used
Kia Niro EV Charging Fast Facts
| | |
| --- | --- |
| EV Charging Connector | J1772 / CCS |
| Battery Capacity | 64.8 kWh |
| Level 2 Charging Power | 11 kW |
| Level 2 Max Amps | 48 A |
| Level 2 [20-80%] Charge Time | 4 Hours |
| Level 3 Peak Power | 84 kW |
Frequently Asked Questions about charging the Niro EV
How much does it cost to charge a Kia Niro EV at home?
About $9, depending on your electricity rates. For example, with a rate of 13 cents per kW and assuming 95% charging efficiency, it would cost $8.89 to fully recharge the 64.8 kWh battery of the Niro EV at home. With the EPA-rated range of 258, the cost per mile works out to just 3.5 cents.
How do I charge my Kia Niro EV at home?
Kia includes a Level 1 (120v) charging cable with the Niro EV. However, it would take 2.5 days at Level 1 speeds to fully charge the 64.8 kWh battery. Most drivers will benefit from a Level 2 home charging station that will charge the car overnight.
What kind of charging connector does the Kia Niro EV use?
Standard J1772/CCS combo connector in North America, like the majority of other new EVs.
What is the range of the Hyundai Kia Niro EV?
The EPA rated the range of the Kia Niro EV to be 253 miles, using the 64.8 kWh battery.
How many amps can Kia Niro EV take for charging?
Up to 48 amps on Level 2 charging at home.
Does the Kia Niro EV have a heat pump for HVAC?
It is not standard equipment but comes as an option as part of packages such as: Wind Preserve Package and Wave Preserve Package. A heat pump is recommended in colder climates, as it is a more efficient heating method and will consume less driving range.
How does EVchargerReviews.net come up with product recommendations? We buy the products we recommend for testing, and try them for at least two weeks before including them in out product recommendations.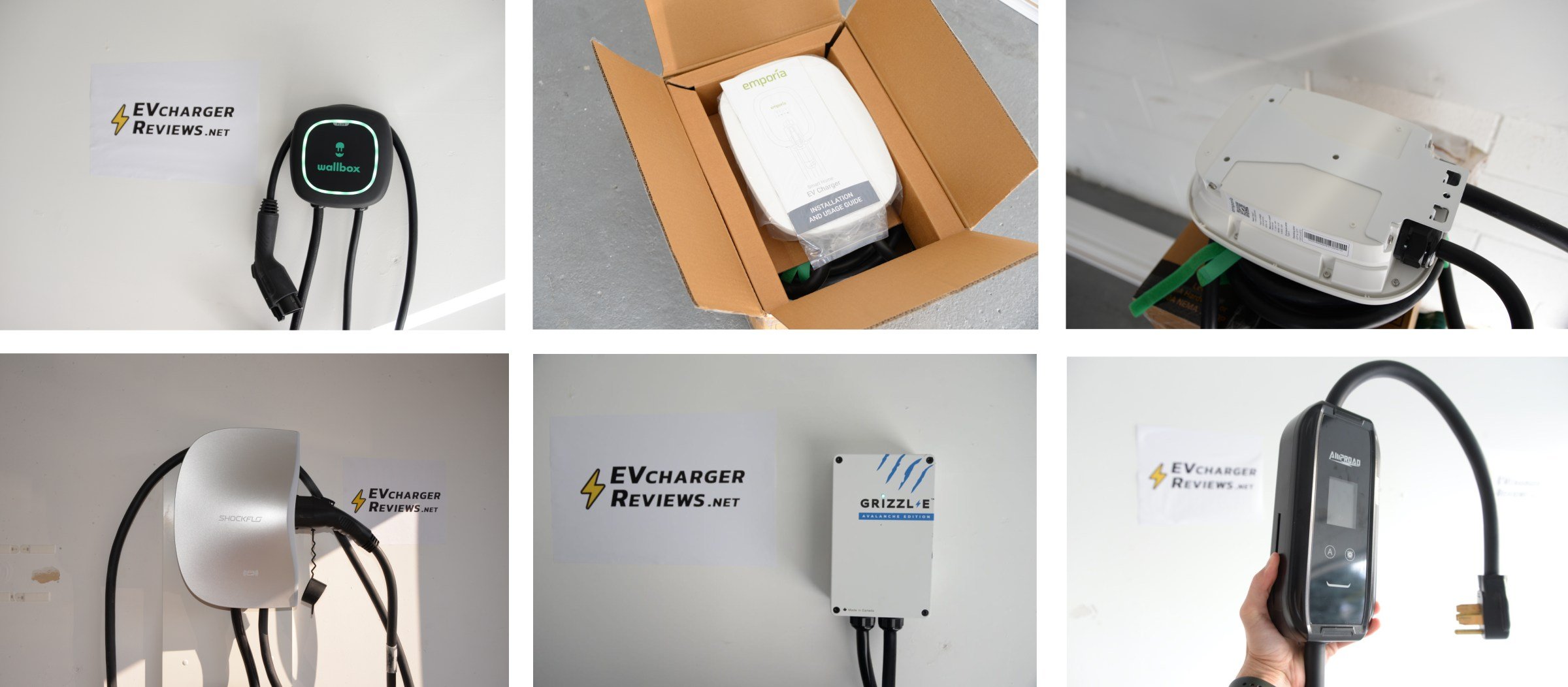 More EV Home Charging Resources