EVchargerReviews is supported by our readers. We may earn commissions from links on this page. Why trust us?
Best EV Home Charger for Kia EV6
Updated May 1, 2023 by Michael Kim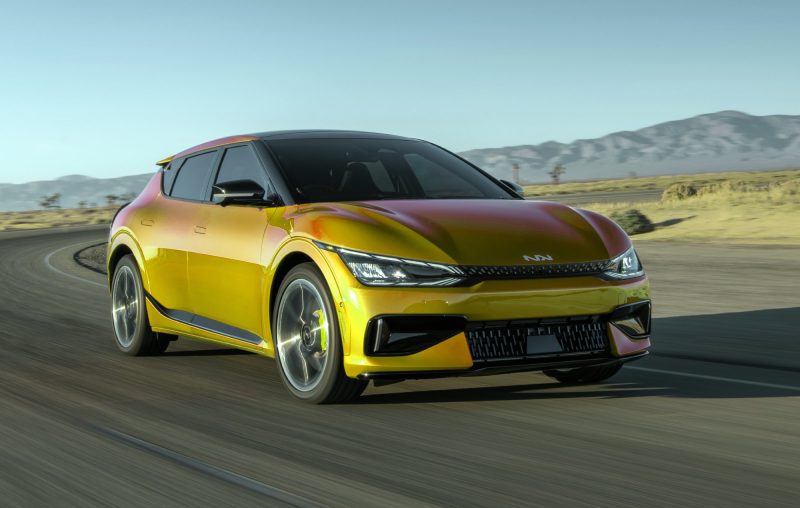 Our Top Picks for the EV6
The Kia EV6 is an electric crossover SUV introduced in 2021 as a 2022 model. The EV6 is based on the 800 volt E-GMP platform, similar to the Hyundai Ioniq 5.
The Kia EV6 is available in rear wheel drive or all wheel drive configurations, and battery capacity is either 58 or 77 kWh depending on trim level. This results in EPA range between 232 miles (smaller battery, RWD) and 310 miles (larger battery, RWD) according to the EPA. Opting for AWD will reduce the range to 274 miles with the larger battery pack.
The Kia EV6 uses a standard J1772 / CCS charging connector with an onboard 48 A, 11.5 kW charger. With a powerful enough home charging setup, you can expect to fully recharge the EV6 in about 7 to 9 hours. See our top picks below for the Kia EV6.
Why trust us? We have hands-on testing experience with most popular EV charging products.
Wallbox Pulsar Plus (48 Amp)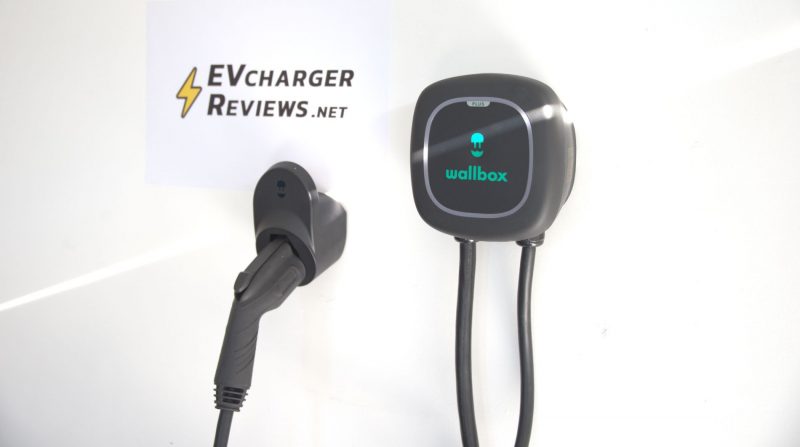 The Wallbox Pulsar Plus is our top pick for a charger with a compact and attractive design at just 7.8″ x 7.9″ x 3.9″ in dimensions.
Available in 40 and 48 amp versions, the Pulsar Plus can charge up to 8 times faster than Level 1 (120v) charging. The Pulsar Plus features a 25 foot long cable, the maximum allowed cable length. Cable management is also very easy, you can wrap the cable around the charger unit or the included connector holder. The 48 amp version is able to deliver up to 11.5 kW of power, cutting down charge times to just a few hours rather than overnight for Kia EV6 owners.
Wallbox also works great for households with multiple EVs that need to be charged simultaneously. Two or more Wallbox chargers on the same circuit can communicate between each other and balance the available household power between chargers. You can see our full review here.
Specs
40 and 48 amp versions
25 foot long charge cable
Indoor/Outdoor operation
NEMA 14-50 outlet, or hardwired
Wifi and Bluetooth connectivity
Pros
Attractive design
Clear LED status lights
Easy installation
High power, adjustable modes
Cons
Cord holder is cheap plastic
The app is rather basic compared to other chargers
ChargePoint Home Flex (50 Amp)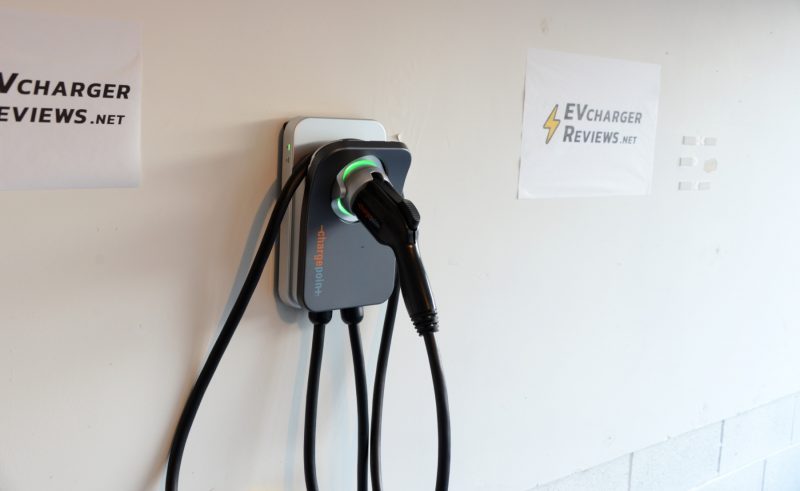 ChargePoint is a reputable brand in public charging as well as home charging. The Home Flex is a current favorite with a combination of attractive design, 50 amp performance, and responsive customer support.
At the higher end of home chargers, the Home Flex is able to deliver up to 50 amps, more than enough for the Kia EV6. The companion ChargePoint app allows you to schedule charging sessions when electricity is cheapest, as well as send you reminders if you forget to plug in your car.
Compatible with most EVs on the market, the ChargePoint Home Flex is our top choice for premium EVs like the Kia EV6.
Specs
Up to 50 amp charging, 9 times faster than wall outlet
23 foot long charge cable
Indoor/Outdoor operation
NEMA 14-50, NEMA 6-50, or hardwired options
UL Listed; safe and eligible for rebates/incentives in many states
Pros
Energy Star Certified
High quality charging cord
Configurable between 16 and 50 amps
Metal heatsink on the back
Cons
Requires app and account for setup
A bit more work for DIY assembly
Grizzl-E Level 2 EV Charger (40 Amp)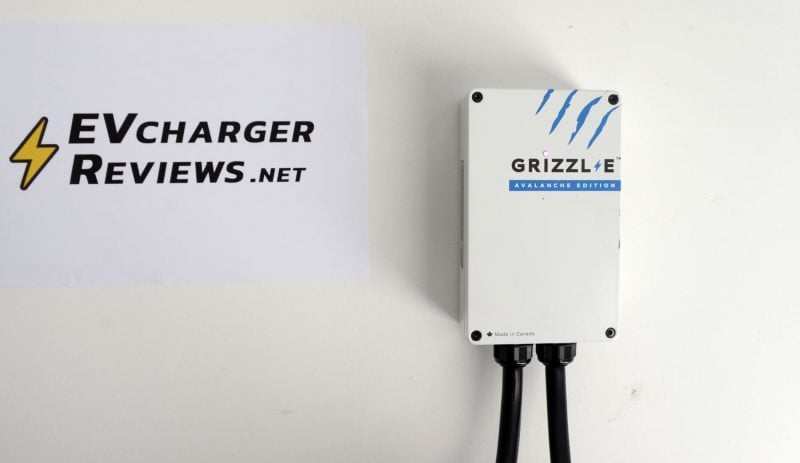 The Level 2 home charger from Grizzl-E is a compelling option for EV owners looking for durability and value. It is a simple utilitarian design metal box with an LED indicator light and heavy duty construction. There are no screens or wifi connectivity options on the "Classic" charger, just an industrial looking box with 40 amps of power delivery, which should translate to about 10 kW usable charging speed.
Grizzl-E is based in Canada, so their products are designed to perform in extreme weather conditions. The operating temperature range is between -22F to 122F for outdoor usage.
This charger is available with either NEMA 14-50 or NEMA 06-50 wall connectors (check the SKU when ordering), and all variants can be hardwired by an electrician. You can read our full review here.
Which Plug type do I need?
NEMA 14-50 is the most popular plug for Level 2 home charging, both variants can be hardwired
Specs
40 amps, or as low as 16
Durable 24 foot long EV charge cable
Indoor/Outdoor operation
NEMA 14-50, NEMA 06-50, or hardwired options
Pros
Good value
Durable construction and materials
Heavy duty charging cable
Suitable for extreme climates
Cons
No smart features or app control
Some users reported paint quality issues of the enclosure
Lectron 240V (40 Amp)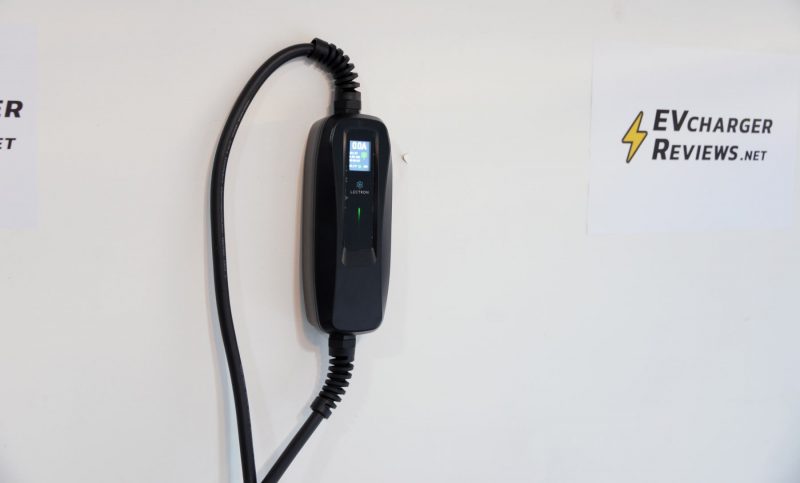 Lectron makes a ton of models, but this specific 40 amp charger is our favorite budget pick. Small, light and portable. But unlike most travel charging adapters, the 40 amp Lectron could be your main home charger.
There are no apps or connectivity options, but the always-on display shows you the critical information about the charging session such as: current, voltage, temperature, and charge time. The Kia EV6 allows drivers to schedule charging sessions from their infotainment system anyway.
Downsides? The warranty is only one year, and this charger is not suitable for frequent outdoor use (especially not in extreme climates) See Lectron review.
Specs
40 amps
18 foot long charge cable
Indoor operation
NEMA 14-50 plug
Pros
Great power output for a budget charger
More portable than wall mounted chargers
Always on display with charge stats
Cons
Not really suitable for outdoor operation
Lectron customer service does not have a great reputation, shorter warranty than premium brands
Keruida Level 2 (40 Amp)
Keruida's Level 2, 40 amp charger is another great portable option that frequently goes on sale. This charger can be used for portability, as well as a main home charging station. Although it is IP65 rated for water resistance, we would not recommend this charger for extended outdoor usage, especially not in extreme climates.
We like the generous 25 foot long charge cable that allows drivers to park their cars in either front/rear orientation. There are five amperage settings between 16 and 40 amps for flexibility on a range of circuits.
Specs
40 amps
25 foot charge cable
Indoor operation
NEMA 14-50 wall plug
Pros
Great value level 2 charger with 25 foot long cable
An easy to use delay timer helps you take advantage of lower time of use electricity rates.
Cons
Not suitable as a main charger for outdoor operation.
The J1772 side of the cable is water resistant, but the NEMA 14-50 side may be exposed to moisture
Emporia Smart Level 2 EV Charger (48 Amp)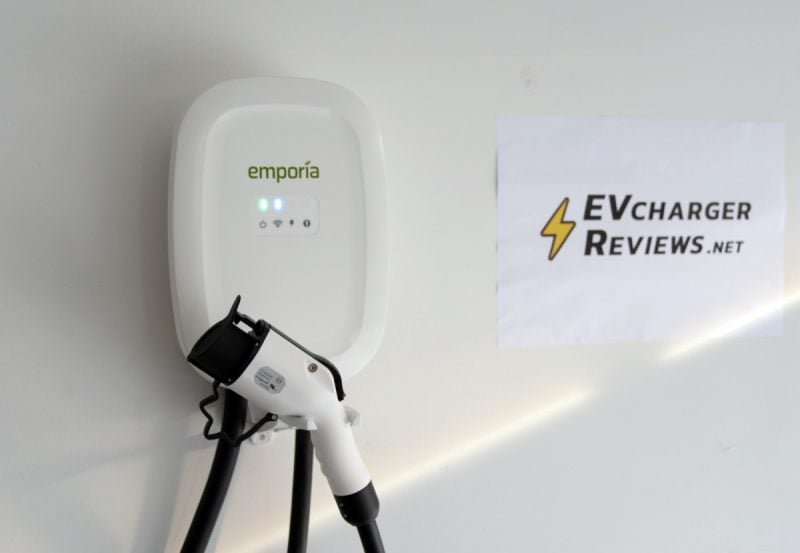 The Emporia home EV charger is easy to recommend if you already have other Emporia energy products in your home, as the app can control a variety of Emporia hardware. But the EV charger is a competitive product in its own right. While cheaper than many competitors on the market, Emporia does not cut corners where it matters most in day to day usage.
We really liked the high power output (48 amps hardwired, 40 amps over NEMA 14-50), which is enough to reach maximum Level 2 charging speeds of the Kia EV6. The Emporia charger comes with a highly durable single piece metal charge cord holder, while most competing brands throw in a cheap plastic cord holder into the box. Installation and app configuration was relatively easy as well. You can see our full review here.
Specs
Up to 48 amps, when hardwired
24 foot long cable
Indoor/Outdoor operation
NEMA 14-50 outlet or hardwired
Pros
Lower cost than competitors
Up to 48 amps of power, app connectivity and scheduling
High quality metal charge plug holder
Cons
The charge cord is shorter than competition
The charger enclosure box is made from plastic
Kia EV6 Charging Fast Facts
| | |
| --- | --- |
| EV Charging Connector | J1772 / CCS |
| Battery Capacity | 58 – 77 kWh |
| Level 2 Charging Power | 11.5 kW |
| Level 2 Max Amps | 48 A |
| Level 2 [20-80%] Charge Time | 3.5-4.5 Hours |
| Level 3 Peak Power | 233 kW |
Level 3 DC Charging Curve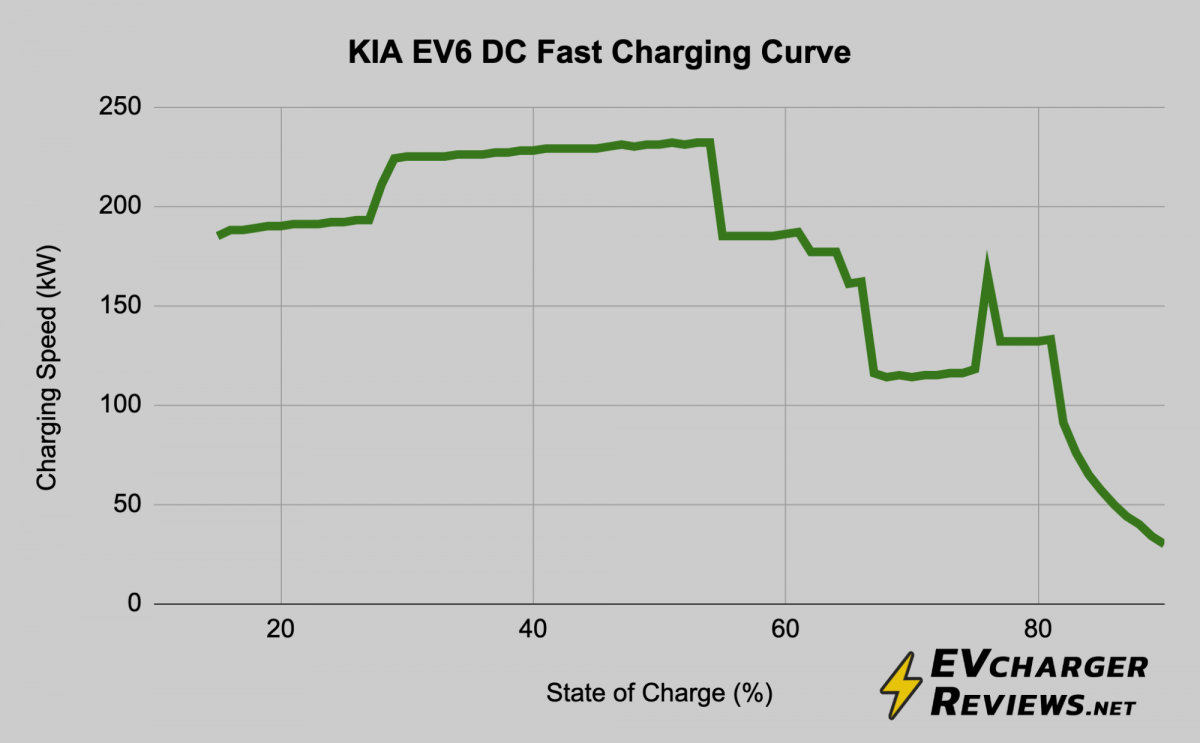 Frequently Asked Questions about charging the Kia EV6
Does the Kia EV6 come with a charging cable?
No. As of this writing, the EV6 does not include any Level 1 (120v) or Level 2 (240v) charging cables. The dealership may offer to sell you a home charger with the car, but it pays to shop around. Dealers make high margins on accessories. You can likely save a lot of money buying a home charger (or portable charge cable) from online retailers.
Can the Kia EV6 charge on 110v outlets?
Yes, the EV6 is capable of Level 1 charging from regular wall plugs. But no charging cable is included with the car. Various EV chargers are available on the market capable of both 110v and 220v (Level 2) charging.
What kind of charging adapter does the Kia EV6 use for charging at home?
Standard J1772 connector, like the majority of other EVs in North America.
How fast can the EV6 charge?
Level 2 home charging up to 11.5 kW is supported on AC.
How long does it take to charge EV6 at home?
Most home charging setups operate between 7 kW and 9 kW. That means an EV6 with the larger 77.4 kWh capacity battery would take 9 to 11 hours to fully recharge. Keep in mind that you will rarely need a zero to 100% charge. The Kia EV6 can accept as much as 11.5 kW on Level 2.
Should I charge my EV6 to 100%?
There is no problem with reaching 100% state of charge when you need the full range of the car. But we suggest charging to 100% only when you need it, and only immediately before leaving on your trip. Batteries may age faster if they are stored near 0% or near 100% state of charge for a while. For short daily trips you can set a charge limit of 80% or 90%, to minimize this storage condition.
What is the range of the EV6?
The Kia EV6 has an EPA rated range between 232 miles and 310 miles depending on battery size and AWD and RWD configurations. Driving style and wheel selection will also affect how far the EV6 will drive, with smaller-diameter wheels typically being more efficient.
What are the wheel and tire sizes on the Kia EV6?
Most of the trim levels in the US come with 19-inch wheels and 235/55R19 tires. The top trim GT cars come with 20-inch wheels and 255/45R20 tires. Larger diameter wheels and wider tires will consume more energy and reduce range slightly.
What is the recommended tire pressure for Kia EV6?
Kia recommends cold tire pressure to be set at 36 psi, both 19 and 20 inch wheel variants. Under-inflated tires will cause reduced range, and over-inflating may cause early tire wear.
Does the Kia EV6 have a heat pump?
Yes, but only in the all-wheel-drive versions of the vehicle. EV6s equipped with heat pumps will be significantly more efficient in colder climates during winter months. Heat pumps use less energy to heat the cabin then simple resistive heaters, therefore more driving range is retained.
How much does it cost to charge the EV6 at home?
If we assume a household energy cost of 13 cents per kWh during off-peak, it would cost around $10.53 to fully charge a 77 kWh battery at 95% charging efficiency. There is always a little bit of energy loss during charging. 
Where is the charging plug located on the Kia EV6?
The charging port is located on the right-side rear corner of the car, under the tail lights. This is an unusual design choice, so consider this port placement when installing your home charging station.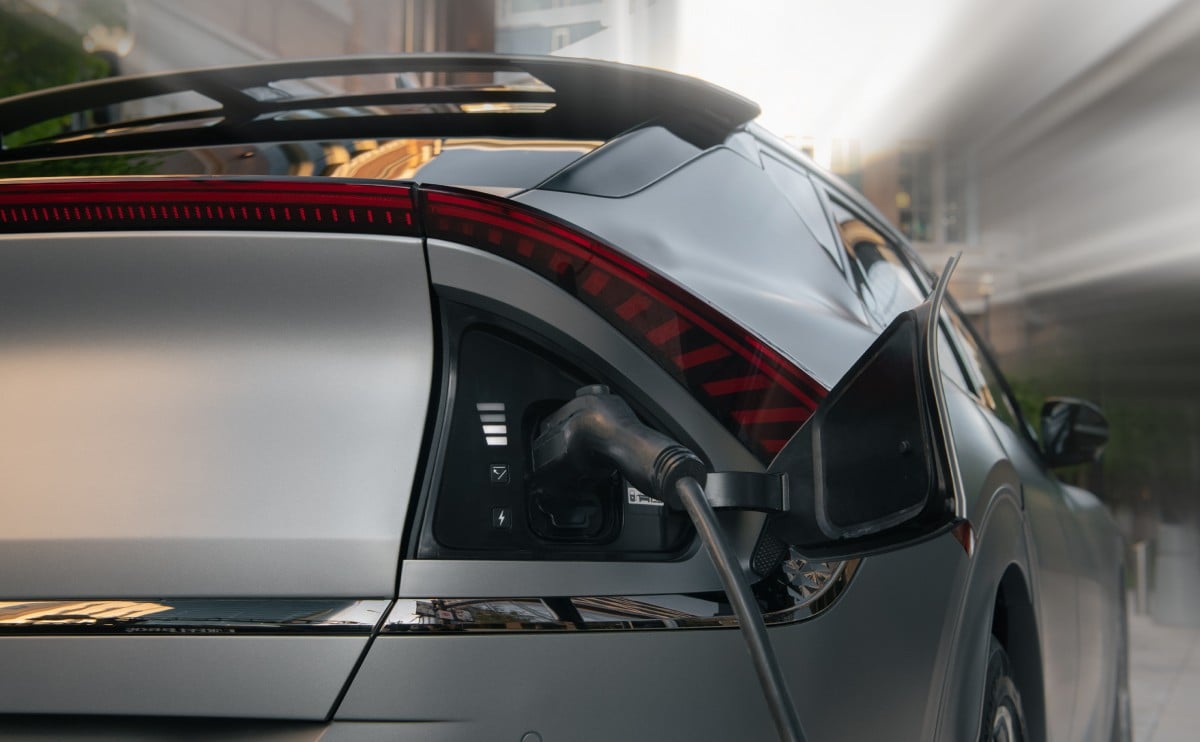 Does the Kia EV6 lose battery percentage when parked?
Yes, like most EVs, the Kia EV6 will use about 1 percent of battery energy per day to power electronics in standby mode. This is normal and expected. When parking the Kia EV6 for prolonged periods of time, consider leaving it plugged into a wall charger and set the charge limit to around 50% for maximum battery health preservation.
Why do we stand behind our product reviews? We test products for a minimum of two weeks before we can recommend them to our readers.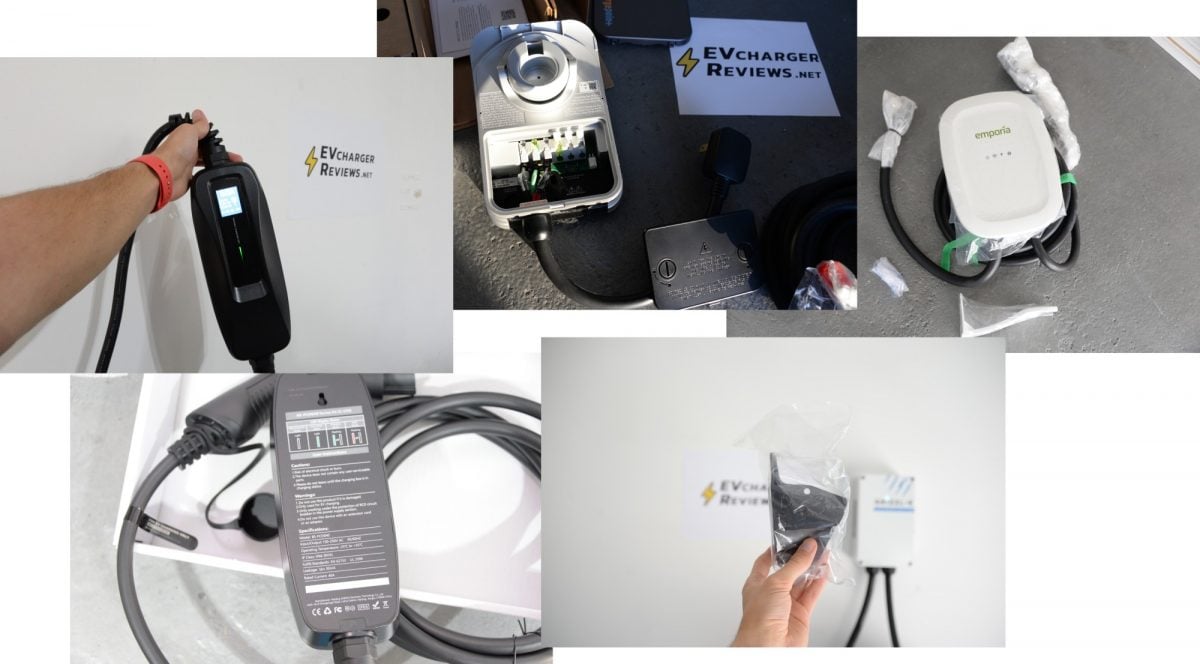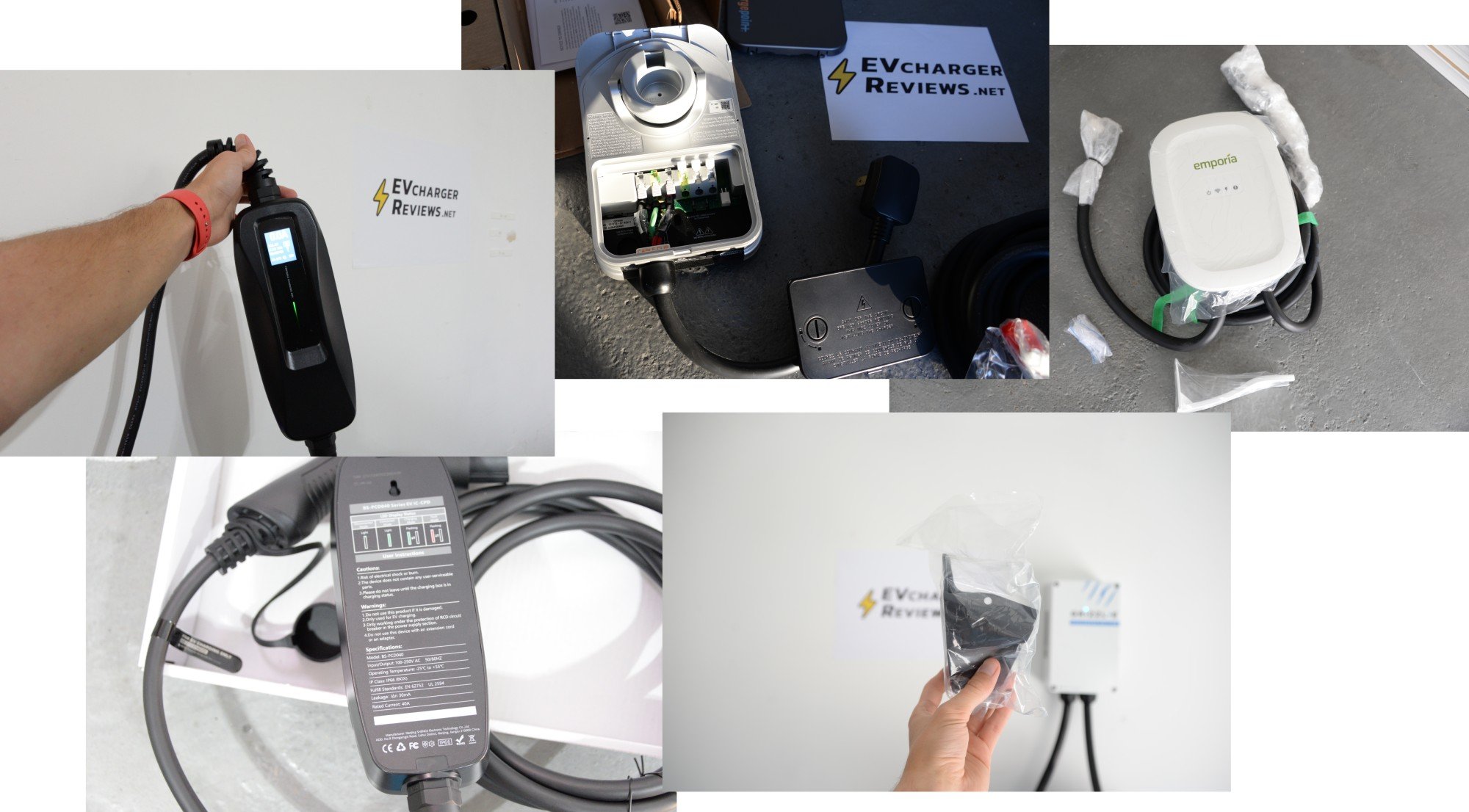 More EV Home Charging Resources