EVchargerReviews is supported by our readers. We may earn commissions from links on this page. Why trust us?
Best EV Home Charger for Hyundai Ioniq 6
Updated September 12, 2023, by Michael Kim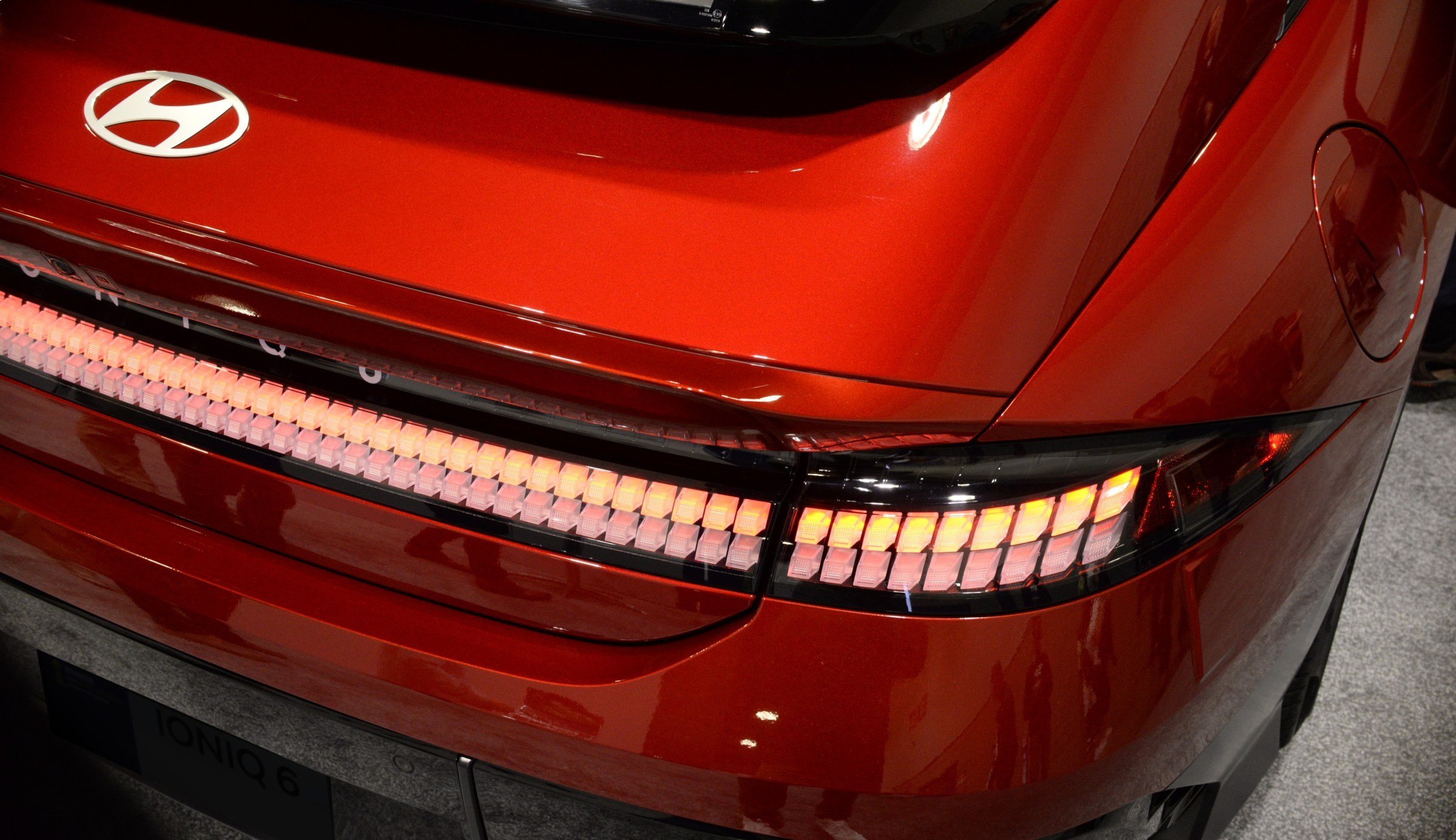 Our Top Picks for the Ioniq 6
The Ioniq 6 is the latest new EV from Hyundai in 2023. This fully electric compact EV shares its platform and 800-volt architecture with the popular Ioniq 5 crossover, but wears a sleek retro-inspired sedan body.
The Ioniq 6 is available in single motor RWD and dual motor AWD configurations, with EPA rated range between 240 and 361 miles, depending on trim level. The most basic Ioniq 6 comes with a 53 kWh capacity battery, while the larger option is a 77 kWh pack.
All versions of the Ioniq 6 charge using a standard J1772 / CCS combo connector. At home, the Ioniq 6 can accept up to 48 Amps (11 kW) from a Level 2 charging station over the J1772 connector. Below, we have selected our recommended home EV chargers for the Ioniq 6.
Why Trust US? We have hands-on testing experience with the most popular EV charging products.
FLO Home X5 (30 Amp)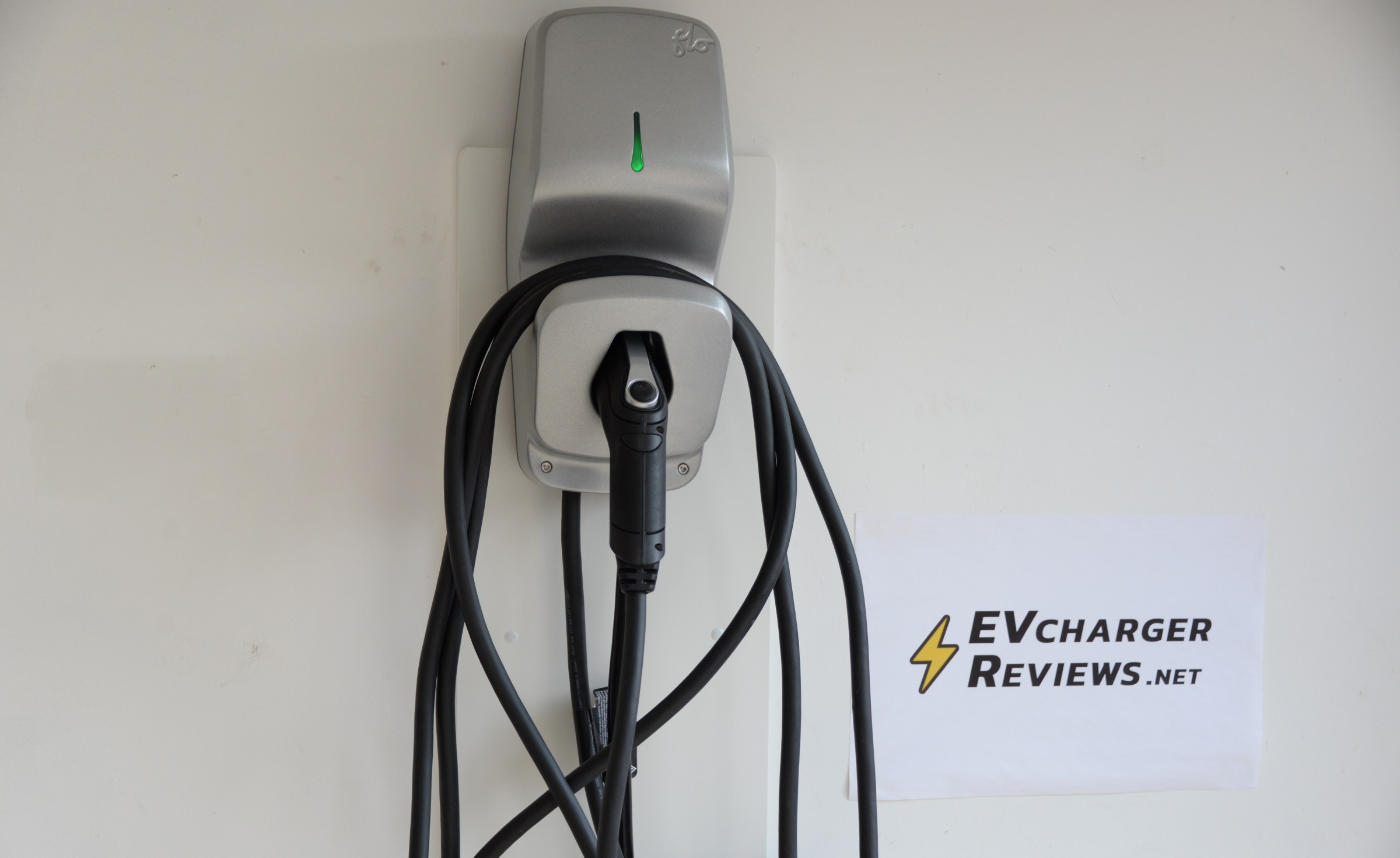 FLO is building and maintaining a commercial public charging network in North America. This shows in the durability and construction of their home charging products. The FLO Home X5 charging station is priced higher than competitors, but the weatherproof enclosure, pliable cord, and high-quality J1772 plug are a tier above the rest.
The Home X5 has powerline networking built in and comes with a receiving module for inside your home. In our testing, this connection was more reliable than Wifi.
The power output has a peak of 30 amps (7.2 kW), which is lower than competing products but more than enough to fully charge overnight. We think the FLO Home X5 is a good match for the hyper energy-efficient Ioniq 6.
Specs
Up to 30 amp output
25-foot-long charging cable
Powerline Networking
Indoor/Outdoor installation
Hardwired installation only
Pros
Extremely durable, excellent cord materials, reliable networking, 5-year warranty, advanced scheduling features
Cons
No outlet option, must be hardwired. The app is good, but does not track home charging costs.
Wallbox Pulsar Plus (48 Amp)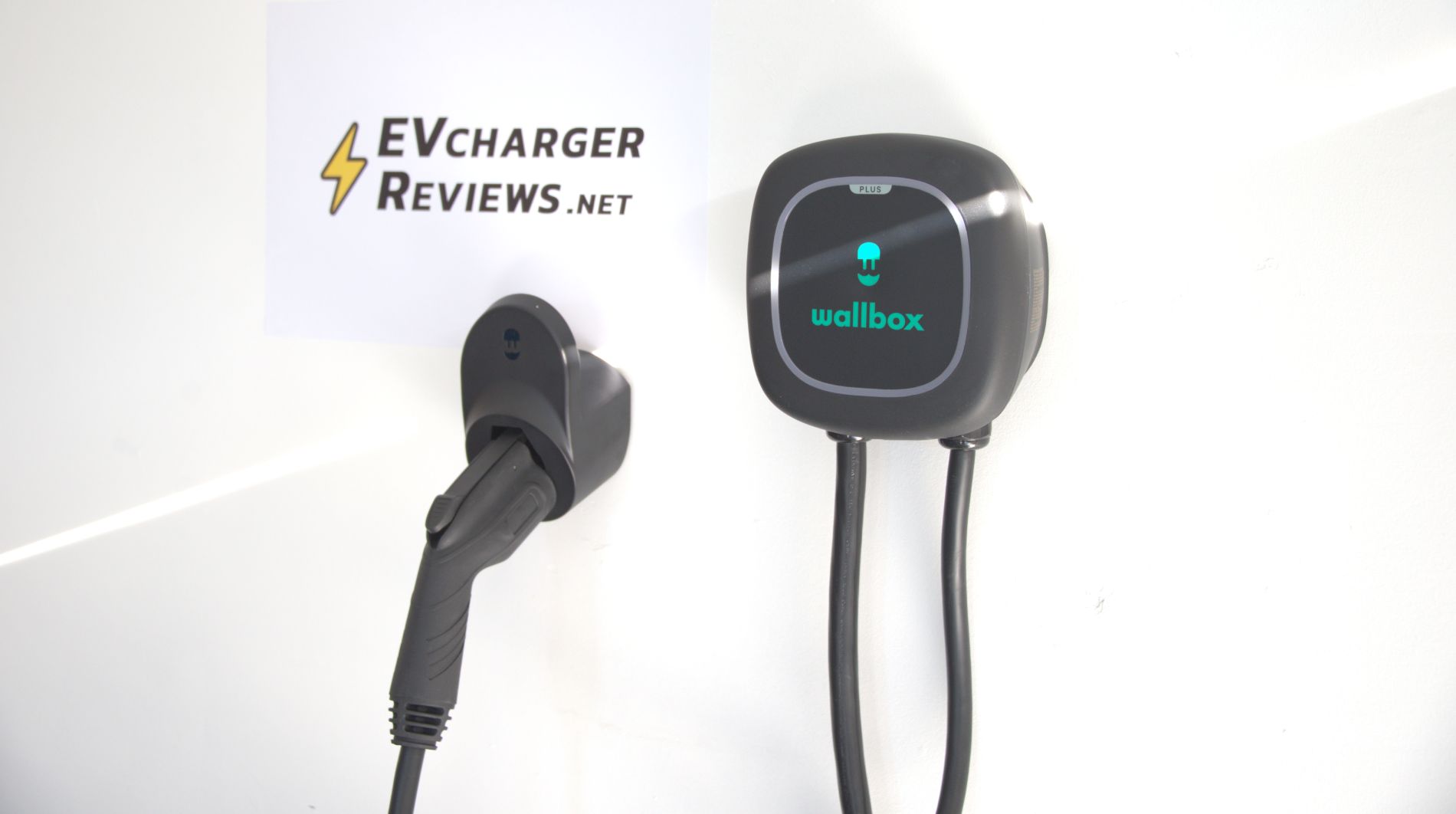 The Wallbox Pulsar Plus is a great choice for a charger with a compact and attractive design. At just 7.8″ x 7.9″ x 3.9″ in dimensions, it is equally great in cluttered and minimalist garages.
Despite the compact size, the Pulsar Plus is available in 40 and 48 amp versions. That is about 8 times faster than Level 1 (120v) charging. The Wallbox unit features a 25 foot long cable, the maximum allowed length. The 48 amp version of the Pulsar Plus is able to deliver up to 11.5 kW of power, cutting down charge times to just a few hours rather than overnight.
Wallbox also works great for households with multiple EVs that need to be charged simultaneously. Two or more Wallbox chargers on the same circuit can communicate with each other and balance the available household power between chargers. See full review.
Specs
40 and 48 amp versions available
25 foot long charge cable
Indoor/Outdoor charging
NEMA 14-50 outlet, or hardwired
Wi-Fi and Bluetooth connectivity
Pros
Compact design with LED "halo" indicator lights, myWallbox app companion app for control and charge monitoring
Cons
The app is rather basic compared to other chargers
ChargePoint Home Flex (50 Amp)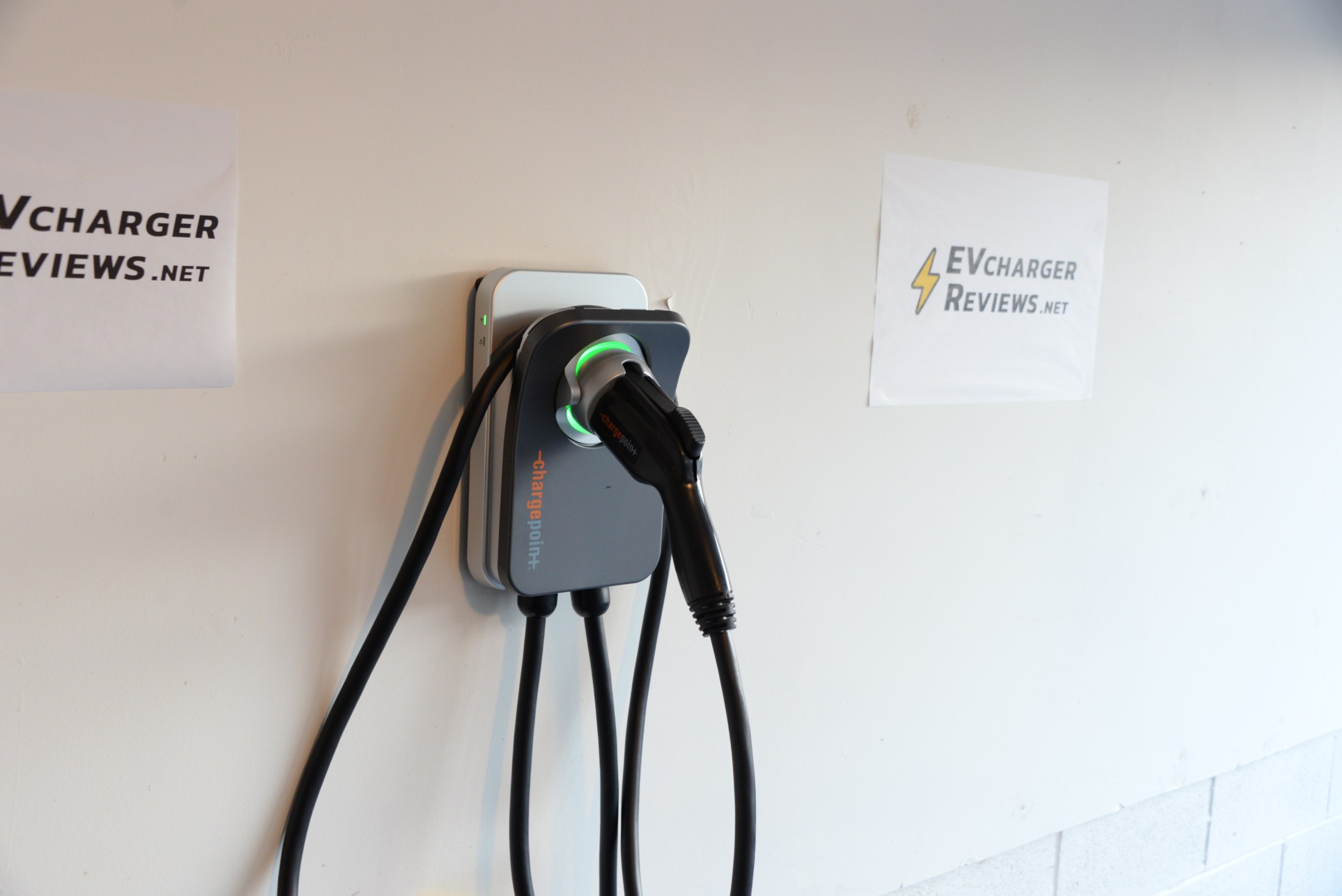 ChargePoint is a reputable brand in public charging as well as home charging. The Home Flex is one of our favorites with a combination of attractive design, 50 amp performance, and responsive customer support.
At the higher end of home chargers, the Home Flex is able to deliver up to 50 amps to your EV, which translates to approx. 36 miles of range added per hour on most EVs. The companion ChargePoint app allows you to schedule charging sessions when electricity is cheapest, as well as sends you reminders if you forget to plug in your Ioniq 6.
Although it can deliver more power than the Ioniq 6 needs, the Home Flex could be a future-proof investment.
Specs
Up to 50 amp charging, 9 times faster than 120v wall outlet
23 foot long charging cable
Indoor/Outdoor operation
NEMA 14-50, NEMA 6-50, or hardwired options
UL Listed; safe and eligible for rebates/incentives in many states
Pros
Energy Star Certified, Wifi connectivity, Alexa voice assistant compatibility, choice of NEMA 14-50 or NEMA 6-50 plugs, configurable between 16 and 50 amps
Cons
Dependent on the smartphone app for configuration and some features.
ShockFlo G1 Portable (40 Amp)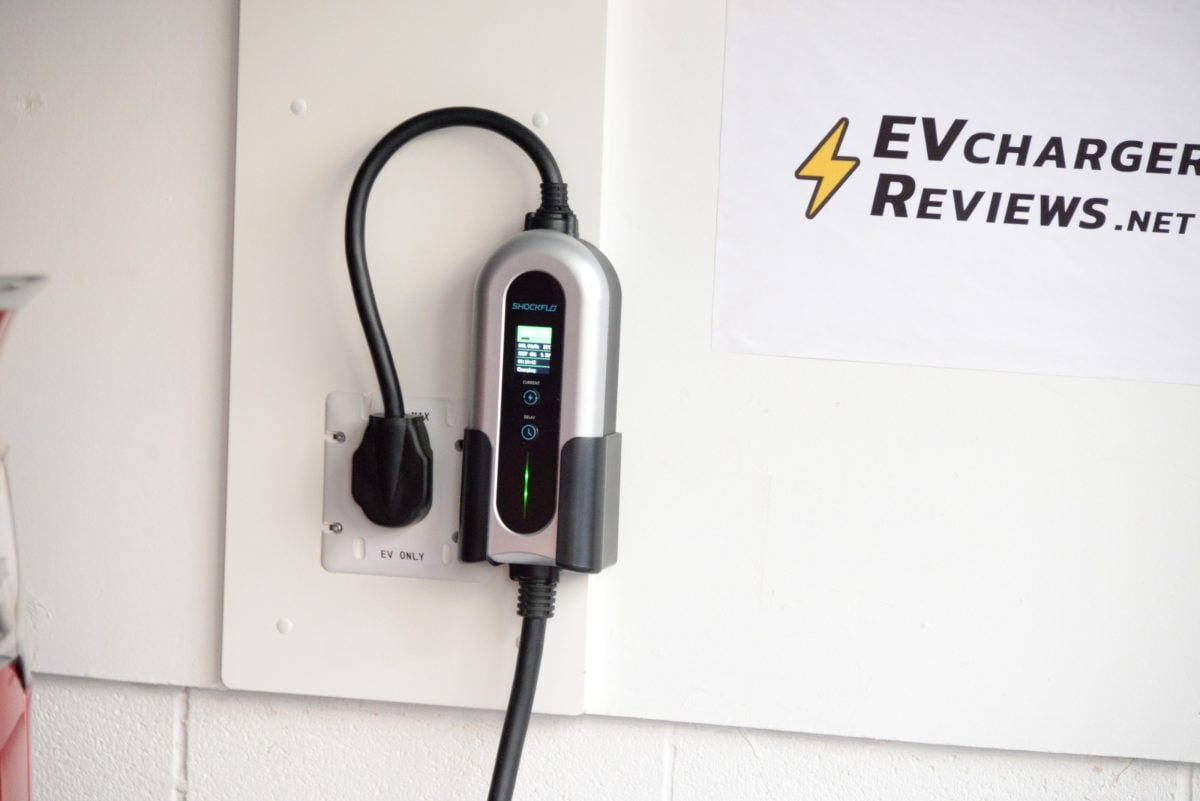 Need something you can occasionally take on the road? The G1 Portable EV charger from ShockFlo can deliver up to 40 amps from a NEMA 14-50 outlet and features an IP67 water resistance rating.
A built-in LCD screen shows realtime charging session stats about energy, power, voltage, and temperature. The G1 would be a good on-road companion for the Ioniq 6, and also includes a plastic wall mounting bracket for your home charging location (pictured).
Specs
40 amps
20 foot long charge cable
Mostly Indoor operation
NEMA 14-50 plug
Pros
Great power output at affordable price, more portable than wall mounted chargers, always on display with charge stats
Cons
Not really suitable for outdoor operation in extreme climates, gets warm when charging at 40 amps but can be limited to lower output
Emporia Smart Level 2 EV Charger (48 Amp)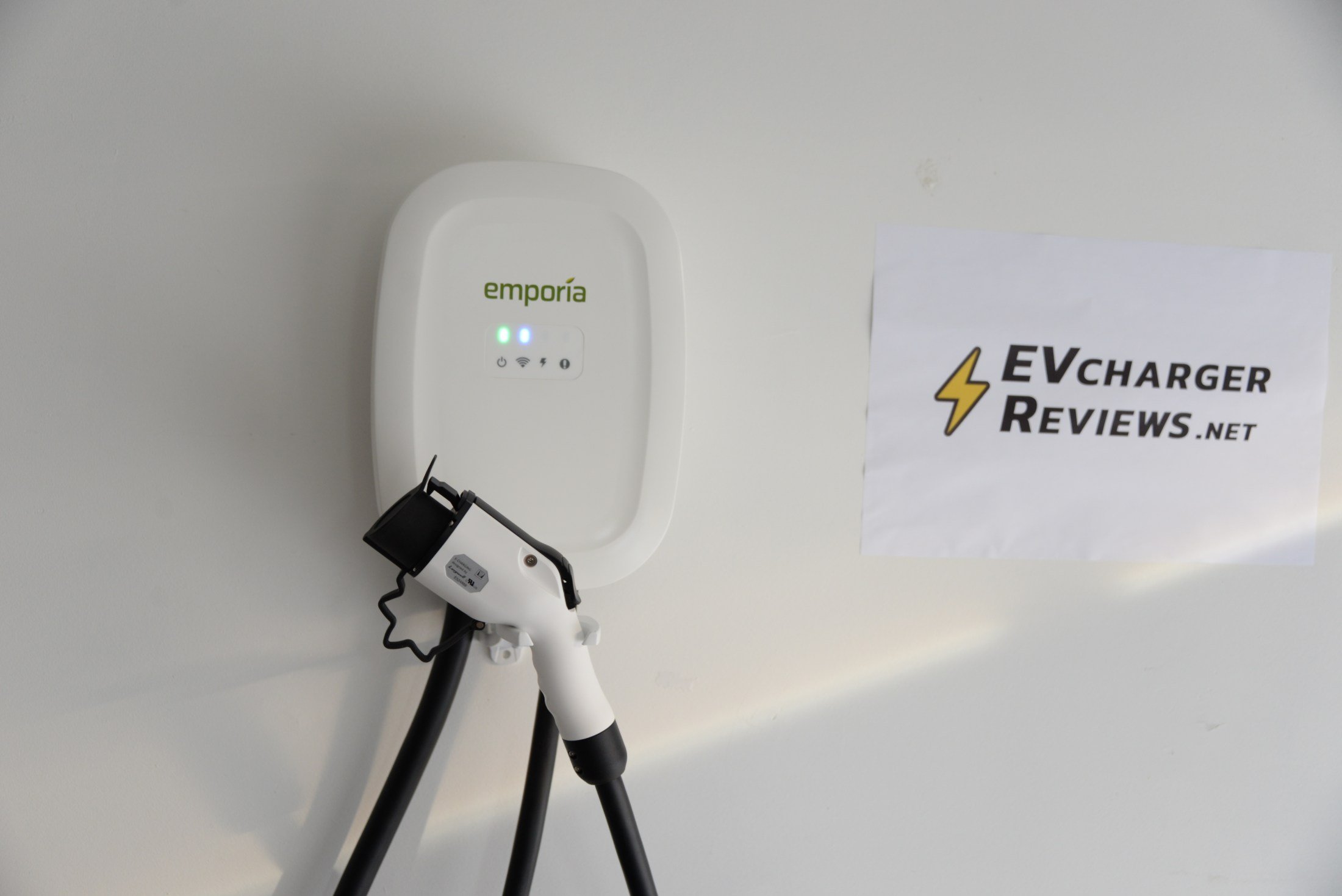 If you already have other Emporia Energy products in your home, the Emporia EV charger is a no-brainer. The same app can control and monitor all of the products from the brand. But the Emporia EV charger is a competitive product in its own right. While cheaper than many competitors on the market, Emporia does not cut corners where it matters most in day to day usage.
We really liked the high power output (48 amps hardwired, 40 amps over NEMA 14-50), and the highly durable single piece metal charge cord holder. Most competing brands include a cheap plastic cord holder in the box. Installation and app configuration was relatively easy as well. We can easily recommend the Emporia unit to Ioniq 6 owners. You can see our full review here.
Specs
Up to 48 amps, when hardwired
24 foot long cable
Indoor/Outdoor operation
NEMA 14-50 outlet or hardwired
Pros
Lower cost than competitors, up to 48 amps of power, app connectivity and scheduling, really good metal charge plug holder
Cons
The charge cord is shorter than the competition, the charger casing is made from plastic
Electrify America Level 2 Charger (40 Amp)
You have probably heard of Electrify America. It is the brand behind the second largest public fast charging network in the US, behind Tesla's Supercharger network. Electrify America has an excellent charger for home too, delivering up to 40 amps. Your Hyundai dealer may even give you some complimentary access credits for the Electrify America network.
Frequent users of Electrify America's public network will appreciate the integration of this home charger with the Electrify America app. Using a single app for managing both home and public charging is the main competitive advantage of this home charger.
The EA home charger is widely compatible and works with the J1772 connector of the Ioniq 6. The 24-foot vehicle connector cable is thick and sturdy, suitable for indoor or outdoor charging.
Specs
Up to 40 amps, can be configured as low as 16 amps
24 foot long charge cable
Indoor/Outdoor operation
NEMA 14-50, or can be hardwired
UL Listed
Wi-Fi Connectivity
Pros
Energy Star Certified and UL Listed, reputable brand and excellent customer support, one app for both public and home charging, 3-year warranty
Cons
The charger box is physically larger than most, at 15.75″ x 8.66″. The glossy black plastic shell is sturdy, but may not appeal to everyone.
IONIQ 6 Charging Fast Facts
| | |
| --- | --- |
| EV Charging Connector | J1772 / CCS |
| Battery Capacity | 53 – 77 kWh |
| Level 2 Charging Power | 11 kW |
| Level 2 Max Amps | 48 A |
| Level 2 [20-80%] Charge Time | 4 – 5 Hours |
| Level 3 Peak Power | 230 kW |
Frequently Asked Questions about charging the Ioniq 6
How far can the Ioniq 6 drive on one charge?
EPA-rated range is 240 miles for the RWD small battery variant, and 361 for the RWD extended battery pack version. AWD trims fall somewhere in between.
How much does it cost to charge an Ioniq 6 at home?
If we assume an off-peak electricity rate of 14 cents per kWh, then it would cost $11.34 to fully charge an Ioniq 6 at home with 95% efficiency.
How long does the Ioniq 6 take to charge at home?
It will take between 7 and 9 hours to fully recharge the Ioniq 5 at home with Level 2 charging. It will take between 4 and 5 hours to charge between 20% and 80% at 48 amps.
Can you charge the Ioniq 6 at a Tesla Supercharger?
Some Tesla Superchargers allow non-Teslas to charge, but availability is limited. Download the Tesla app to check availability in your area. Eventually, all EVs will be able to use Tesla Superchargers.
Where is the charging port located on the Hyundai Ioniq 6?
The charging port is located on the right side rear quarter panel, near the tail lights and wheel.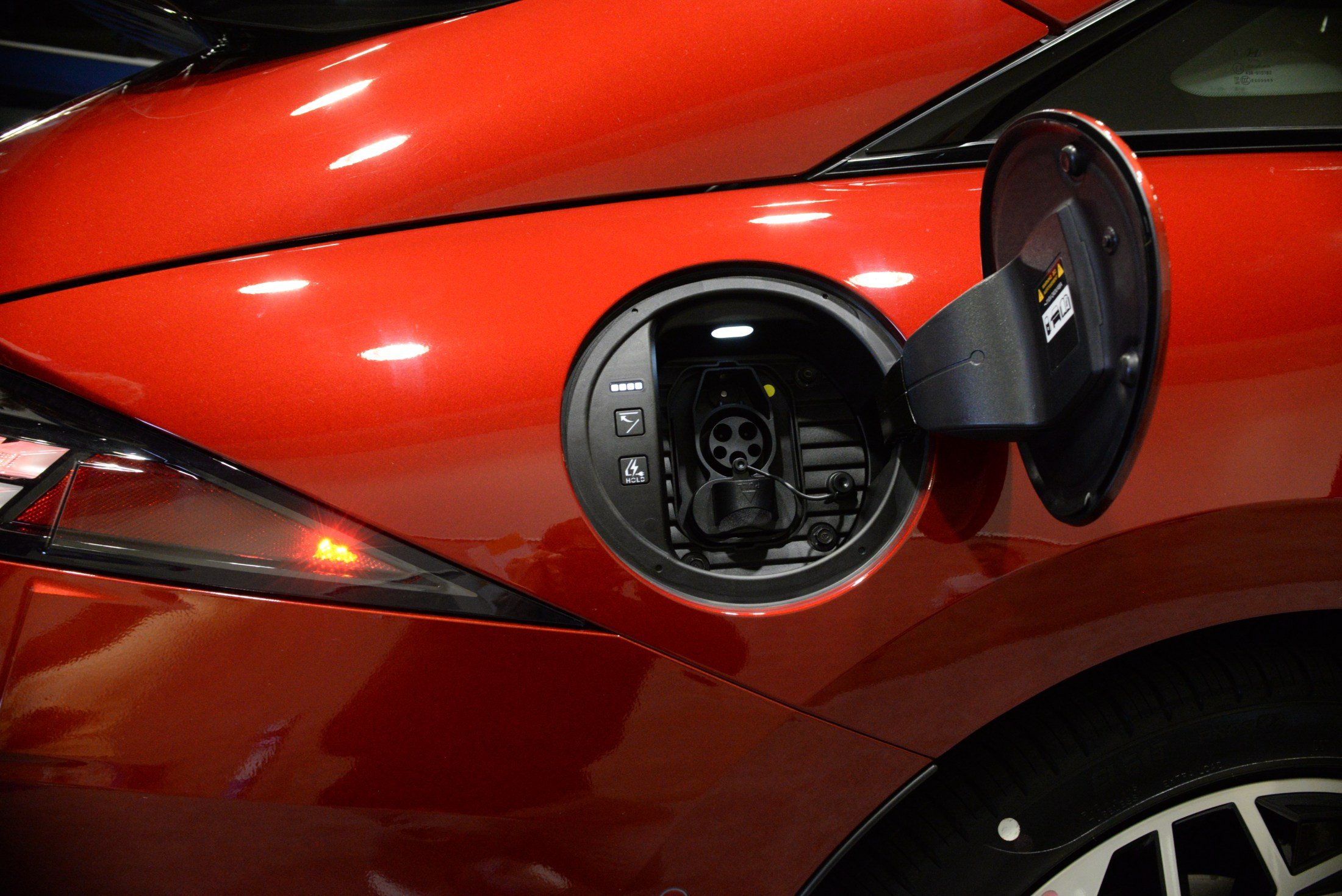 Does the Ioniq 6 have a battery heater?
A battery heater is standard equipment on cars with the larger 77 kWh battery, but it is not available on the standard range 53 kWh battery cars. Battery heating (preconditioning) helps the vehicle reach the peak charging speed on Level 3 fast chargers. In colder climates, charging without preconditioning the battery will be slower and take longer.
Why trust EVchargerReviews.net? The products we recommend are acquired and tested in our garage lab prior to making the cut.

More EV Home Charging Resources