EVchargerReviews is supported by our readers. We may earn commissions from links on this page. Why trust us?
Best Home EV Charger for Tesla Model 3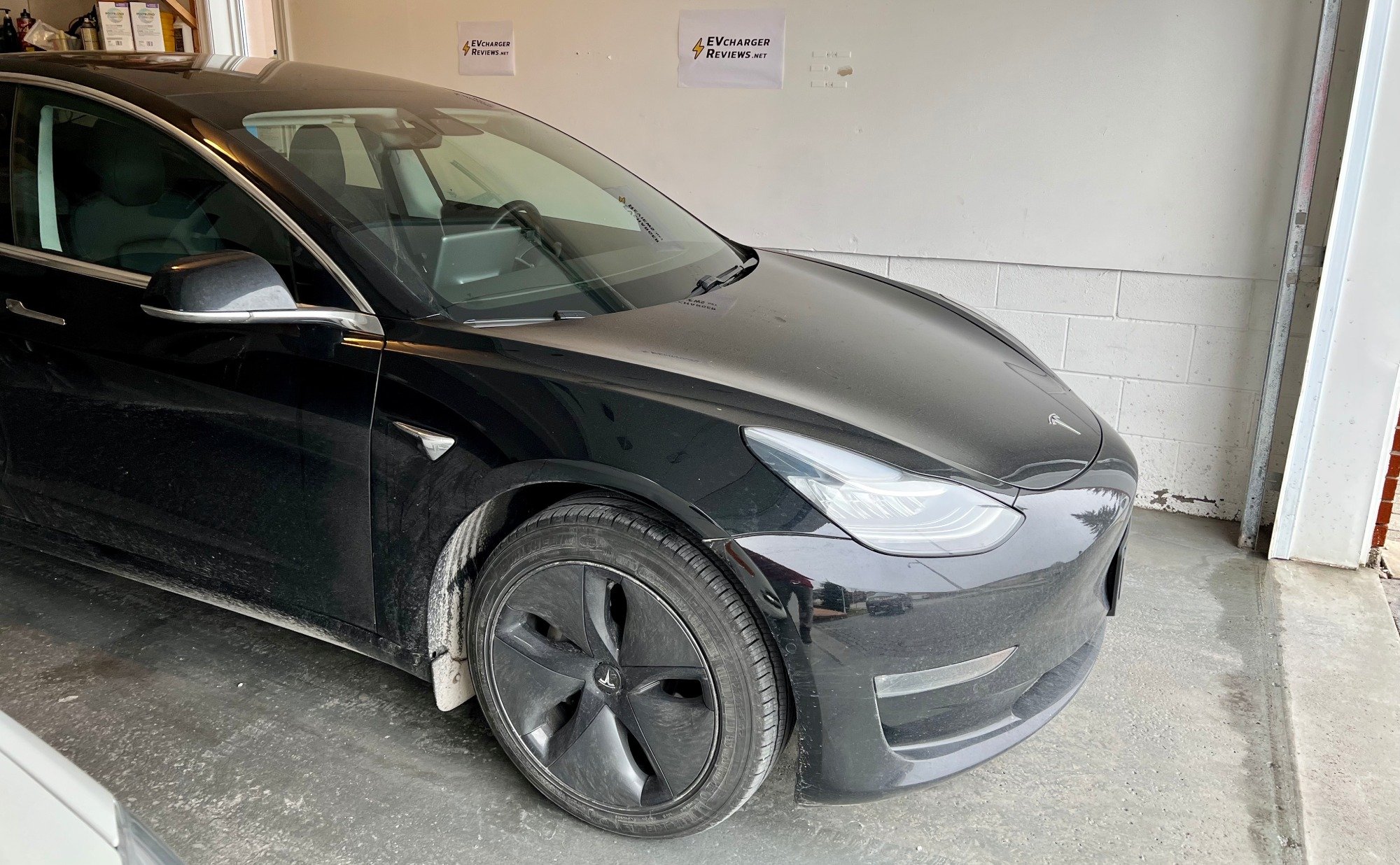 Updated September 17, 2023, by Michael Kim
Tesla Model 3 is a class-leading electric compact sedan with unparalleled efficiency and tech. While it doesn't have the largest capacity batteries, the intense focus on efficiency results in impressive driving range.
The Model 3 RWD comes standard with a 60 kWh battery and can charge at up to 7.2 kW at home. The Long Range and Performance trims feature an 82 kWh capacity battery and can charge at up to 11 kW on Level 2.
Below we've rounded up options for home level 2 charging stations for Tesla Model 3 owners.
Why trust us? We have hands-on testing experience with the most popular EV charging products.
Tesla Wall Connector Gen 3 (48 Amp)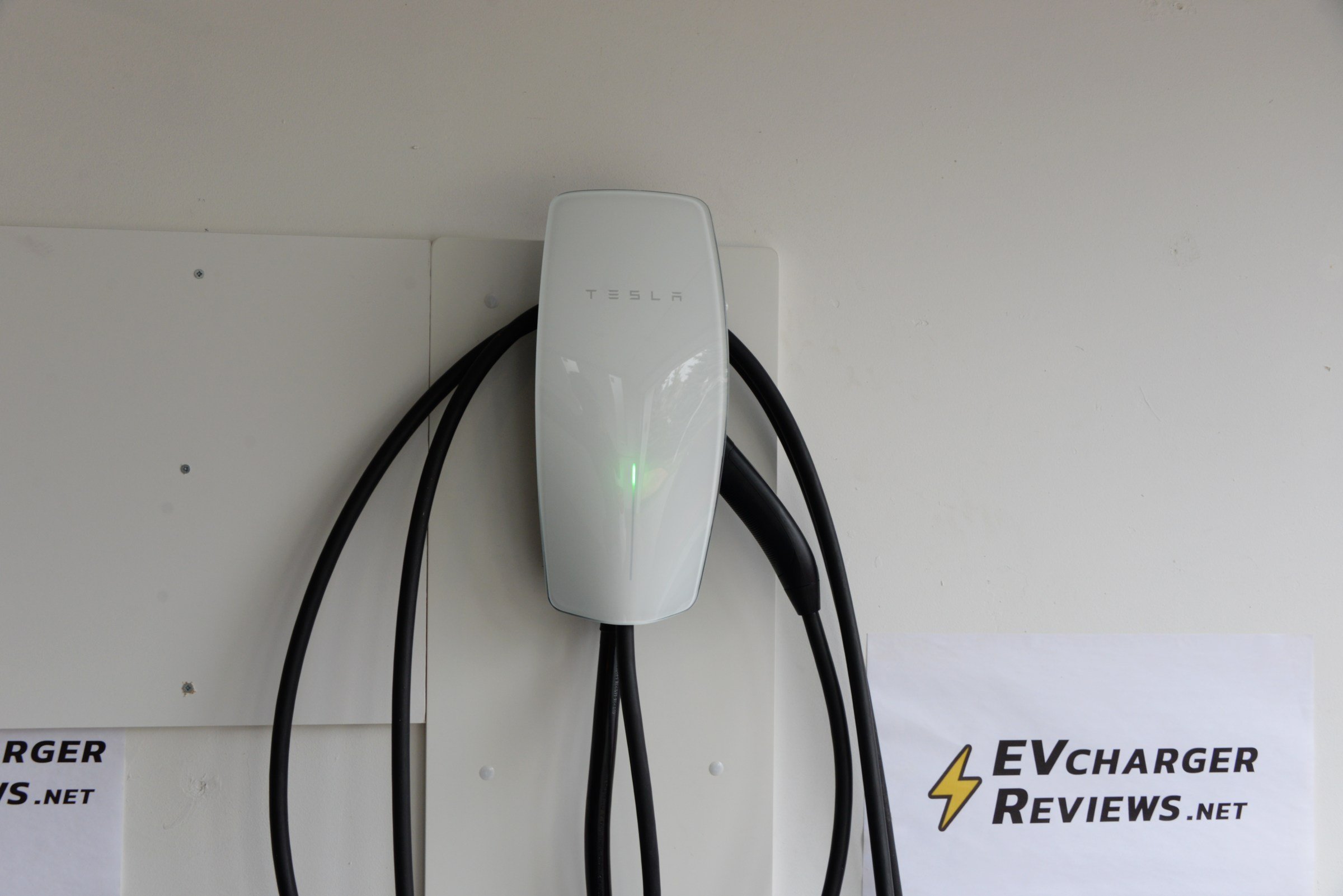 The Tesla Wall Connector is the best home charging station for most Model 3 owners. The latest 3rd generation home charger is Wi-Fi connected and supports up to 11.5 kW charging speeds, that is 44 miles of range added to the Model 3 every hour. (60 amp circuit breaker is required to get the whole 11.5 kW)
The Tesla Wall Connector seamlessly integrates with the Tesla app and ecosystem. (Like the ability to open the Model 3's charge port with a button on the handle) This product even allows the user to restrict charging to your specific Tesla cars. This is especially useful for outdoor installations. In addition, the white front face cover can be swapped to color-match your Model 3, for an extra cost.
The biggest benefit of going with the Tesla Wall Connector is that it comes with Tesla's charging connector (NACS), while most other chargers come with a J1772 plug. The Tesla Wall Connector is our top choice for charging the Model 3, but we also rounded up five other options that bring something to the table, if you're willing to use an adapter.
Specs
48 amps, 11.5 kW
24-foot-long charge cable
Indoor/Outdoor operation
Hardwire installation only
Tesla charging connector (North America)
Pros
Designed specifically for Teslas, integrates with app, no adapters needed to charge Teslas, integrated cord holder
Cons
Needs to be hardwired professionally, no display screen, needs additional adapters to charge non-Teslas
Autel MaxiCharger Home EV Charger (40 Amp)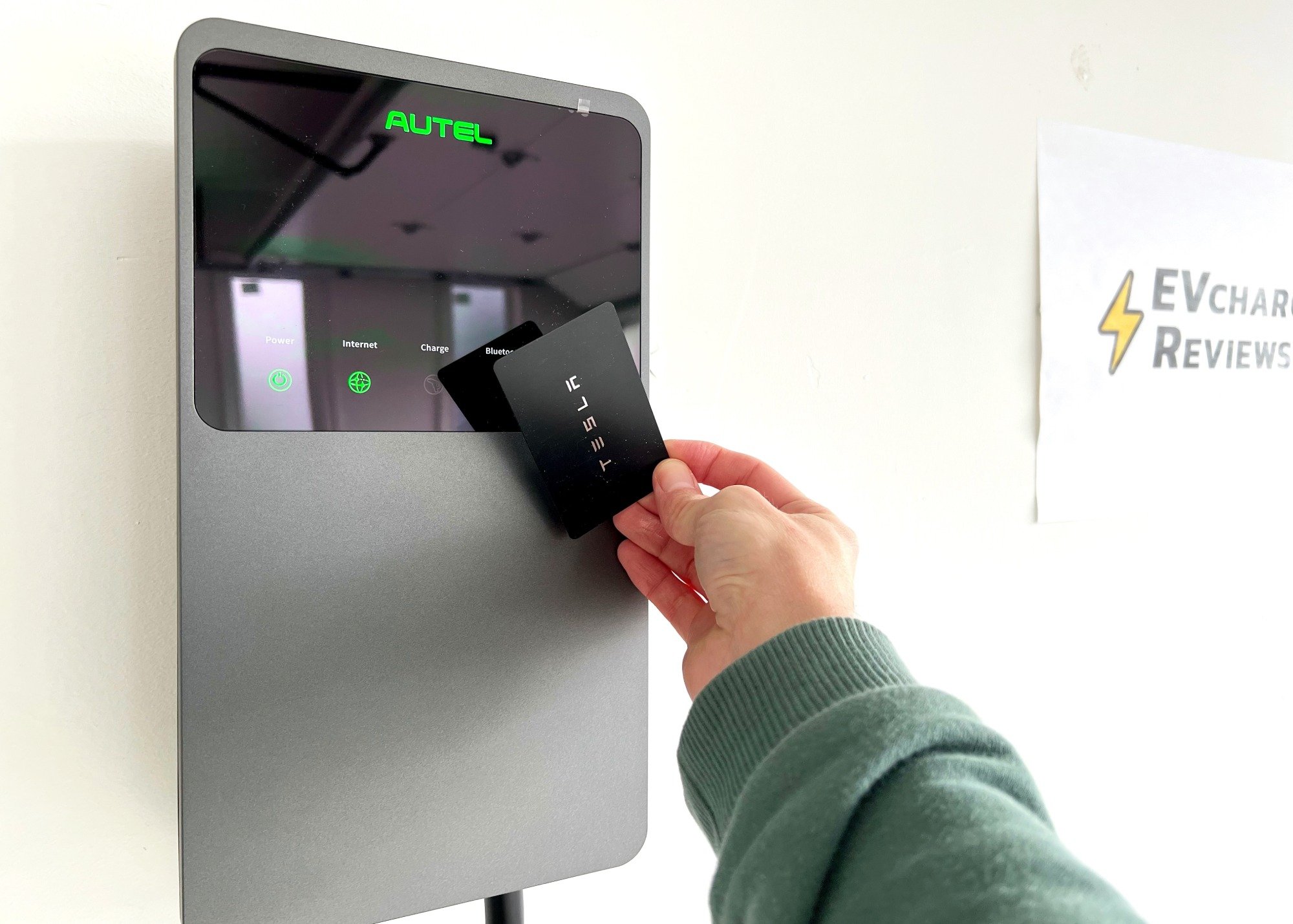 Autel MaxiCharger is gaining popularity lately because the product offers good quality hardware and a very polished connectivity/app experience. But what really sets the MaxiCharger apart is the integrated RFID card reader. This EV charger can be programmed to unlock using almost any RFID card. We were able to set up a transit card and even the Tesla key card as unlocking triggers. This is ideal for an outdoor or underground apartment parking installation, where you want to prevent strangers from stealing the electricity you are paying for.
At 40 amps, the Autel MaxiCharger can add up to 9.6 kWh of energy to the Model 3 battery per hour.
Specs
Up to 40 amps
25-foot long charging cable
Indoor/Outdoor operation
NEMA 14-50, 6-50, or hardwired installation
J1772 EV connector
RFID card reader for security
Pros
Wifi and Bluetooth connectivity, Intuitive app, long charging cable, RFID card reader for locking charger, 3 year warranty
Cons
The charging cord could be more flexible in freezing temperatures, some users report Bluetooth connectivity issues
ChargePoint Home Flex (50 Amp)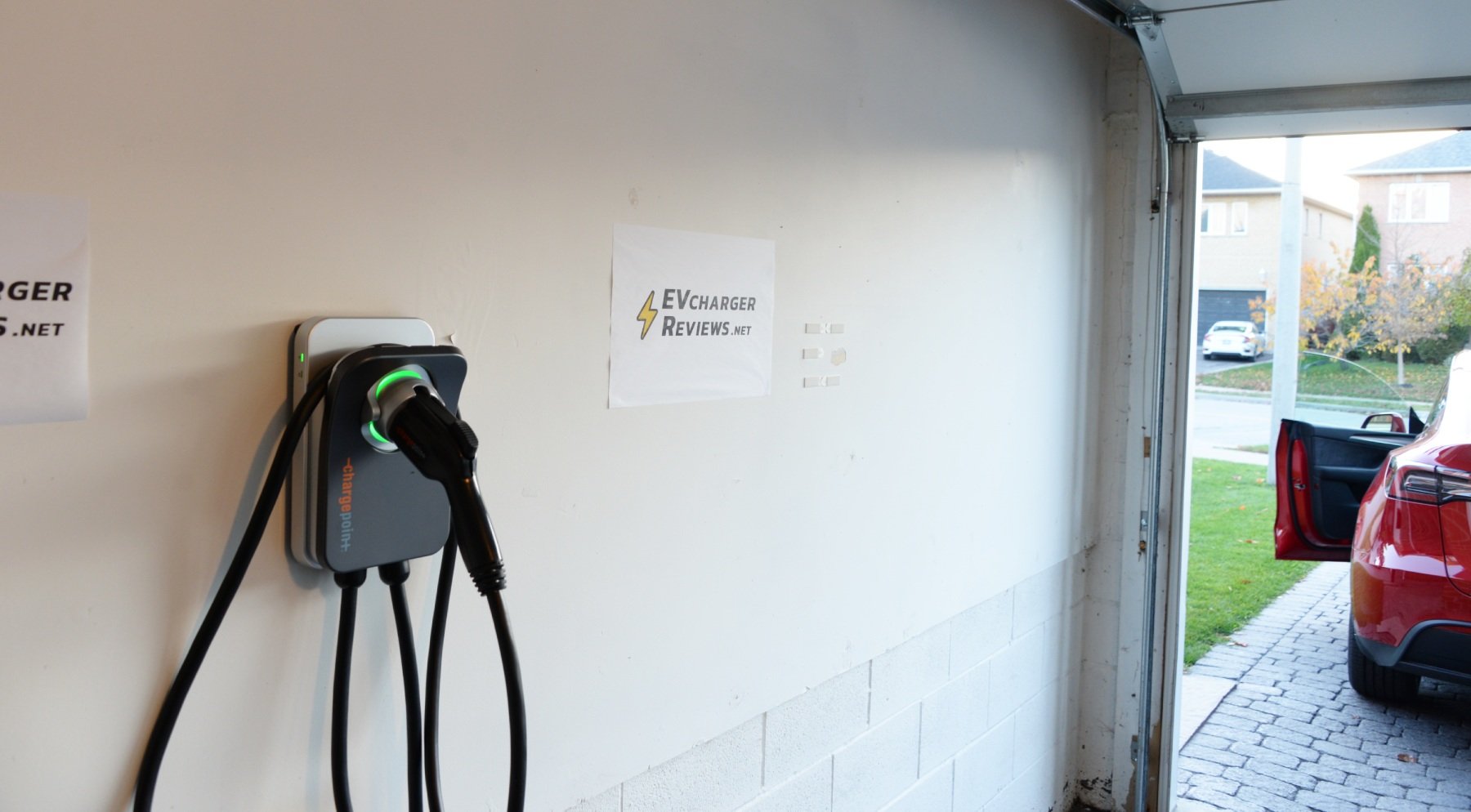 ChargePoint is a reputable brand in public charging as well as home charging. The Home Flex is one of our favorite home EV chargers; with a combination of attractive design, quality materials, and more than enough amps.
Up to 50 amps on Level 2 is seriously impressive. The base Model 3 RWD can take in 32 amps, and the dual motor Long Range and Performance trims can charge at 48. This charging station from ChargePoint leaves some headroom for even more power hungry EVs in your garage.
We also recommend the ChargePoint Home Flex for outdoor installations in extremely cold climates. Most rubber charging cables become hard and difficult to handle in the cold, but the Home Flex remains more pliable than most competing products. Our full thoughts on the Home Flex are here.
Specs
Up to 50 amp charging, more than enough for Model 3
23 foot long charge cable
Indoor/Outdoor operation
NEMA 14-50, NEMA 6-50, or hardwired options
UL Listed; safe and eligible for rebates/incentives in many states
J1772 charge plug, connects to Teslas with an adapter
Pros
Energy Star Certified, Wifi connectivity, cord remains pliable in colder temperatures, NEMA 14-50 or NEMA 6-50 plugs available, up to 50 amps of current
Cons
ChargePoint app and account is required for setup. Requires more assembly than competing chargers.
Wallbox Pulsar Plus (40 and 48 Amp)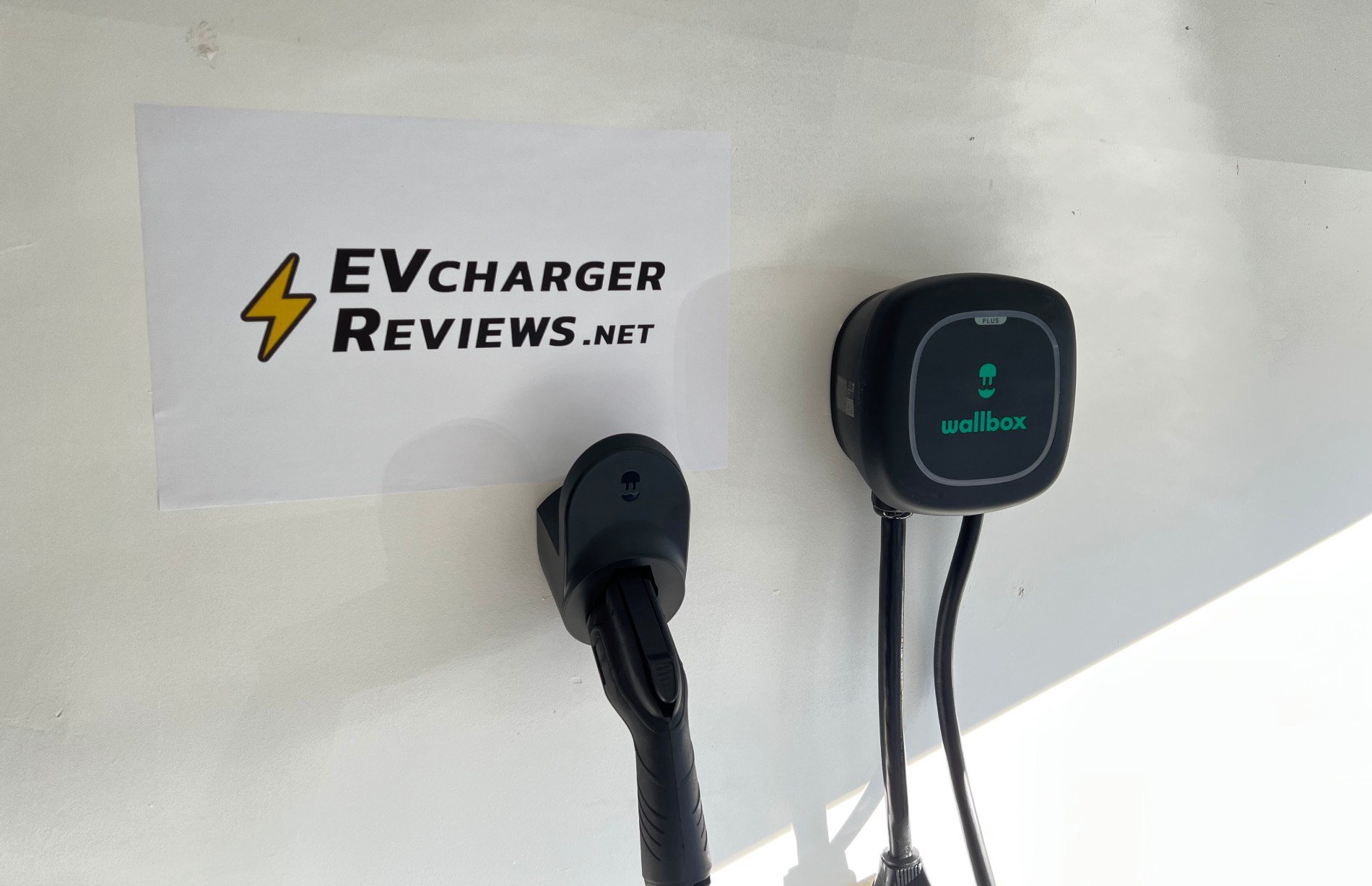 The Wallbox Pulsar Plus is our top pick for a charger with a compact and attractive design at just 7.8″ x 7.9″ x 3.9″ in dimensions.
Available in 40 and 48 amp versions, the Pulsar Plus can charge up to 8 times faster than Level 1 (120v) charging. The Wallbox unit features a 25 foot long cable, the maximum allowed length. The 48 amp version of the Pulsar Plus is able to deliver up to 11.5 kW of power, matching the speed of the Tesla Wall Connector.
Wallbox also works great for households with multiple EVs that need to be charged simultaneously. Two or more Wallbox chargers on the same circuit can communicate with each other and balance the available household power between chargers. See full review.
Specs
40 and 48 amp versions
25 foot long charge cable
Indoor/Outdoor operation
NEMA 14-50 outlet, or hardwired
Wifi and Bluetooth connectivity
J1772 charge plug, connects to Teslas with adapter
Pros
Compact design with clear indicator lights, myWallbox app companion app for control and charge monitoring
Cons
The app is rather basic compared to other chargers
Grizzl-E Classic EV Charger (40 Amp)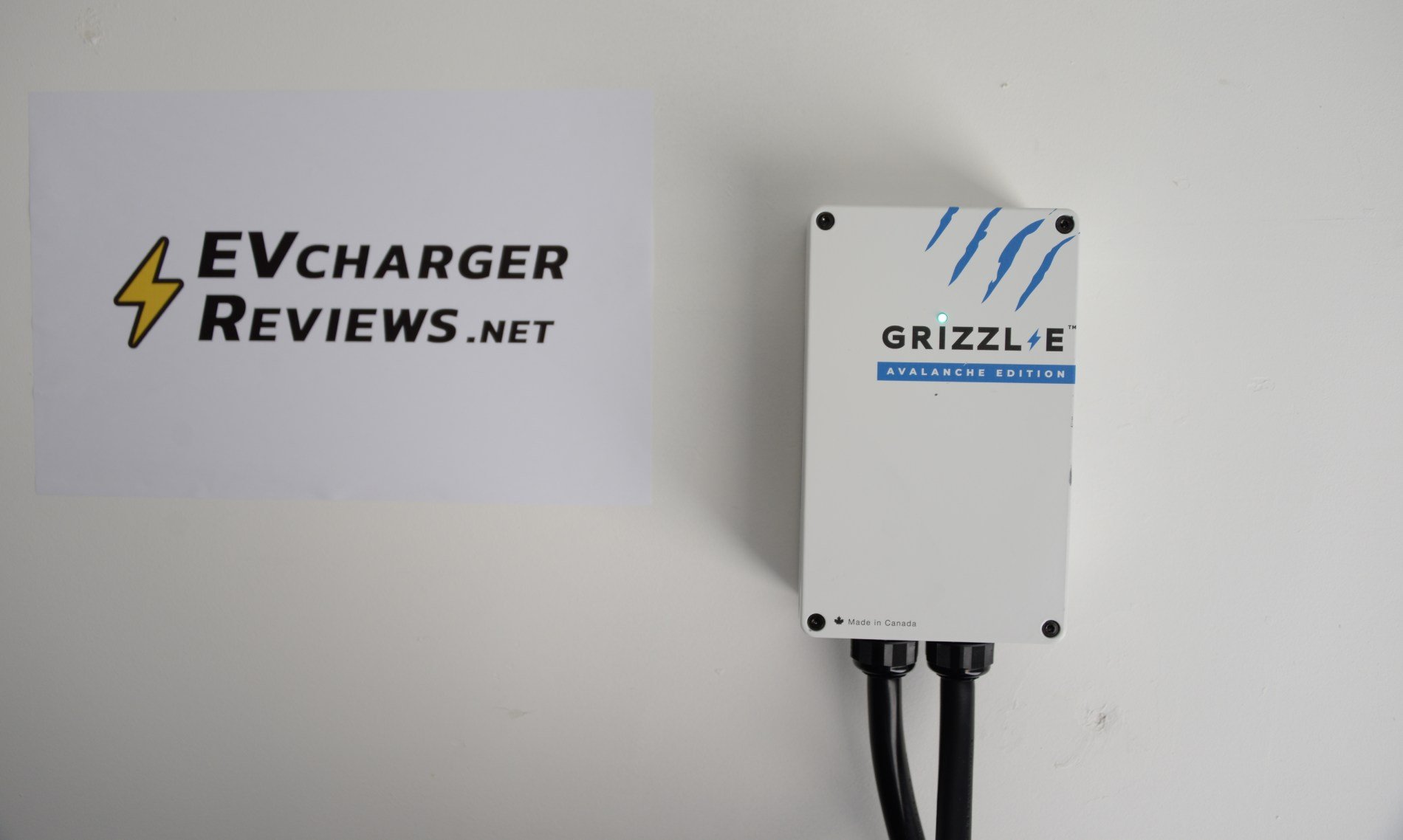 The Level 2 home charger from Grizzl-E is a compelling option for Model 3 drivers looking for durability and value. It is a simple utilitarian design metal box with an LED indicator light and heavy-duty construction. There is no screen or Wi-Fi connectivity options, just a heavy duty industrial looking box with 40 amps of power delivery, which should translate to about 9 kW usable charging speed.
Tesla cars offer compelling charging monitoring and scheduling capabilities inside of the Tesla app. Therefore some users can choose to save money and buy a non-smart charging station.
Grizzl-E is based in Canada, so their products are designed to perform in extreme weather conditions. The operating temperature range is between -22F to 122F for outdoor usage. A full review is available here.
Not sure which version you need? NEMA 14-50 is the most common plug, but both versions can also be hardwired by an electrician.
Specs
40 amps, or as low as 16
24 foot long charge cable
Indoor/Outdoor operation
NEMA 14-50, NEMA 06-50, or hardwired options for installation
J1772 charge plug, connects to Teslas with adapter
Pros
Good value, durable construction and materials, heavy duty charging cable, suitable for extreme climates, can charge almost any EV
Cons
No smart features or app control
Emporia Smart Level 2 EV Charger (48 Amp)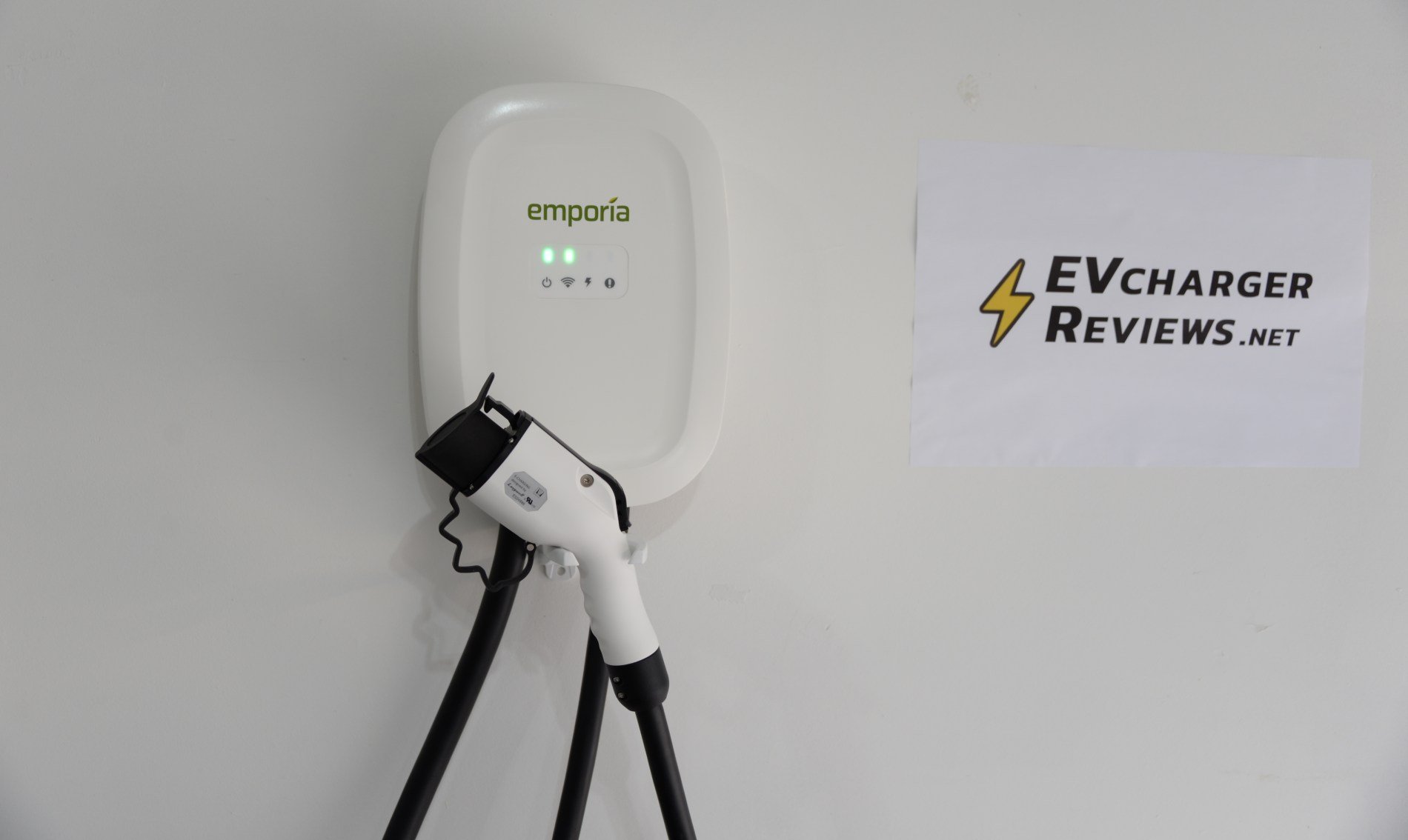 The Emporia home EV charger is easy to recommend if you already have other Emporia energy products in your home, as the app can control a variety of Emporia hardware. But the EV charger is a competitive product in its own right. While cheaper than many competitors on the market, Emporia does not cut corners where it matters most in day to day usage.
We really liked the high power output (48 amps hardwired, 40 amps over NEMA 14-50). This Emporia charging station can deliver the maximum charging speed the Model 3 supports, on a budget. It also includes a highly durable single-piece metal charge cord holster. Most competing brands throw in a cheap plastic cord holder into the box. Installation and app configuration were relatively easy as well. You can see our full review here.
Specs
Up to 48 amps, when hardwired, 40 on NEMA 14-50
24 foot long cable
Indoor/Outdoor operation
NEMA 14-50 outlet or hardwired
J1772 charge plug, connects to Teslas with an adapter
Pros
Lower cost than competitors, up to 48 amps of power, app connectivity and scheduling, really good metal charge plug holder
Cons
The charge cord is shorter than the competition, the charger casing is made from plastic
How We Tested
We have hands-on experience with about two dozen Level 2 EV chargers. We have narrowed down six products that are good matches for Model 3 owners, and each product brings something different to the ownership experience. Our garage lab has a NEMA 14-50 outlet for 240-volt/40 amp charging tests. To keep testing consistent between plug-in and hardwired units (like the Tesla Wall Connector) we have spare NEMA 14-50 cords that can be wired to the terminals of the hardwired chargers, but this is not recommended for permanent installations.
Tesla Model 3 Home Charging Guide
The Tesla Model 3 is able to accept up to 48 amps of current at 240 volts on level 2 home charging. When you multiply those two figures together you get 11,520 watts, or 11.5 kilowatts. (kW) This should be fast enough to fully charge an 82 kWh battery in about 7 hours from zero to full.
There are some caveats to these maximum speeds. When using a "plug-in" style charger with a NEMA 14-50 or NEMA 6-50 plug, the maximum power you can draw from the wall is 40 amps. A hardwired installation of a capable home wall charger is required to pull the full 48 amps.
In addition, your home needs a powerful enough circuit breaker to supply the EV charger's needs. As an electric code requirement, an appliance should only draw a consistent 80% load of the circuit breaker's capacity. Therefore a 50 amp circuit breaker is required for charging at a steady 40 amps, and at least a 60 amp circuit breaker is required to charge at 48 amps. However, even if your household wiring is not up to the task, almost all EV chargers are able to be configured with a lower limit.
Just how efficient is the Model 3? According to Tesla, it is about 4 times more energy efficient than a Toyota Corolla gas-powered car. A Model 3 can travel more than a mile on the same energy it takes to boil a pot of water for pasta. This makes the Model 3 amount the lowest-cost EVs to operate.
Here is a helpful table from Tesla with Level 2 charging speeds, circuit breaker requirements, as well as expected ranger added per hour.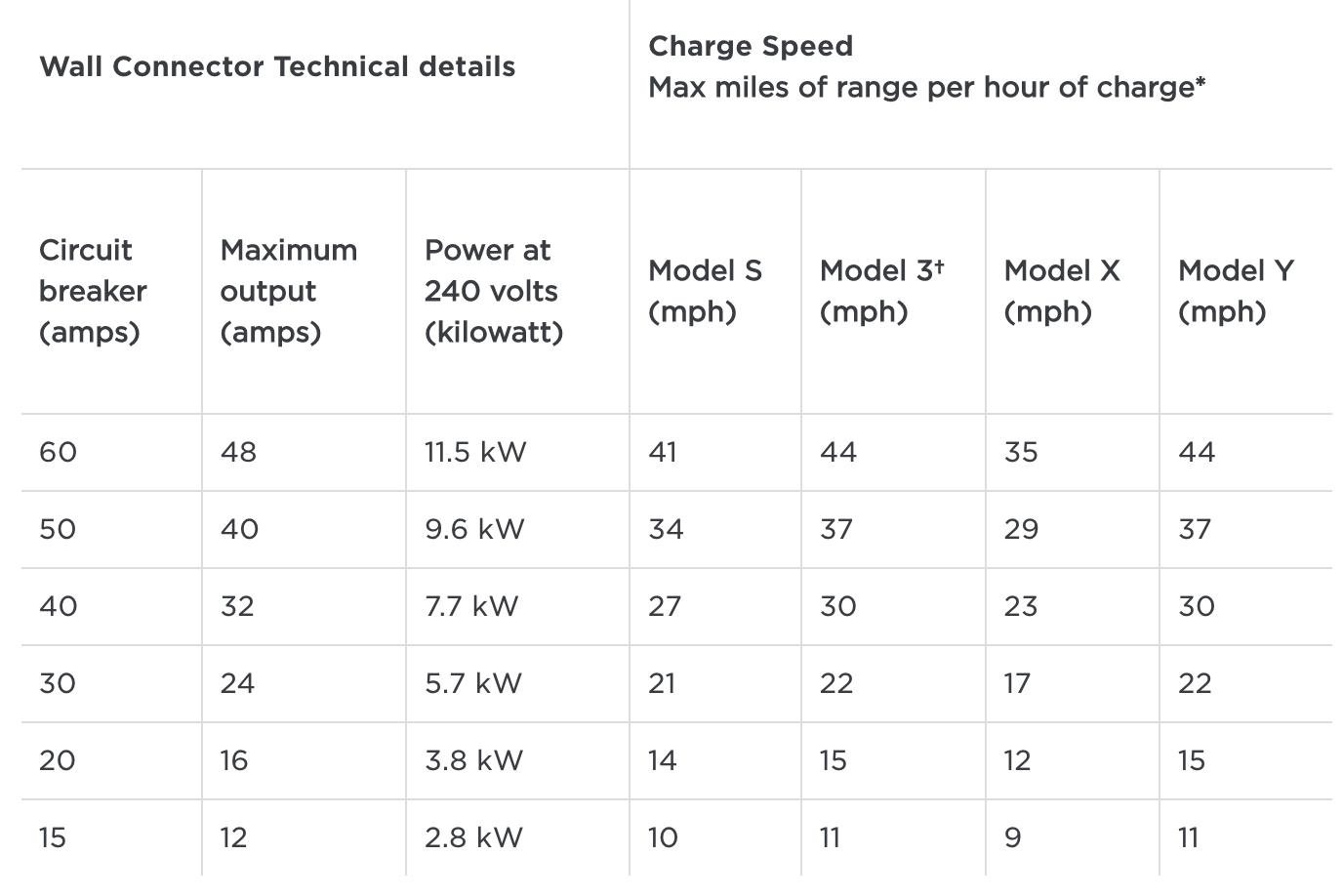 Model 3 Charging Fast Facts
| | |
| --- | --- |
| EV Charging Connector | Tesla (NACS) |
| Battery Capacity | 60 – 82 kWh |
| Level 2 Charging Power | 7 – 11 kW |
| Level 2 Max Amps | 32 – 48 A |
| Level 2 [20-80%] Charge Time | ~5 Hours |
| Level 3 Peak Power | 250 kW |
How to know if your Model 3 has an energy-saving heat pump for HVAC?
Tesla began to ship Model 3 cars with a heat pump system beginning with the 2021 model year. This replaced the older resistive heater based system that converted electric energy into heat by heating coils. Heap pump-equipped cars will have noticeably longer range in colder temperatures as our own tests have shown.
If you're unsure about your Model 3, you can check your cabin heater by going to the Software screen in the Tesla and tapping on the Additional Vehicle Information button. There, you will see whether you have a heat pump system or not.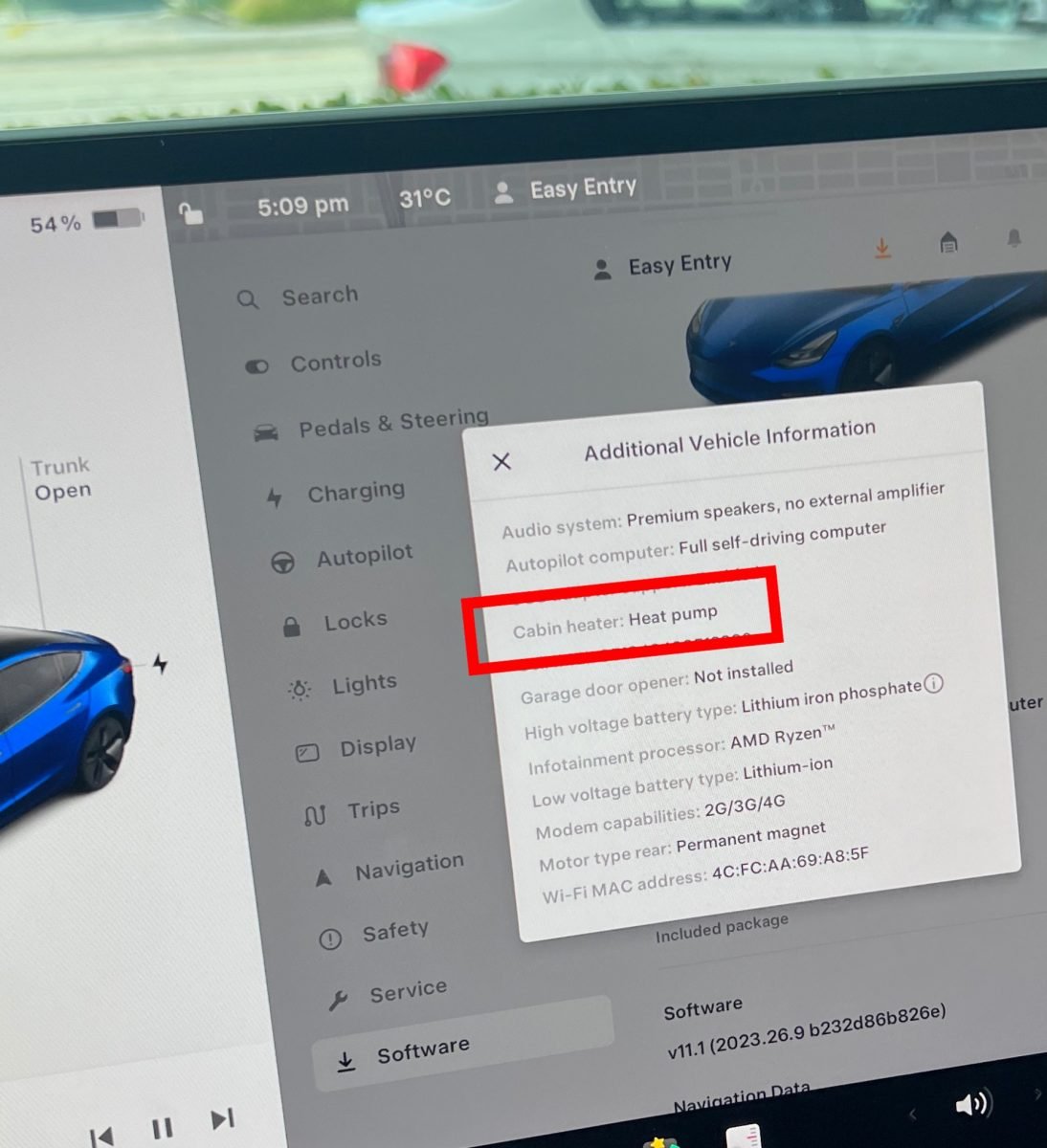 Frequently Asked Questions about home charging the Tesla Model 3
What is the battery capacity of the Tesla Model 3?
The Model 3 RWD comes with a 60 kWh LFP battery. While the Long Range and Performance models include an 82 kWh battery for more power and range.
What home charger comes with the Tesla Model 3 from the factory?
New Tesla cars purchased after April 17, 2022 will not include any charging hardware, but the buyer will be given the option to add a Mobile Connector or home Wall Connector during the ordering process. You can also explore third-party home charging recommendations from us at www.evchargerreviews.net.
How do I know if I am supposed to receive a free Tesla "Mobile Connector" charger?
Reservations made after April 17, 2022, will not include a free Mobile Connector for Level 1 and Level 2 charging. It must be purchased separately, or users can opt to upgrade and buy a dedicated home charging station like the ones above.
Should I charge the Tesla Model 3 to 100% all the time?
The base RWD Model 3 with the LFP 60 kWh battery can be charged to 100% regularly without adverse effects. However, for the Long Range and Performance models with the 82 kWh capacity, Tesla recommends setting a charging limit of around 80-90% for day to day charging. It is suggested to only charge to 100% right before a long trip when you really need the full range. The battery chemistry inside the 82 kWh battery may degrade faster if it spends a lot of time near 100% or 0% state of charge. The software on the charging screen makes it easy for the user to configure a charge limit.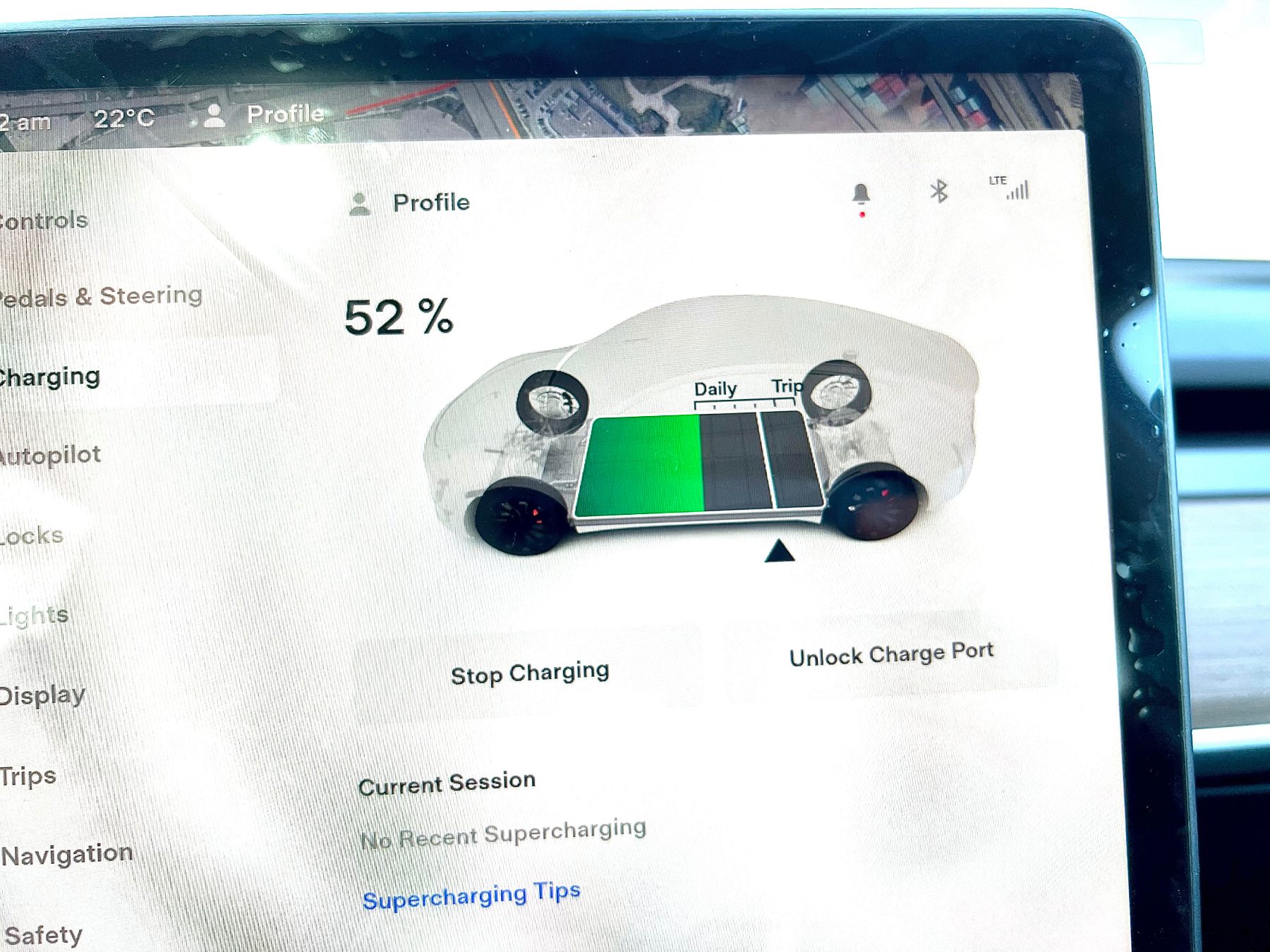 How much does it cost to charge a Model 3 at home?
If your off-peak electricity rates are around 13 cents per kWh like many locations in the US, then you can expect a full battery charger to cost around $11.22. This is assuming an 82 kWh battery capacity and a 95% charging efficiency. Note that you would very rarely actually need to charge from zero to 100%. Most evenings, you would only need to replenish the energy you had consumed that day.
Does wheel size affect the driving range of the Tesla Model 3?
Yes. Buyers of the RWD and Long Range models have a choice of either 18 or 19-inch wheels. Opting for the larger wheels will cut the range down by about 3%. The Performance models only come with 20-inch Uberturbine wheels.
How fast can the Model 3 charge at home?
The dual motor models are able to able to receive up to 11.5 kW of power on Level 2 AC when using a powerful enough charger. This should translate to roughly 44 miles of range gained per hour. The base single-motor RWD Model 3 can charge up to 7.2 kW, so about 30 miles of range per hour added.
Can you charge a Tesla Model 3 at home with a standard 110V outlet?
Yes, this is possible with the Tesla Mobile Connector or any other compatible Level 1 charger. This can be a great backup option if a 240-volt line is unavailable. However, Level 1 charging can only add about 3 miles of range per hour. For most people, a Level 2, 240V home charging station is recommended so the Model 3 is ready to drive at the start of every day.
Where is the charging port located on the Model 3?
The charging port is located in the in the tail light assembly on the driver's side of the car. It is hidden under a motorized flap. You can tap the door when the car is unlocked, and it will rise.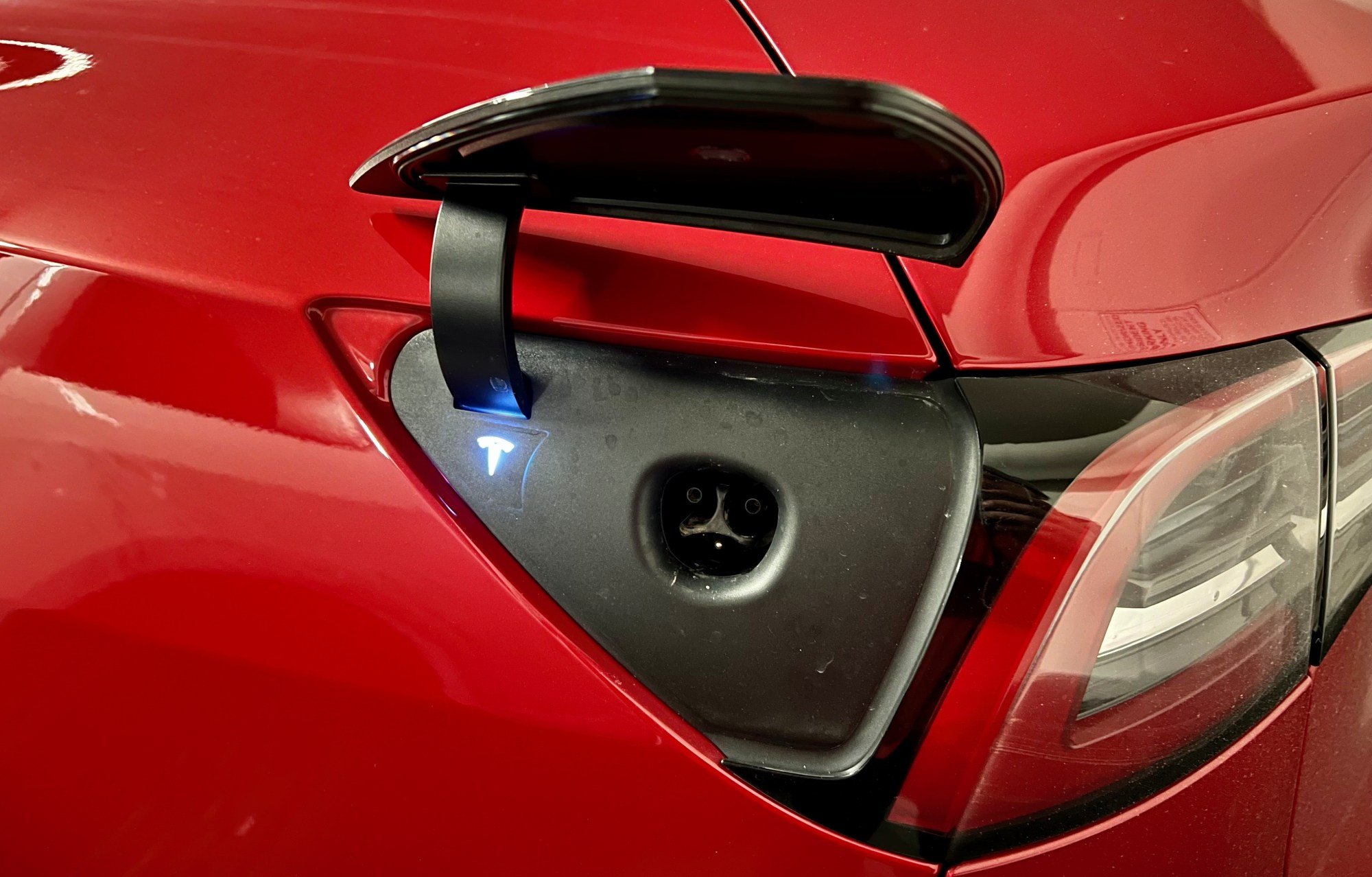 Which Model 3 trim is the most energy efficient?
The standard range (and least expensive) RWD trim is also the most efficient. It has a smaller and lighter battery pack, a single motor, and higher-profile tires. It is not just the most efficient Tesla, it is one of the most efficient cars you buy. This combination will result in lower energy costs associated with charging EVs.
Is it cheaper to charge the Model 3 at home or at Tesla Superchargers?
Charging at home during off-peak hours is usually several times cheaper than charging at Superchargers. Check your local utility rates for details. But to illustrate the point, residential rates in most regions range from 10-25 cents per kWh, and most Supercharger stations will typically ask for 30-50 cents per kWh.
EVchargerReviews.net sources products for hands-on reviews and tests each home charging station for at least two weeks before scoring it.

Additional Tesla Charging Resources