EVchargerReviews is supported by our readers. We may earn commissions from links on this page. Why trust us?
Best EV Home Charger for Ford F-150 Lightning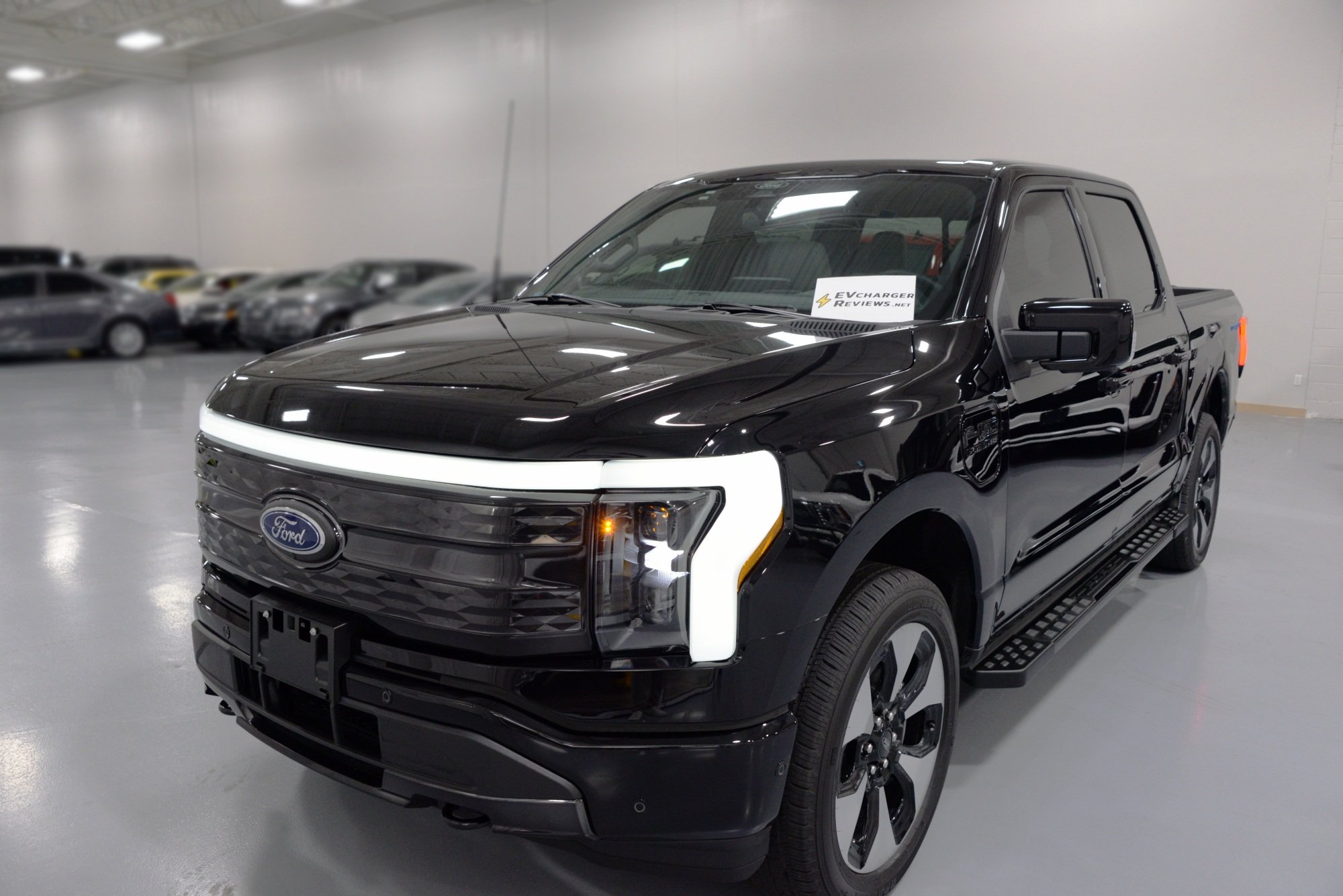 Updated May 4, 2023, by Michael Kim
The F-150 Lightning means business. It is one of the first serious and capable electric pickup trucks to hit the market, and it is bound to be wildly popular. It's got everything that drivers love about the legendary F-150, but with the benefits of a fully electric powertrain.
The standard range Lightning truck can charge at 11.3 kW at home on Level 2, while the extended range models can accept at much as 19 kW with the right charging equipment.
But with such large 98 kWh and 131 kWh batteries, how do you keep your F-150 Lightning charged? Below we have rounded up our recommended home chargers.
Note, that the F-150 Lightning Extended Range Trim includes Ford's own Charge Station Pro with the truck. While buyers of the standard range truck will need to buy a separate home charging station.
Chargers for the F-150 Lightning
Why Trust US? We have hands-on testing experience with the most popular EV charging products.
ChargePoint Home Flex (50 Amp)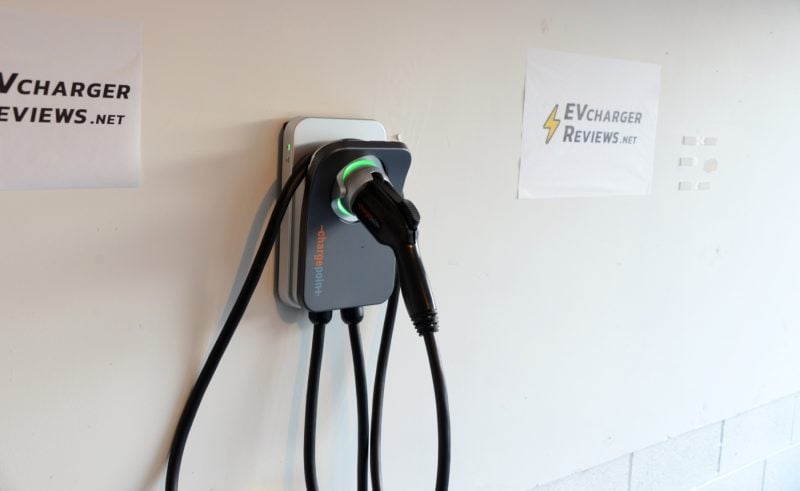 ChargePoint is a reputable brand in public charging as well as home charging. The Home Flex is a current favorite with a combination of attractive design, 50 Amp performance, and responsive customer support.
At the higher end of home chargers, the Home Flex is able to deliver up to 50 amps to your F-150. The companion ChargePoint app allows you to schedule charging sessions when electricity is cheapest, and the same app is used for connecting to the ChargePoint public chargers.
ChargePoint Home Flex has all the bells and whistles of fully featured home charging stations and can provide more than enough power at home to charge the F-150 Lightning standard range at full speed. (11.3 kW)
Specs
Up to 50 amp charging
23 foot long charge cable
Indoor/Outdoor operation
NEMA 14-50, NEMA 6-50, or hardwired options
UL Listed; safe and eligible for rebates/incentives in many states
0-100% Charge time: 8-9 hours
Pros
Energy Star Certified, Wifi connectivity, Alexa voice assistant compatibility, choice of NEMA 14-50 or NEMA 6-50 plugs, configurable between 16 and 50 amps
Cons
Requires a constant internet connection for setup and operation
Ford Charge Station Pro (80 Amp)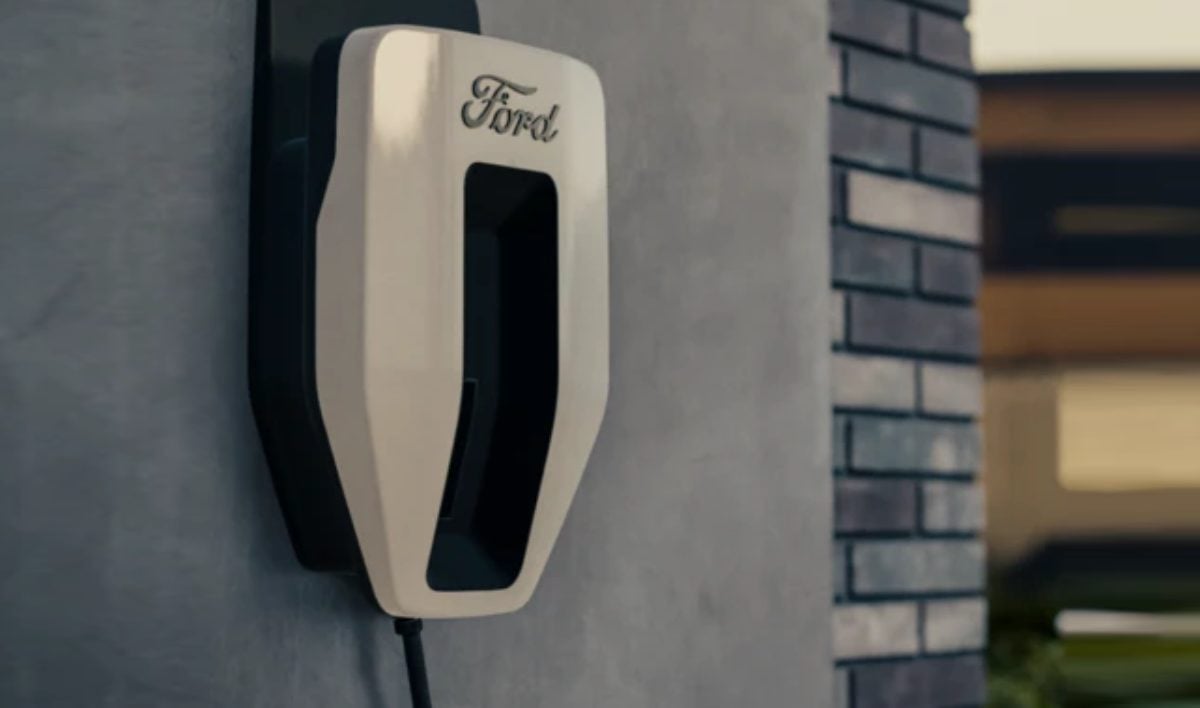 The Charge Station Pro from Ford is the native home charging equipment for the F-150. This box comes included with the Extended Range battery models of the truck, so those truck owners do not need to buy a separate home charger.
Charge Station Pro can charge the truck at up to 80 Amps (19 kW), if your home has a 100 Amp dedicated circuit. Otherwise, the charger can be de-rated as low as 20 Amps. This is the only home charger capable of bi-directional charging with the F-150 Lightning. The EV connector on this charger has two extra pins that are able to send power back into the home over CCS.
This charging station was co-developed with Siemens and delivers powerful performance. But it is likely overkill for owners of the standard range truck. If you do not plan on using bi-directional charging, you may want to consider third-party options to save some money, because the standard range F-150 Lightning is only able to charge at 48 Amps (11.3 kW) anyway.
Specs
Up to 80 amps to Extended Range truck, 48 amps for Standard Range
Bi-directional charging
25 foot long charge cable
Indoor/Outdoor operation
Hardwired installation
Dedicated 100A circuit is required for full power
0-100% Charging time: 8-9 hours (SR), 7-8 hours (Ext. Range)
Pros
Bi-directional charging, send up to 40-amps (9.6 kW) back to the home
Cons
Many homes require electrical upgrades to take advantage of the full 80 Amps
Emporia Smart Level 2 EV Charger (48 Amp)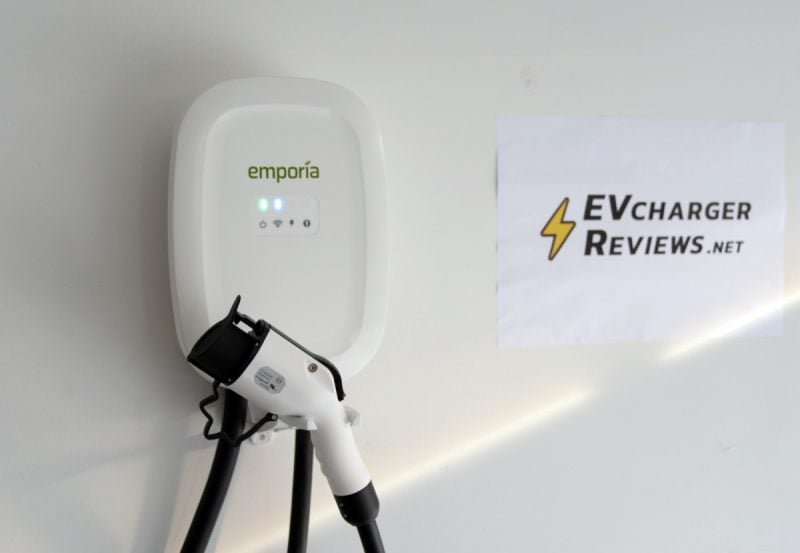 The Emporia home EV charger is easy to recommend if you already have other Emporia energy products in your home, as the app can control a variety of Emporia hardware. But the EV charger is a competitive product in its own right. While cheaper than many competitors on the market, Emporia does not cut corners where it matters most in day to day usage.
We really liked the high power output (48 amps hardwired, 40 amps over NEMA 14-50), and the highly durable single piece metal charge cord holder. Most competing brands throw in a cheap plastic cord holder into the box. Installation and app configuration was relatively easy as well. You can see our full review here. This Emporia charging station is a cost effective way to get 48 Amp charging at home for F-150 owners.
Specs
Up to 48 amps, when hardwired
24 foot long cable
Indoor/Outdoor operation
NEMA 14-50 outlet or hardwired
0-100% Charge time: 8-9 hours
Pros
Lower cost than competitors, up to 48 amps of power, app connectivity and scheduling, metal plug holder, UL listed Energy Star certified
Cons
The charge cord is shorter than the competition, the charger casing is made from plastic, hardwiring is possible but installation is more difficult
Autel MaxiCharger (50 Amp)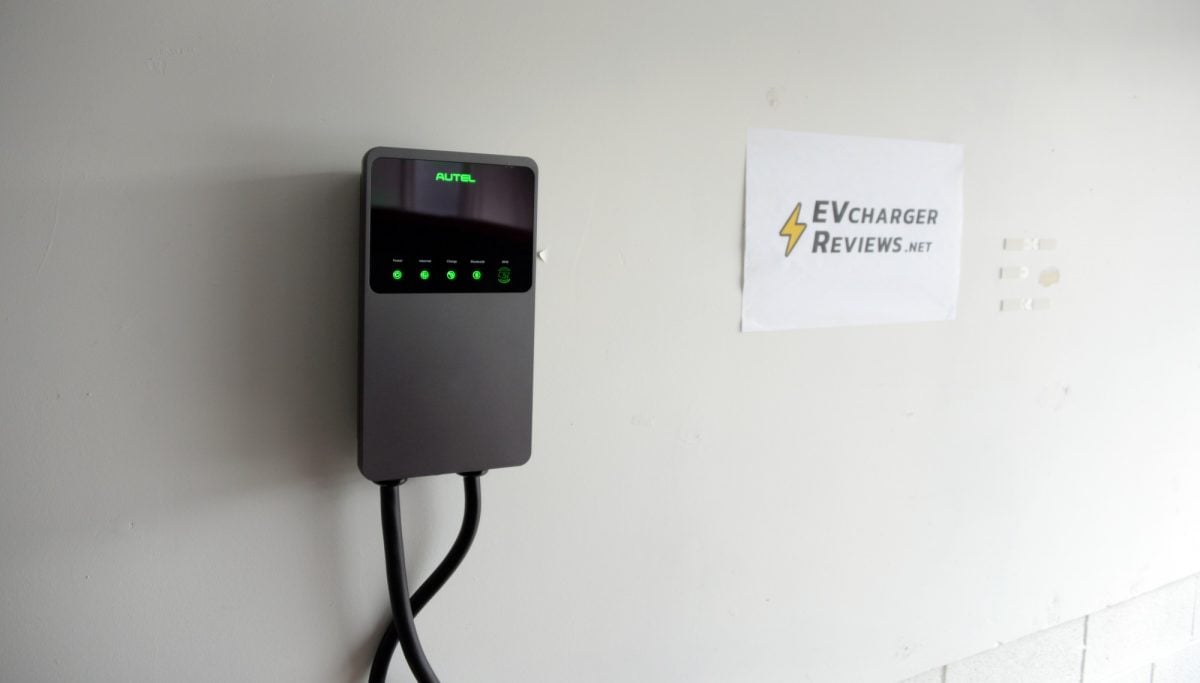 The Autel MaxiCharger is available in 32/40/50 Amp versions and is very reasonably priced. This home charging station from Autel is gaining popularity lately because the product offers good quality hardware and a very polished connectivity/app experience. But what really sets the MaxiCharger apart is the integrated RFID card reader. This EV charger can be programmed to unlock using almost any RFID card.
This is great for an outdoor or underground apartment parking installation, where you want to prevent strangers from stealing the electricity. The 40 Amp version can work from a NEMA 14-50 wall plug, but the 50 Amp version will require a hardwired installation to deliver the full 11 kW to the F-150 Lightning.
Specs
Up to 50 Amps
25 foot charging cable
Indoor/Outdoor operation
NEMA 14-50, 6-50, or hardwired installation
J1772 EV connector
RFID locking card reader for charger security
0-100% Charge time: 8-9 hours
Pros
Good value, durable construction and materials, heavy duty charging cable, suitable for extreme climates
Cons
No smart features or app control
PRIMECOM.TECH Level 2 (50 Amp)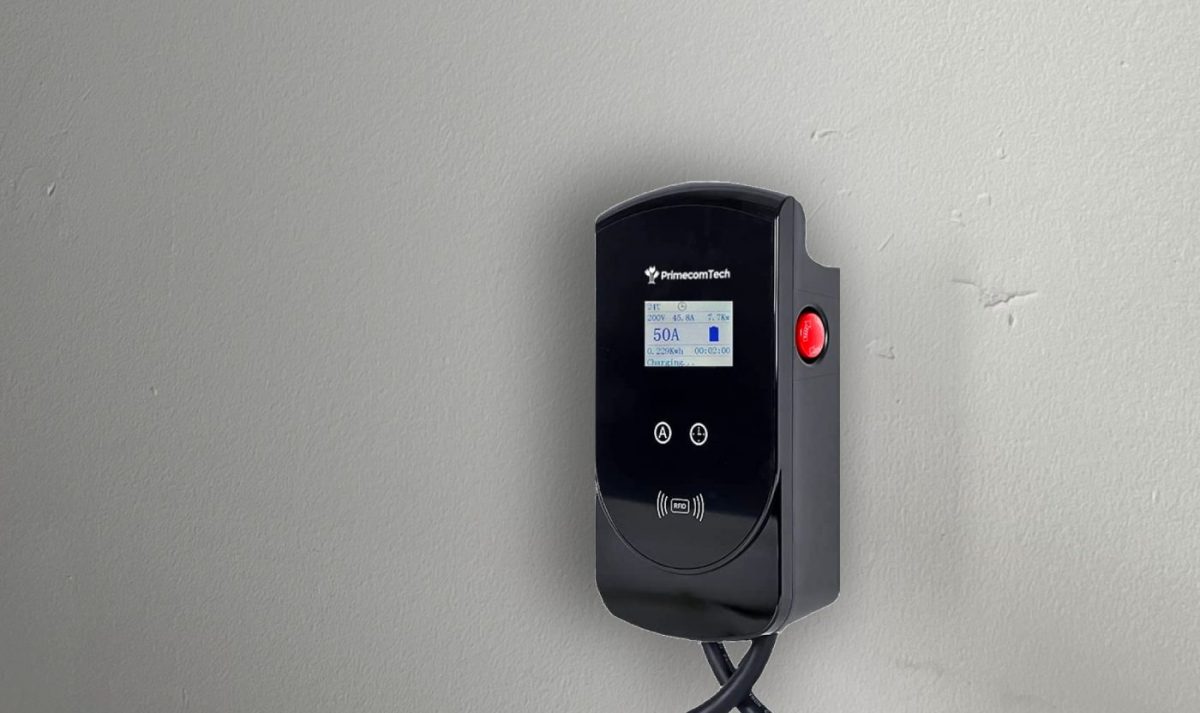 Primecom offers a compelling 50 Amp home charging station with an integrated LCD display to monitor live charging statistics without the need for any app. Amperage, Voltage, and power delivered in kWh are available at a glance. A charging delay timer is built in and can be activated with a couple of button presses on the unit itself.
Users are reporting a generous cord length, reliable performance, and excellent customer support. Just like the Autel charger, the Primecom box has an RFID card reader for security, but unlike the Autel charger, Primecom includes a key card in the box.
The Primecom home charging station is priced on the higher end, but it is often on sale on Amazon (see coupons) making this a compelling 50 Amp option.
Specs
Up to 50 amps
IP56 waterproof rating
Indoor/Outdoor operation
NEMA 14-50 and hardwired variants
25 and 30 foot cord length options
RFID reader and included card for security
0-100% Charge time: 8-9 hours
Pros
Weatherproof construction for outdoor operation, RFID card reader for authentication, LCD display, US based customer support, generous cord length
Cons
No app/internet connectivity options, some users are reporting failing units but they were replaced by customer support
AMPROAD iFlow P9 (40 Amp)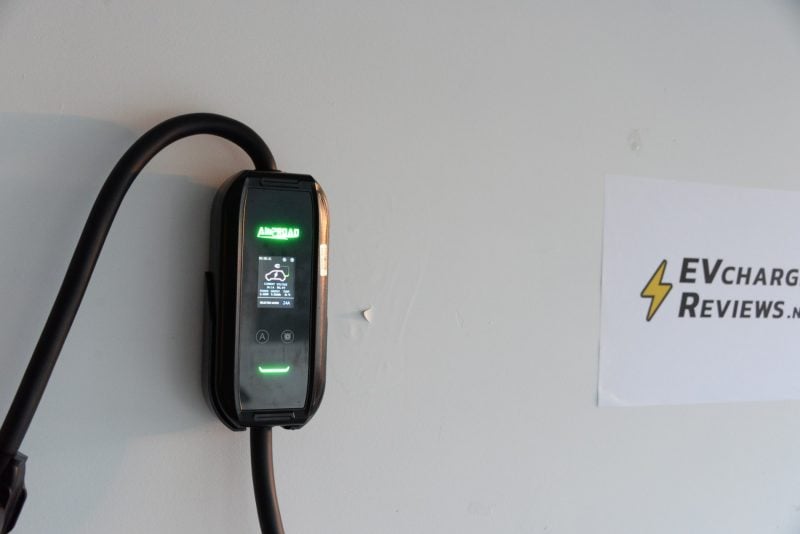 If you're looking for plug-in home EV charger that can hit the road too, the AMPROAD iFlow P9 is a good 40 Amp option. This charger includes a wall mounting bracket, a cord holder, generous 25 foot length, and a thick and durable cable. Basically, all the criteria for daily use home EV chargers.
However, you can slide the charger out from its wall mount, roll it up, and tuck it away into the included travel bag, and you have a perfectly adequate portable EV charger.
Downsides? Not many. But the smart features require the user to connect to the Wi-Fi network created by the charger instead of going through dedicated apps. Full AMPROAD review here.
Specs
Up to 40 amps, with modes as low as 10 amps
25 foot long in total
Indoor operations
IP67 water tightness rating
NEMA 14-50 plug
Wi-Fi Connectivity
0-100% Charge time: ~11 hours
Pros
Portable, has a high quality and thick cable, clear LCD screen, optional Wi-Fi connectivity
Cons
NEMA 14-50 placement at the top of the box may limit mounting options, and the smart connectivity functions may have a learning curve
F-150 Lightning Charging Fast Facts
| | |
| --- | --- |
| EV Charging Connector | J1772 / CCS |
| Battery Capacity | 98 – 131 kWh |
| Level 2 Charging Power | 11 – 19 kW |
| Level 2 Max Amps | 48 – 80 A |
| Level 2 [20-80%] Charge Time | ~5.5 Hours |
| Level 3 Peak Power | 120 – 155 kW |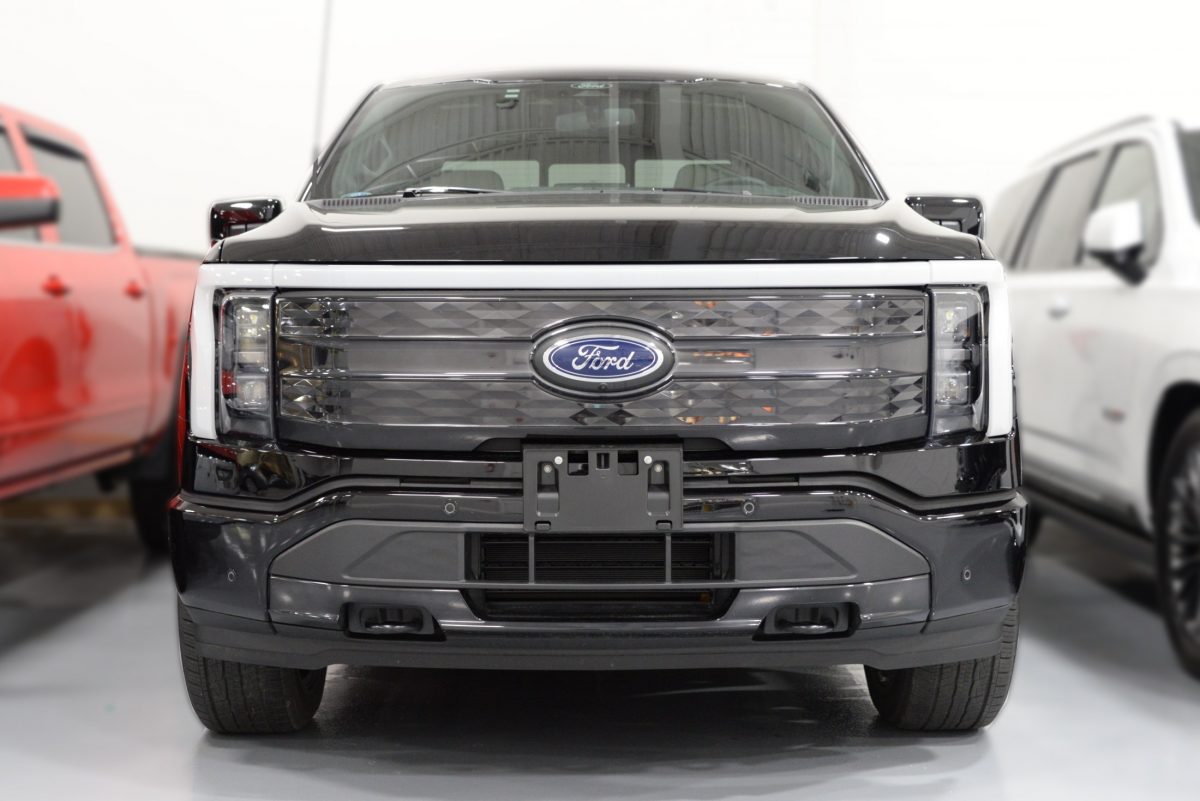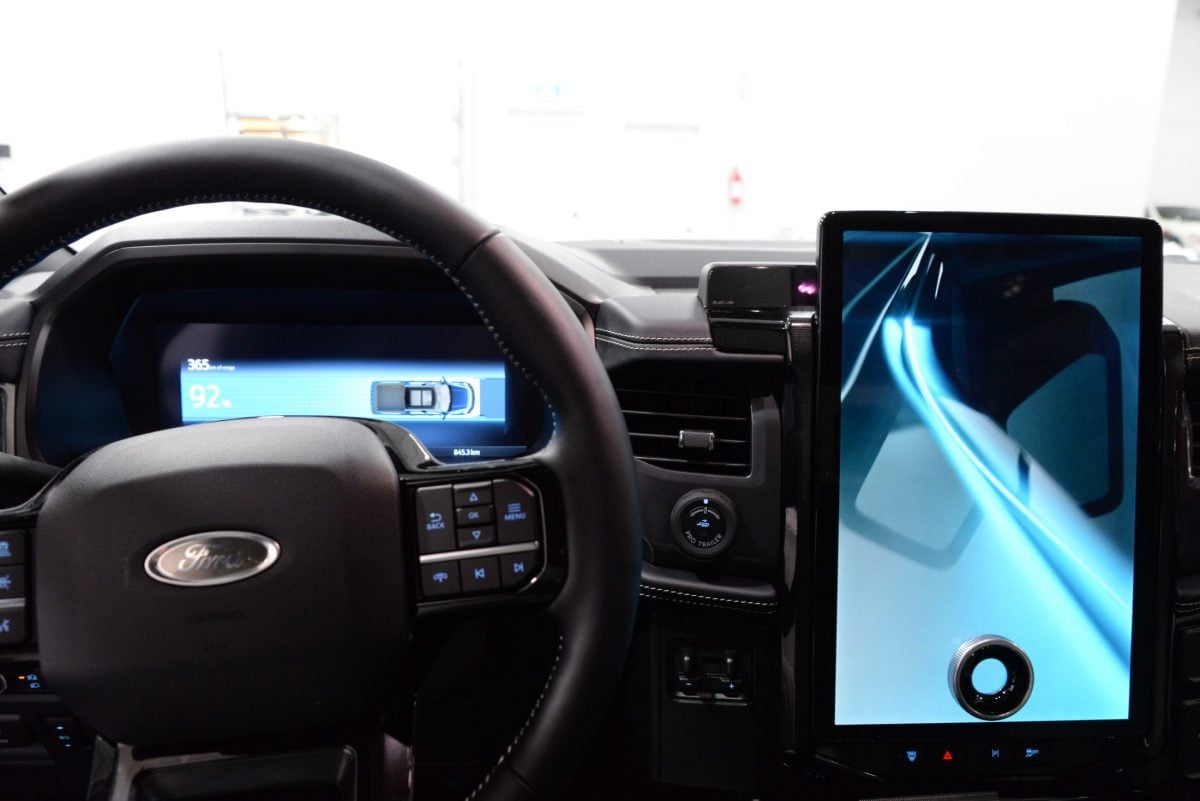 Why is EVchargerReviews.net a trusted resource on home charging stations? We acquire products from brands (or buy them out of pocket) and test home EV chargers for a minimum of two weeks before they can be listed in our guides.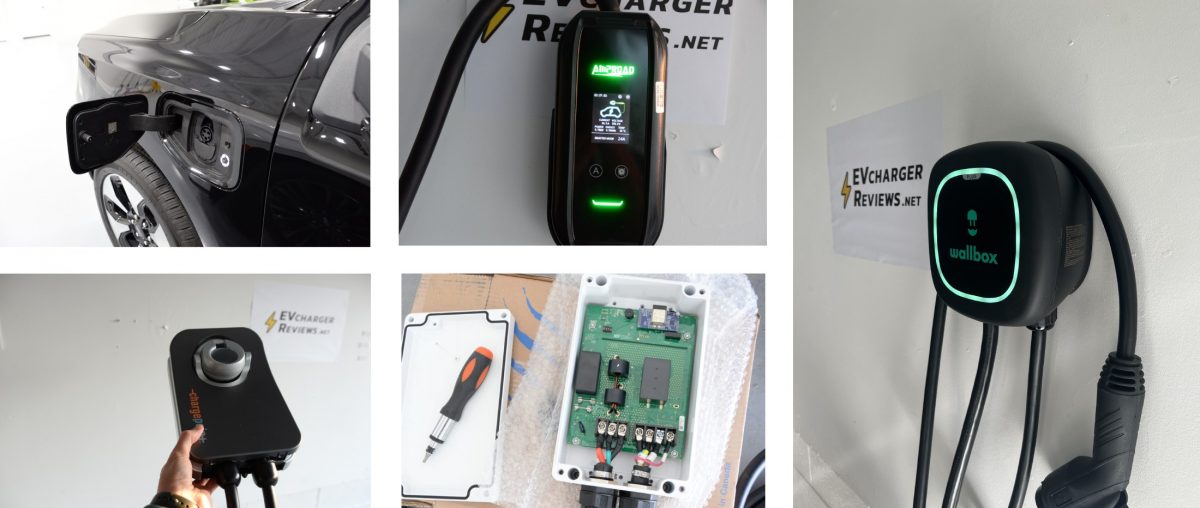 Frequently Asked Questions about charging the Ford F-150 Lightning
Does the F-150 Lightning include a home charging station?
Only the extended range (130 kWh) models include Ford's Charge Station Pro bi-directional box. The standard range battery models include a complimentary 32 Amp Ford Mobile Charger that is capable of charging both on level 1 and level 2. We recommend drivers keep the mobile charger in their truck for emergencies and install a dedicated charging station at their home or business.
Does the Ford F-150 Lightning have a heat pump?
No, the F-150 uses a resistive electric heater that works like regular space heaters. This means there will be a noticeable range penalty in freezing weather. Drivers can mitigate range loss by charging up their trucks to a higher battery percentage during the winter.
How fast can the F-150 Lightning charge at home?
The standard range 98 kWh battery pack trucks can charge at 48 Amps (11 kW), while the extended range 131 kWh trucks have dual onboard AC chargers that can accept up to 80 amps (19 kW).
How fast can the F-150 Lightning charge at public DC fast charging stations?
The standard range battery trucks can accept up to 120 kW, and the larger battery pack F-150s max out at 155 kW.
Is any charging equipment included with the F-150 Lightning?
The extended range F-150 includes Ford's own Charge Station Pro with the purchase of the truck. The standard range truck includes Ford's Mobile Power Cord, which is capable of 32 Amp Level 2 charging. We recommend owners keep the Mobile Power Cord in their trucks for on road mobile use and install a 40-50 Amp home charging station for day to day use.
Where is the charging port located on the F-150 Lightning?
On the driver's side front quarter panel, between the front wheel and the driver's door.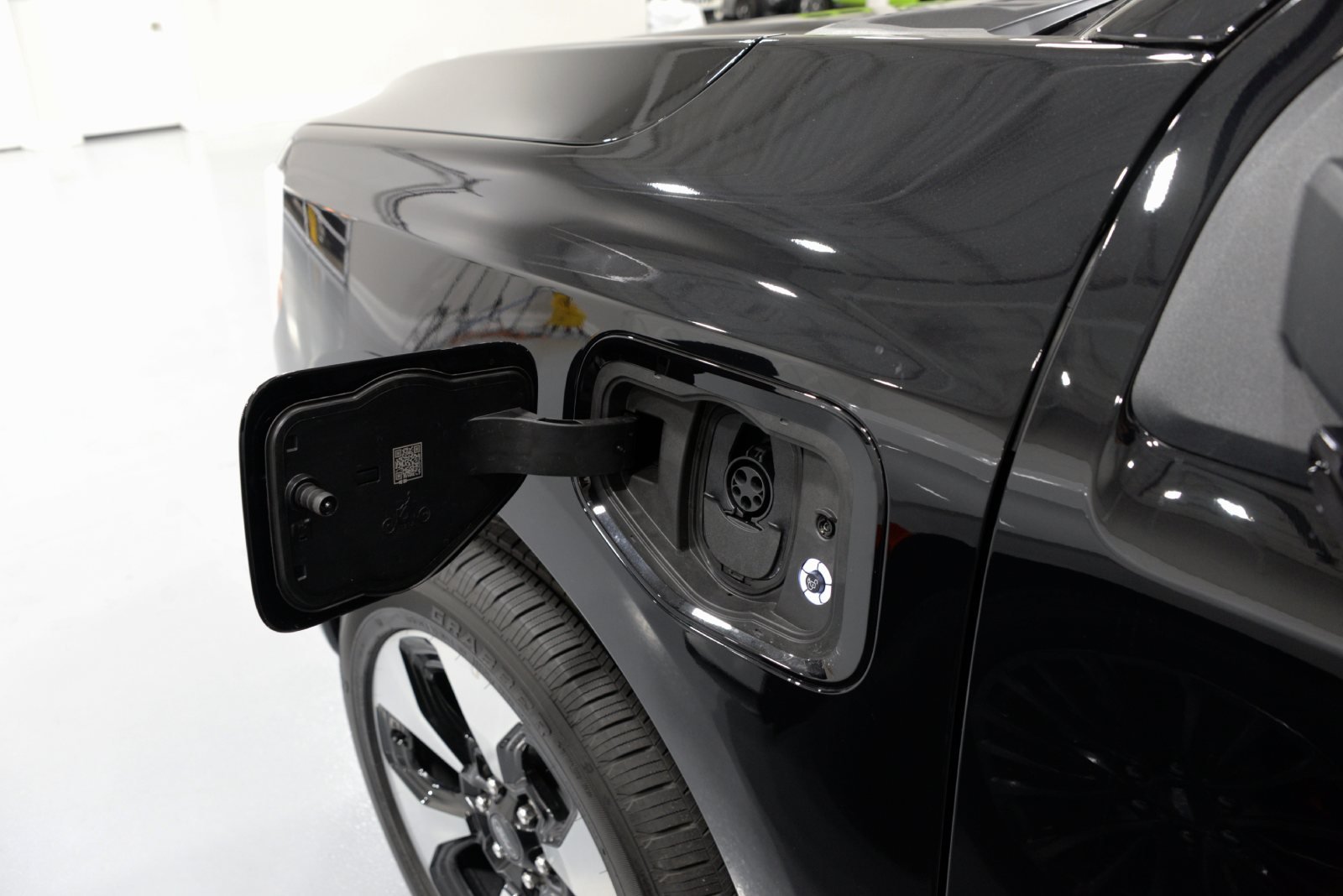 More EV Home Charging Resources